Restaurants
Where to find the best swirls of soft serve in the Boston area
Sorry, hard ice cream: Soft serve is the ultimate summer dessert.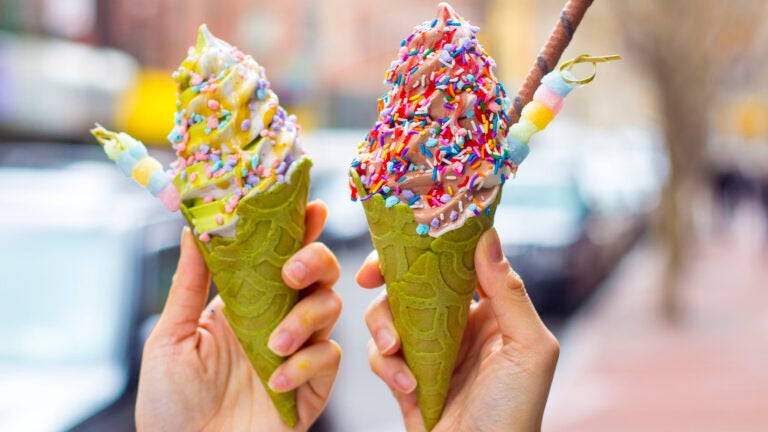 Nothing comes between New Englanders and their ice cream — not a thunderstorm, or a T delay, or even a dairy allergy, as popular dairy-free ice cream shop FoMu has proven. But when the craving for soft serve hits, suddenly our ice cream scene doesn't seem so accessible. We've got the hard goods nailed down, but where's all the soft stuff? 
In doughnut shops, apparently — and restaurants, roadside stands, and pizzerias. Tracking down soft serve, which is made by introducing air to ice cream during the freezing process, can be a tricky endeavor, but we found a handful of places that are serving some excellent swirls of chocolate, vanilla, strawberry, and more creative flavors in the Greater Boston area. You just have to know where to look.
Blackbird Doughnuts
Artisanal doughnuts are the main act at Blackbird, but soft serve plays a crucial supporting role. Two locations — the South End and Harvard Square shops — offer soft serve, including vanilla, chocolate, and swirl, all of which can be ordered alongside a doughnut to create a made-to-order ice cream sandwich. If you're stopping by the South End location, be sure to check out the recently opened Sally's Sandwiches, a sandwich shop that makes a great pre-cursor to some soft serve. (492 Tremont St., Boston; 15 Holyoke St., Cambridge)
Broadway Dairy Maid
This family-owned and operated ice cream parlor has been swizzling soft serve in Everett since 1981. The retro shop draws consistent lines — not only for the shop's chocolate, vanilla, and strawberry swirls, but also for it's more obscure flavors like banana, pistachio, and coffee. Broadway also serves hard ice cream, Italian ices, and sodas, but it's the soft serve that has fans driving in from the 'burbs. (960 Broadway, Everett)
Celebrity Pizza
Anyone who has difficulty making decisions should enter Celebrity Pizza knowing this: There are more than 30 flavors of soft serve available at the old-school Watertown eatery. All the usual suspects are on the menu — vanilla, chocolate, and coffee, as well as seasonal flavors like creamsicle and Javaberry — but they can also be enhanced with added syrups to make cotton candy, cheesecake, creme de menthe, Tutti Frutti, and other variations. Hungry for more than ice cream? The restaurant also offers sandwiches, wings, lobster rolls, and pizza. (684 Mt. Auburn St., Watertown)
Dairy Freeze
Above the Dairy Freeze sign, a smiling child bundled up in a hooded parka holds a giant soft serve cone, a symbol that has become somewhat iconic in Quincy. John Wallace opened the South Shore institution in 1963, and it continues to be owned and operated by the family. Customers can choose from vanilla, chocolate, coffee, and orange sherbet soft serve, as well as combination swirls if you can't decide on just one. Get it dipped or with toppings for an added crunch. (635 Adams St., Quincy)
Dairy Joy
Open since 1961, this seasonal roadside stand in Weston is a summer staple for soft serve fans. Known for its Javaberry — an unorthodox mix of raspberry and coffee soft serve — the cash-only shop also sells familiar flavors like vanilla, chocolate, and creamsicle, along with lobster rolls, burgers, fried clams, and hot dogs. Place your order and snag one of the outdoor picnic tables, soon to be covered in ice cream drippings, unless you have some serious cone-licking strategies. (331 North Ave., Weston)
Eventide Fenway
Soft serve might not be the first (or the second, or maybe even the third) thing you think of when ordering at Eventide in the Fenway. The lobster roll here is the stuff of legend, and popping in for $1 oysters when there's a baseball game nearby is a serious power move. But you'd be remiss to skip the brown butter soft serve topped with bourbon caramel and maple pecans, a dessert that should definitely be paired with the brown butter lobster roll. (Too much brown butter? No such thing!) The seafood haven also serves a froyo soft serve with rhubarb compote and granola. (1321 Boylston St, Boston)
Jaho Coffee Roasters 
This convivial coffee shop has three locations in Boston — plus one in Salem and two in Tokyo — and while most customers tend to post up with a coffee or tea, the shop also nails its soft serve flavors. There are usually two or three varieties offered at each outpost (plus the option to swirl two of them together), with vanilla taking up residence as a permanent flavor. Red velvet will soon be rotating out of the Boston shops to make way for matcha and salted caramel. (Multiple locations)
Milk Bar
Christina Tosi brought her national dessert chain to Cambridge in January, and Harvard Square denizens have been filing in ever since for compost cookies, milk bar pie, and cereal milk soft serve, a signature item that combines milk, cornflakes, brown sugar, and salt to create a kid's dream of turning cereal milk into ice cream form. Compost cookie soft serve is also currently available, mixing in the chain's trademark cookie for the ultimate one-two dessert punch. (3 Brattle St., Cambridge)
Sullivan's Castle Island
The unofficial start of spring in Boston occurs when Sullivan's Castle Island, the iconic snack shack, opens its doors and starts selling lobster rolls, hot dogs, and cones piled high with soft serve ice cream. Classic flavors reign here — vanilla, chocolate, strawberry, and twist — alongside hard ice cream, Italian ice, and root beer floats. Order a cone and savor it while walking along the Pleasure Bay-adjacent pathway. (2080 William J Day Blvd., Boston)
Taiyaki NYC
This New York City-based soft serve shop is an Instagram dream — how could you not snap a photo of the fish-shaped taiyaki cone, a traditional Japanese pastry filled with ingredients like red bean paste or custard? The Boston branch opened in the Seaport in April, and serves a variety of soft serve flavors that range from classic options like vanilla, chocolate, and strawberry to less common picks: matcha, hojicha (roasted matcha), and mango strawberry. Create your own soft serve/cone combo or choose from custom creations like the Straight Outta Japan, made with matcha and hojicha ice cream, a red bean taiyaki cone, rainbow mochi, and a wafer stick. (119 Seaport Blvd., suite B, Boston)