Restaurants
What defines Boston's current ice cream scene? Four shop owners dish on the city's favorite dessert.
How frozen yogurt almost took over and why vegan ice cream is the future.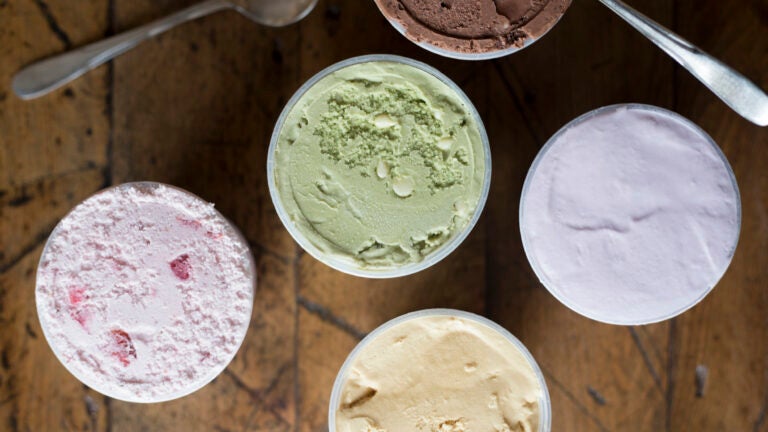 Many local ice cream die-hards agree that the advent of Boston's ice cream craze began with Steve's Ice Cream, an ahead-of-its-time shop that opened in Somerville's Davis Square in 1973. It championed premium, handmade ice cream, spawned the mix-in trend, and launched the careers of ice cream giants that went on to open their own shops, including former employee Gus Rancatore, who founded Cambridge stalwart Toscanini's.
Plenty has changed since then. The city has seen the rise and fall of national ice cream chains, pushed flavor boundaries, and developed a taste for ice cream alternatives. To get a sense of Boston's current ice cream scene — and what might be on the horizon — we spoke to the owners of four notable local ice cream shops.
Note: These interviews have been edited and condensed for clarity and length.
Deena Jalal, founder and owner of FoMu
"When we first opened, the real reason we started was because a lot of [Boston's ice cream shop] options were limited. They were super traditional shops. My husband's and my backgrounds are ethnically diverse, and we were looking for not only unique flavors but a different type of ice cream that was more natural and that provided an option for people who wanted something different. To us, back then, that was coconut milk, and that's how we started our signature type of [vegan] ice cream.
"We thought at the very beginning, OK, it'll just be a niche little option for people. We didn't even know if we'd be able to sustain our own storefront. We thought maybe we would be an option in other people's storefronts. But then we actually did pull the trigger and found that, yeah, people actually would come to a place that's completely dedicated to an all-natural, plant-based dessert. Once we saw that pattern, it became obvious that we could probably have a place in the Boston ice cream scene.
"We had to do a ton of educating and sampling to let people know that this is still a rich, indulgent thing, and that all-natural ice cream didn't mean bad ice cream. Now, eight years later, people are not only understanding that but they're really absorbing it. They have a lot of their own requests in what they want to see in ice creams that are even more progressive. A lot of diet trends are driving those. A lot of customers are like, Ok, [we want] things like keto or gluten-free [ice cream]. It's been an amazing process and a cool experience to move through, especially in a city known for its ice cream."
FoMu; multiple locations; Daily 11 a.m.–11 p.m.; fomuicecream.com
Vincent Petryk, founder and owner of J.P. Licks
"As far as independent ice cream shops go, there were a ton in Boston [when J.P. Licks first opened]. There was Dave's and Uncle Bunny's and Ice Cream Works. There was still Brigham's, which was a New England brand that started in Boston. Emack & Bolio's had a lot of stores back then. I really should have been nervous in a way.
"There's been four waves of things that have scared the bejeezus out of me, roughly every 10 years. Back in the 80s, it was frozen yogurt. Then in the 90s, it was TCBY, because they prophetized having 45 TCBY stores in the Boston area, and there weren't 45 ice cream stores in the Boston area. In the 2000s, it was Cold Stone Creamery, and that was a joke. The poor kids had to sing to get a tip; it was so weird to me. The fourth one was yogurt again, with Pinkberry especially.
"The current wave is vegan ice cream. We carry three to five flavors in the store of vegan ice cream, and we rotate the bases — one is a hemp base, one is coconut, and one is soy. Yogurt was that way for me back in the 80s. We killed with yogurt because all my competitors were too damn cheap to put in soft serve machines. They cost $15,000 dollars and you got two flavors in the machine. It's still about 22 percent of our business, the frozen yogurt. And we do a beautiful tart yogurt, which is [the kind] I opened with in 1987.
"There used to be many more ice cream shops in Boston. There were probably three times as many ice cream shops than now. Every neighborhood worth its salt had at least two and sometimes three. We just opened up in Andover, and they didn't have any [ice cream shops] in the town center. But in the last five years, probably more shops have opened in Boston than in the last 15 years. So it's really interesting; it's a resurgence of ice cream in neighborhoods — and there are no yogurt shops opening up."
J.P. Licks; multiple locations with various hours; jplicks.com
Gus Rancatore, co-founder and owner of Toscanini's
"In 1973, when Steve's Ice Cream opened, it was such an unusual success that it spawned a lot of copycats. They were everywhere. They were a little like microbreweries right now — waves of entrepreneurship. Right now it seems like a lot of young entrepreneurs are bootstrapping or starting with low-budget microbreweries.
"Boston is still a good place to run an ice cream store because people in Boston eat a lot of ice cream. There are ice cream stores everywhere. The week I was supposed to open Toscanini's, I was crossing a street in Harvard Square during a snowstorm. And I looked to my left and I looked to my right, and people were eating ice cream cones, and I said, well, this is reason for optimism.
"I think people in Boston are willing to eat new flavors, not just variations on cookie flavors or candies named after animals. When you go to northern New England, you see things like bear paws and moose trucks, but when you go to Boston, you'll see people making ice cream flavors that mostly involve food from other cultures. We have big success with Indian ice cream flavors; we've been making eccentric flavors from Singapore. We're always working on new flavors, and a lot of them come from customer suggestions. I have a list called 'Who Wants What.' It's sort of my to-do list.
"People in Boston love ice cream, and they talk about it, which is interesting. They have opinions about it. Sometimes they yell at you. We used to get a lot of complaints and compliments about the size of the chocolate chips we put in the ice cream. And I didn't really think there was a perfect answer to that, so we pretty much used the chips that my sister and I like."
Toscanini's; 159 1st St., Cambridge; Daily 10 a.m.–11 p.m.; tosci.com
"We took over [The Ice Creamsmith] in the beginning of 2014, and my parents opened it in 1976. I wasn't born until five years after they opened it. It was a very small place, pretty much just the two of them and just a handful of employees. They used to bring me to work and let me bounce around back there and let me eat the M&Ms that fell on the floor. I don't know what the rest of the ice cream scene was like when they opened, but they opened it with this concept of being an old-fashioned, homemade place with this unique-at-the-time concept of doing mix-ins, the candy mixed in with the ice cream. My parents did not originate that idea — they borrowed that idea from Steve Herell, who had Steve's Ice Cream.
"I do feel like when newer ice cream shops open, they tend to be less traditional and a little more creative. It seems like the increase of places that are a little more creative put the pressure on or push the older, more traditional places to also step into a more creative flavor space to keep up. Of course, now there's the vegan and coconut milk [ice cream] and all that stuff which has been increasing in popularity. Whenever we have a one-off of a vegan flavor on our menu, it goes shockingly quick. So there seems to be more and more demand for ice cream alternatives.
"I think part of our strength is that very little changes [at the shop]. It's basically the same as it's been since my parents opened it in 1976. We change a lot behind the scenes with updates, and we keep up with efficiencies and all that, but from the customer's perspective, very little changes and I think that's part of what we have going for us. There are people who come in now who came in as kids, and they bring their kids and they feel like everything is exactly the way they remember. And now, instead of trying to look like an old-fashioned shop, we actually are an old fashioned shop because we've been here for more than 40 years."
The Ice Creamsmith; 2295 Dorchester Ave, Boston; March 1–Thanksgiving, Daily from noon–10 p.m.; theicecreamsmith.com