Restaurants
A new fried chicken sandwich concept will pop up at local breweries this summer
Take a look at Nani!? Chick'n Bunz's summer schedule.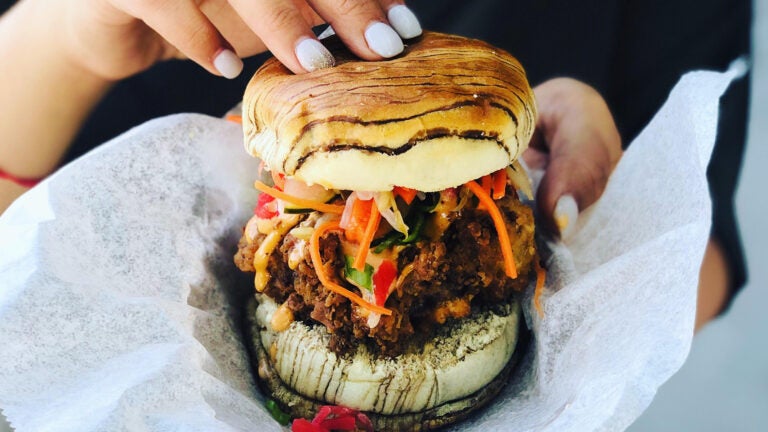 Ronald Liu, co-owner of Love Art Sushi and Love Art Udon, had some downtime while he waited for the brand's two new concepts — Love Art Poke and Poke by Love Art — to open downtown. So he, along with one of Love Art's operations managers, decided to launch a new project in the interim: Nani!? Chick'n Bunz, a fried chicken pop-up.
"One of my favorite foods is Japanese-style karaage," Liu told Boston.com. "Typically when I have it, it's in almost a popcorn chicken form. But I figured we could use the same technique to create a chicken sandwich out of it."
The pop-up offers three flavor profiles, a choice of three different buns, and chicken that's marinated for 24 hours in a housemade shoyu sauce, which includes soy sauce, sesame oil, chilis, and various spices. The classic profile tops the chicken with pickled veggies (cucumber, carrots, bean sprouts) and a spicy aioli; the K-style uses pickled vegetables, shiitake mushrooms, kimchi, and a housemade gochujang sauce; and the okonomi crispy chicken option comes with pickled ginger, bonito flakes, nori furikake, and a mix of okonomi and kewpie mayonnaise. From there, customers can choose between three buns: an original hokkaido bun (also known as Japanese milk bread), a matcha green tea bun, and a brown sugar bun. Each order comes with housemade coleslaw.
Nani!? Chick'n Bunz currently sells its fried chicken sandwiches — along with shrimp tempura, spam, and sweet potato sandwiches — on Uber Eats, but is also testing out its concept at various breweries around Boston throughout the summer. The next pop-up will be held at Lamplighter Brewing in Cambridge on July 24, with stints at Bone Up Brewery, Backlash Brewery, and Mighty Squirrel Brewery also on the schedule.
Fried chicken isn't the only dish on Liu's mind: Love Art Poke, at Congress Square in the Financial District, and Poke by Love Art, at The Beverly near North Station, will both open later this summer. The latter will be an express version of the former, offering 30 to 50 percent of the menu in a small, grab-and-go space near TD Garden. Both concepts, created by Love Art brand founders Liu and Jessica Chiep, will focus on customizable poke bowls.
Check out the current Nani Chick'n Bunz schedule below for a chance to try one of the sandwiches at a Boston-area brewery.