Restaurants
Seafood haven The Oyster Club lands in the Back Bay on Saturday
Chef Chris Parsons is opening his dream restaurant.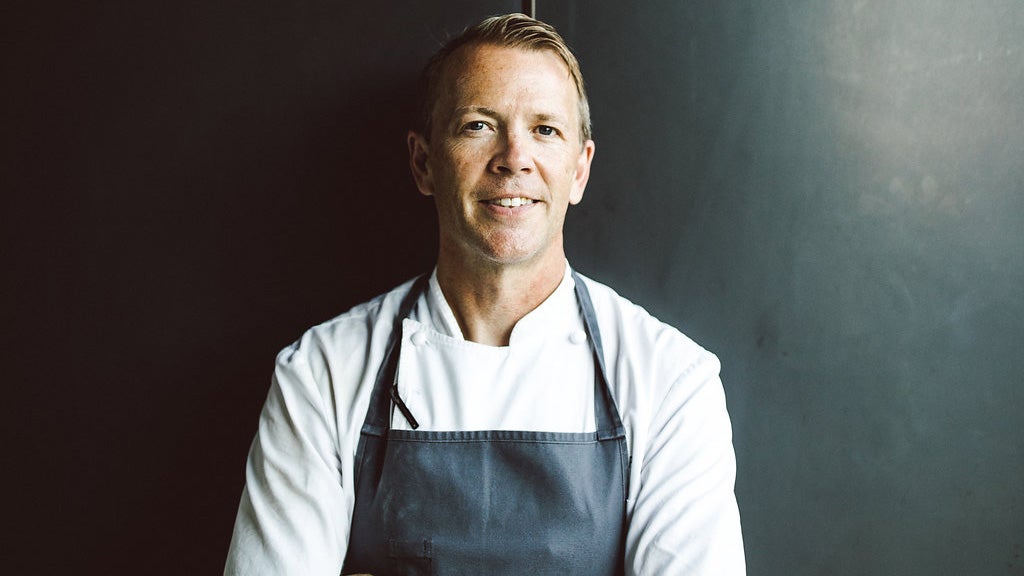 A storied corner in the Back Bay's Park Square will become a gleaming seafood restaurant this weekend, as The Oyster Club at The Heritage is set to open its doors on Saturday across from the Park Plaza Hotel.
What was once chef Michael Schlow's Italian stalwart Via Matta — which he then converted to Greek restaurant Doretta Taverna and Raw Bar in 2015 — is now a gleaming, yacht club-inspired seafood haven from chef Chris Parsons. It's a concept that Parsons, who opened his first seafood restaurant, Catch, in Winchester in 2003, has been itching to get back to.
"A friend of ours reached out to us [about the space]," Parsons told Boston.com. "He knew that I was looking [to open] a seafood restaurant, and this was an iconic location. It was a unique opportunity to be in a special place. It seemed like the right thing at the right time."
The Oyster Club, which was designed by Sousa Design Architects, is anchored by a 28-seat bar serving beer, wine, and cocktails from the center of the floor, which Parsons called "the focal point of the room." Windows open up onto a 70-seat outdoor patio, while dark blue and tan leather banquettes fill the dining room, each table boasting silver domes that hold large oyster crackers and smoked bluefish pâté to kick off the meal. A 19-seat oyster bar shows off The Oyster Club's impressive array of bivalves, ceviche, tinned fish from Spain and Portugal, and warm bites like salt-roasted clams with chorizo and barbecue oysters.
"We're mostly focused on New England seafood and being proud of where we are," said Parsons, "but I also like really awesome products like [the tinned fish]. They add another element."
In addition to the raw bar, which features oysters from Cotuit Oysters, Fat Dog Shellfish, South Bay Blonde, and others, there are classic seafood appetizers (chowder, crab cakes, fried Ipswich clams), salads (zucchini salad, salad Nicoise), and sandwiches (lobster rolls, oyster BLTs, and The Lily P, a fried chicken sandwich that nods to Parsons' other project: Lily P's, a fried chicken and oyster spot set to open in Cambridge later this summer). Entrées include pan roasts like mussels with chorizo in a lobster broth, as well as fish and chips, Maine lobster Thermidor, and a range of grilled fish that can be customized with sauces and sides.
Parsons also included a "Lobster of the Day," a seven-day tribute to the crustacean that includes lobster tacos on Mondays, lobster and andouille gumbo on Thursdays, and lobster eggs Benedict on Sundays.
Desserts are simple and classic: Prosecco poured over fresh summer berries and strawberry sorbet, profiteroles with vanilla ice cream, and a Taza chocolate brownie with walnut ice cream. Toscanini's, a Cambridge institution, is providing all of the ice cream.
"The approach is not to reinvent the wheel, but to take a lot of things we really love and just try to make them good and do it our way," said Parsons.
It's been a while since the chef focused so heavily on seafood. In 2012, he opened Steel & Rye, a farm-to-table concept in a former ambulance garage in Milton; prior to that, he opened the now-closed restaurants Catch and Parsons Table, both in Winchester. He's excited, he said, to get back to seafood, and even more so in this particular location.
"There's lots of history here," Parsons said. "It's an honor to be in a kitchen that has so much history."
The Oyster Club at The Heritage; 79 Park Plaza, Boston; Daily 11:30 a.m.–closing; theoysterclubboston.com