Restaurants
Beacon Hill welcomes a new neighborhood hangout on Monday
At The Emory, upscale bar food and craft cocktails find a home in an old hotel.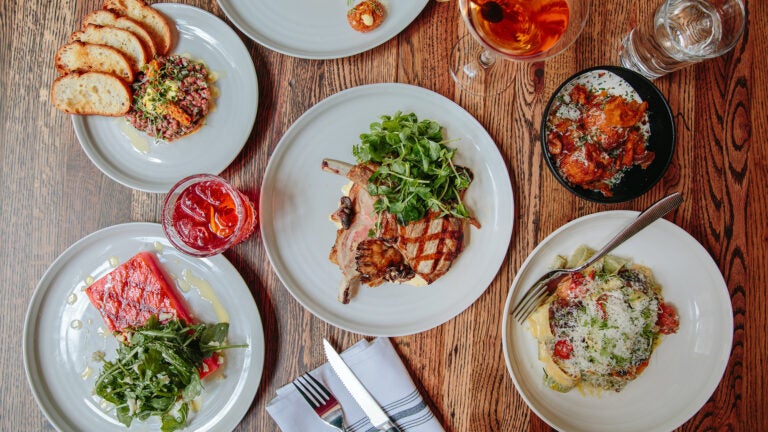 "I can't believe I get to do this," said Emory "Andy" Kilgore, leaning against the bar at The Emory.
The industry vet, whose career spans over 25 years at places like No. 9 Park, Stoddard's, and Broad Street Riot, is getting ready to debut his first restaurant in the former Bellevue Hotel in Beacon Hill on Monday.
"What I wanted this place to feel like, and what it is, is a chef-ed up bar," said the former bartender and manager. "The way I like to eat — and I think the modern way of eating — is to have great food but without white tablecloths. To have proper service without being pretentious. Everybody wants to feel comfortable."
To keep that level of pretension in check, the menu boasts high-low dishes like baked potato beignets, buffalo sweetbreads, and a New England lobster bake, all in an environment that Kilgore hopes will remind people of a family dinner party. Leading the kitchen is executive chef Derek Robert, who helped open the now-shuttered Townsman.
"I like openings," Robert told Boston.com. "It gives you the ability to set the tone right from the get-go and to set quality standards."
The Emory's opening menu is a succinct lineup of small plates, entrées, sandwiches, and large format dishes, like the roasted pork shoulder and the New England lobster bake that each serves four to six people. Diners will find a few whimsical items here — pub fare that has been given a bump, like the foie gras tots served with lemon curd and marinated chilis, or the lobster sausage that Robert described as "a lobster roll that we're going to work ten times harder on than we probably need to."
Melissa Benson, another former Townsman alum, is The Emory's bar director, and has crafted a beer, wine, and cocktails list that touches on both neighborhood staples (we're amped for the buckets of sake and High Life ponies) and craft cocktails like the Polaris Derby made with gin, grapefruit, matcha, and honey.
"The whole theme of this is bringing people together," Kilgore said. "You're coming into my home, and I want you to feel good and comfortable. We're trying to make this a neighborhood-friendly place where you feel like you can come a couple times a week and not break the bank."
The Emory — a name given to generations of men in the Kilgore family, though none have actually gone by it and instead defaulted to middle names or nicknames — was designed by Stephen Martyak (Boston Chops, The Sinclair). Much of the bygone hotel's Greek revival architecture remained, including original Corinthian columns that flank a vintage mirror behind a 10-seat bar. A separate chef's counter seats guests at a marbled bar top; high-tops, communal tables, and leather banquettes are scattered throughout the dining room; and an outdoor patio offers guests the chance to snack on charcuterie and oysters while people-watching on Beacon Street.
Before The Emory, the space was the home of Scollay Square, a restaurant that Kilgore used to frequent for lunch and a beer when he worked in the neighborhood.
"The previous owners were friends of mine," Kilgore said. "When they moved in here, 15 years ago, I was working at No. 9 Park. The night they bought the restaurant, they came in and had oysters and champagne. And fifteen years later, here I am buying it from them."
Kilgore, who said he has spent most of his career as a bartender, said that although The Emory came about organically, owning a restaurant had been on his mind for a while. Having it open in Beacon Hill was just the icing on the cake.
"It feels a little bit surreal, but it feels right," he said. "I love this neighborhood."
The Emory; 21 Beacon St., Boston; open for dinner starting at 5 p.m. daily, with lunch and brunch to follow later this summer; theemoryboston.com