Restaurants
There are a ton of feasts happening in the North End this summer. Here's what each one is all about.
The neighborhood will be a non-stop party throughout the month of August.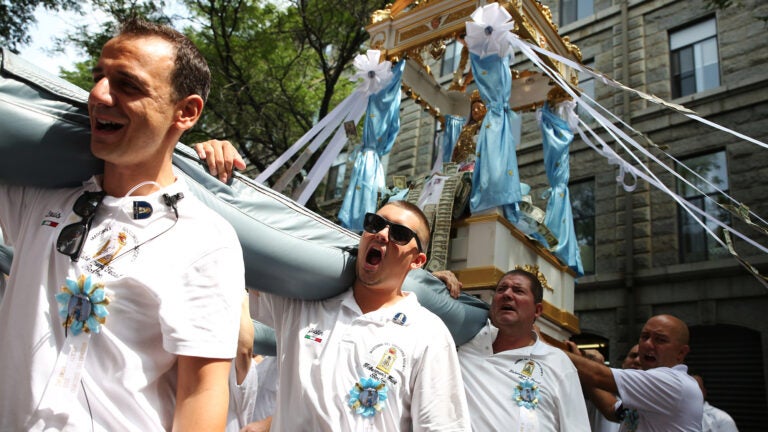 For tourists visiting Boston, the North End is all too frequently viewed as a one-stop-shop for cannolis, a quick peek at Paul Revere's House, and a cheesy slice at Regina's Pizzeria. But for its residents — and Boston's deeply connected Italian American community — summer in the North End is centered around its feasts. These multi-day religious celebrations pay tribute to Italian saints and martyrs, and are defined not only by the jubilant processions that wind throughout the neighborhood's cobblestone streets, but by the music, dancing, and street food vendors that turn the North End into one giant party every weekend in August (and even into September).
If you're unfamiliar with what these feasts are all about — and who they're celebrating — here's an explainer on each of the North End feasts taking place this summer.
What: St. Agrippina di Mineo Feast
When: August 1 from 7 p.m.–11 p.m., August 2–4 from noon–11 p.m.
Where: Hanover and Battery Streets
History: St. Agrippina, a princess who was tortured to death in 256 A.D. by the Roman emperor Valerian, is the patron saint of thunderstorms, leprosy, and evil spirits. Her body was transported from Rome to Mineo by Bassa, Paula, and Agotonica, three holy women who witnessed miraculous events throughout the journey. The St. Agrippina di Mineo Feast celebrates her life with a four-day fête that includes live entertainment (Montell Jordan will be a headliner this year), a procession, raffles, and vendors selling arancini, fried calamari, and pasta.
What: Feast of the Madonna Della Cava
When: August 9 from 7 p.m.–11 p.m., August 10–11 from noon–11 p.m.
Where: Hanover and Battery Streets
History: The North End's celebration of the Madonna Della Cava coincides with its sister celebration in Pietraperzia, Sicily. The feasts pay homage to the Madonna Della Cava, who, in the early 13th century, visited a young Sicilian boy in a dream on three separate occasions, telling him to "come in and uncover me from the ground." The boy, his mother, and other villagers in the Sicilian town of Trapani set out for nearby Ronzi, where after multiple digs they uncovered a stone with a painting of the Madonna Della Cava on it. While attempting to carry it back to their village, the stone fell and cracked, and the villagers decided to build a shrine around the stone at the original site where it was found. Today, the North End honors the Madonna with a procession, a dance party, marching bands, raffles, and almost 100 vendors selling traditional snacks and desserts over three days. 
What: The Fisherman's Feast
When: August 15–16, various times
Where: Fleet, Lewis and North Streets
History: Now in its 109th year, The Fisherman's Feast is Boston's oldest continuous festival. Started in Boston in 1910, the fest honors Madonna del Soccorso (Our Lady of Help), a figure who is believed to have aided the sick and needy through healing miracles. The town of Sciacca, Sicily, decided to commemorate her by building a statue, and two artists — Guliano Mancini and Bartolomeo Birrittaro — completed the project in Palermo in 1503. In order to transport the heavy piece of artwork, the fisherman of Sciacca sent a fleet of fishing boats and volunteered their services to move the treasured piece. The Fisherman's Feast honors these volunteers; to this day, only fishermen are allowed to carry the statue in Sciacca. At the North End celebration, a grand procession winds through the streets, accompanied by live music, a cooking stage, a meatball competition, and food vendors featuring Italian sausages, cannoli, and more.
What: Feast of Santa Lucia
When: August 22–23, various times
Where: Endicott, Thacher and North Margin Streets
History: A precursor to Saint Anthony's Feast, the Feast of Santa Lucia honors the martyr Saint Lucy, who devoted her life to her faith. After breaking off an engagement to a nobleman, slighted Romans made multiple attempts to kill her — even stabbing her in the throat with a sword — but she was able to fend off death until finally being given the Christian Last Rites. Today she is known as the protectress of eyesight, and the North End festival honors her with a procession of her statue through the streets, a culinary stage and tasting tent, dancing, and more. Regina Pizzeria will be on site serving slices all weekend, and Dragone Cheese will offer samples of mozzarella, ricotta, and aged parmesan.
What: Saint Anthony's Feast
When: August 22–25, various times
Where: Endicott, Thacher, and North Margin Streets
History: It's a big year for this annual event: Saint Anthony's Feast will celebrate its 100th anniversary at the end of August, honoring Saint Anthony of Padua over four raucous days. Started in Boston in 1919 by a group of Italian immigrants from the town of Montefalcione in southern Italy, the feast is anchored by a ten-hour procession of the Statue of Saint Anthony, a Franciscan priest known for his eloquent preaching and devotion to the poor and sick. He is also known as the patron saint of lost articles. This year's celebration will incorporate parades, live entertainment, religious services, cooking demonstrations, and more than 100 vendors offering Italian street food like zeppole, pizza, calamari, and gelato.
What: San Gennaro Feast
When: September 13–15, times TBA
Where: Hanover and Battery Streets
History: The San Gennaro Feast is the youngest event on the North End's feast circuit. It debuted last year, and honors Saint Januarius, the patron saint of Naples who became a martyr during the Great Persecution. While little is known of his life, faithful followers gather in a Naples cathedral every year to watch the liquefaction of Saint Januarius' blood, which is kept in sealed glass ampoules behind the altar of the Chapel of the Treasure of Saint Januarius. In 2018, the North End's San Gennaro Feast saw live entertainment, a procession, and plenty of food, with proceeds from the fest benefitting local charities supporting autism. Check back soon for more details about this year's event.