Restaurants
The espresso martini is back. Here are 3 you need to try.
From old-school cocktail to new-school and even completely different.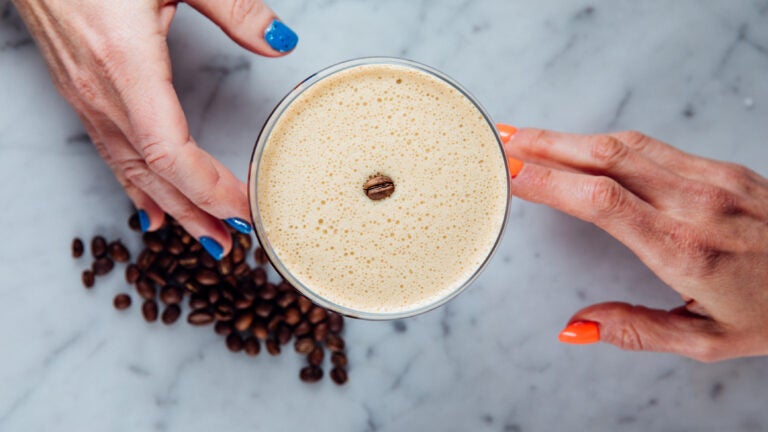 Alongside such other non-martini martinis, the vodka-and-coffee-liqueur cocktail has been viewed as a relic of bad '90s bar culture, something to be sneered at on the menu before you ultimately order a Negroni instead.
But now the espresso martini is getting a new lease on life, thanks to its appearance at local bars like Ciao Bella, Pammy's and Craigie on Main, where top-notch bartenders are experimenting with fresher ingredients, new flavors, and bold new approaches to crafting the cocktail.
Who knows — besides keeping patrons cool this summer, Boston's new espresso martini wave may just bring the drink the respect it deserves.
Espresso Martini at Ciao Bella
At the North End's Ciao Bella, Italian fare is served without an ounce of pretension. This philosophy extends to the bar menu, which champions maligned Italian restaurant cocktails of yesteryear (yes, it includes a lemon drop martini).
The espresso martini isn't a radical departure from the mold — it includes an ounce of vodka and half-ounces each of Kahlua, Bailey's, and simple syrup — but its key differentiator is an ounce of freshly brewed Lavazza espresso.
"The fresh espresso is really what makes it," said beverage director Mike Wyatt. "It tastes good, and gives it the caffeine kick that you should get from an espresso martini."
Another place Wyatt's creation separates from the pack is its garnish.
"Traditionally you get the coffee beans on top, which are kind of useless," Wyatt said. "It looks nice, but you can't really crunch on coffee beans. So we clipped chocolate-covered beans to the side so that you could actually enjoy them."
Espresso Martini at Pammy's
"I think the espresso martini falls into the category of one of those drinks that everybody likes, but no one has a really high expectation of," said bar manager Rich Andreoli.
To raise expectations, Andreoli started with the espresso itself, settling on beans from Somerville's Counter Culture Coffee. Then came the fun part.
"We started to utilize a lot of the fun stuff on the back bar, and some of the stuff we don't usually get to put together," he said. "One of the very first things that anybody will tell you about a cocktail, outside of the espresso martini, is 'I want something, but not sweet.' The espresso martini is one of the only opportunities for us to make something intentionally sweet."
The end result was an ounce-and-a-half of Colorado's Spring 44 Honey Vodka, three quarters of an ounce Varnelli Caffè Moka, a half-ounce of Giffard Vanille Madagascar, a quarter-ounce each of simple syrup and Foro Amaro, and finally two dashes of Regan's Orange bitters for balance.
"At this point there's a lot of fat, round, flavors," Andreoli said. "The orange bitters give it a nice, clean, finish, similar to putting a lemon peel on the side of a cup of espresso.".
Espressoless Martini at Craigie on Main
Craigie on Main's version dispenses with the espresso entirely, relying instead on two espresso liqueurs in equal parts. Lead bartender Eric Books created this simple formula after hearing about a bartender friend's visit to the Fratelli Branca distillery in Milan, Italy.
"They asked him if he serves espresso martinis in the states. And he said yes, it's pretty popular. It's got vodka, x, y, and z." Books said. "They told him that theirs was just three ounces of the espresso liqueur shaken, double strained and poured. That was it."
Books's take isn't so minimalist — he splits his take between Fratelli Branca's Caffè Borghetti liqueur and NOLA Coffee Liqueur made by California's St. George Spirits. Books sees the liqueurs as complementing one another.
"The Borghetti is a bit more bitter in nature, and the St. George is a little softer and nuanced, and has some stone fruit flavors going on," he said. "Kind of like the difference between coffee and espresso."
Thanks to those flavors, and the froth created by aeration in the shaker, it's hard to believe the drink's "espressoless" disclaimer.
"People are surprised that there's no espresso in it," Books said.
"But like any drink at Craigie, if you don't like it, we'll certainly make you something that you do like," he added. "But it's an empty offer on our end because nobody has sent it back and we don't think anybody will."
Correction: Mike Wyatt was misidentified in a previous version of this story. Boston.com regrets the error.