Restaurants
Taqueria el Barrio arrives in Brookline with tacos, tortas, and more
Plus a traditional goat stew that is "great for hangovers."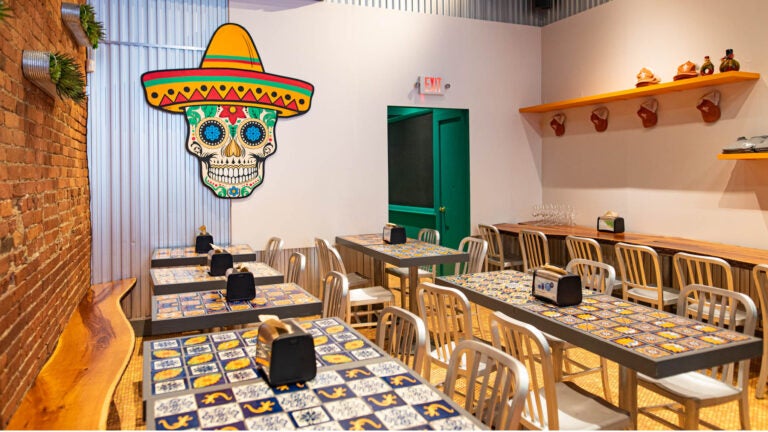 Boston's taco landscape is about to gain a new major player.
Taqueria el Barrio — a fast-casual Mexican restaurant from Boston industry vet Servio Garcia — will debut Tuesday in Brookline with a straightforward, customizable menu of tacos, tortas, quesadillas, and plates. Each dish can be ordered with proteins that range from al pastor and grilled chicken to fried fish and carnitas, and diners can choose from either house-made flour tortillas or corn tortillas from Mi Tierra Tortillas, a Springfield company that sources its corn from the Connecticut Valley Region.
Churros are offered on the dessert menu, while the drink menu includes regional sodas and agua frescas like horchata, jamaica (hibiscus tea), tamarindo, and rotating, seasonal options like lemonade with chia seeds.
Garcia, who is the owner and general manager of Bisq in Cambridge and Bergamot in Somerville, partnered with Bisq chef Alex Saenz and chef Luis Figueroa, who will serve as Taqueria el Barrio's executive chef, to bring the concept to life.
"I first started thinking about this four, five years ago," Garcia said. "It was always on the back burner."
He said that all of the puzzle pieces came together when he, Saenz, and Figueroa got together and started seriously talking about the concept. The three realized that it was a dream project, and when the Brookline space became available, their dream became a reality.
"There's no such thing as a perfect location, but we came across the space and it just made sense," Garcia said.
Inside the restaurant, which is located across the street from the Babcock Street stop on the Green Line's B branch, tables are decorated with vibrant talavera tiles, which are traditional design elements in Mexican churches, restaurants, and houses. A live-edge wood standing counter provides a more casual option for diners looking for a quick pit stop.
From the tiles to the recipes, Garcia said that he wanted to make sure the taqueria felt as authentic as possible.
"I never wanted to have something Tex-Mex," he said. "What was important was if somebody had ever been to a taqueria in Sonora, it will feel like they're at home. We achieve that using authentic and original recipes, [including] some recipes from Luis's family."
Taqueria el Barrio will host its grand opening at 11 a.m. Tuesday. Stay tuned for weekend specials launching in the next few weeks, including birria (goat) tacos and stews — both of which Garcia said are "great for hangovers."
Taqueria el Barrio; 1022 Commonwealth Ave., Brookline; Mondays–Saturdays from 11 a.m.–11 p.m., Sundays from 11 a.m.–10 p.m.; taqueriaelbarrio.com