Restaurants
Bow Market's new cocktail lounge pays tribute to Boston bartenders
Sip on draft libations while checking out art at Create Gallery & Cocktail Lounge.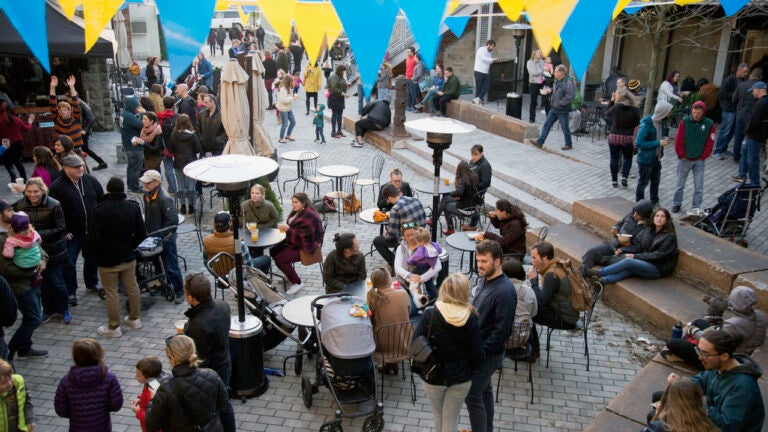 Following its one-year-anniversary in May, Somerville's Bow Market continues to reinvent its communal gathering space with a changing roster of pop-ups and small businesses. The latest to move into the Union Square market: Create Gallery & Cocktail Lounge, an art gallery and bar from Louis DiBiccari, founder of the art series Create and former co-owner and chef of the now-shuttered Fort Point restaurant, Tavern Road.
According to a post on Create Gallery's Instagram, the intimate lounge — which is located on the market's second floor and above wine bar Rebel Rebel — opened over the weekend with artwork from local artists Markus Sebastiano and Samurai White. Potted plants and Edison bulbs dangle from the ceiling, while benches and low stools provide a cozy nook for small groups to settle into.
Local talent isn't just celebrated on the walls. The opening drink list features eight draft cocktails from nine local bartenders, including libations like the Picture Hook Spritz (Campari, Carpano Blanvo vermouth, grapefruit juice, grenadine, Cava) from Shore Leave's Ryan Lotz and the cheekily-named No Egrets (gin, Kleos, Green Apple Dolin Blanc vermouth, mint) from Chickadee's Kate Belanger. DiBiccari also paid homage to members of Boston's bartender family that have passed away, including the Down n' Brown rye cocktail attributed to the late Ryan McGrale, who worked at Tavern Road. A framed quote from ArtScience and Tavern Road bartender Tenzin Conechok Samdo, who passed away in January, hangs on the wall.
The lounge is a permanent extension of Create, an event series DiBiccari founded in 2012 that celebrates art, food, drink, and music from up-and-coming local artists, chefs, and bartenders. DiBiccari told Eater Boston that the larger Create events will continue to take place, while its mission statement will play out within the new lounge through a rotating lineup of artists and craft cocktails.
Create Gallery & Cocktail Lounge; 1 Bow Market Way, Somerville; Sundays–Thursdays from 5:30 p.m.–midnight, Fridays–Saturdays from 5:30 p.m.–1 a.m.; instagram.com/creategalleryandcocktail