Restaurants
Bit Bar will bring booze and arcade games to Malden later this year
The arcade joins the new J Malden Center development.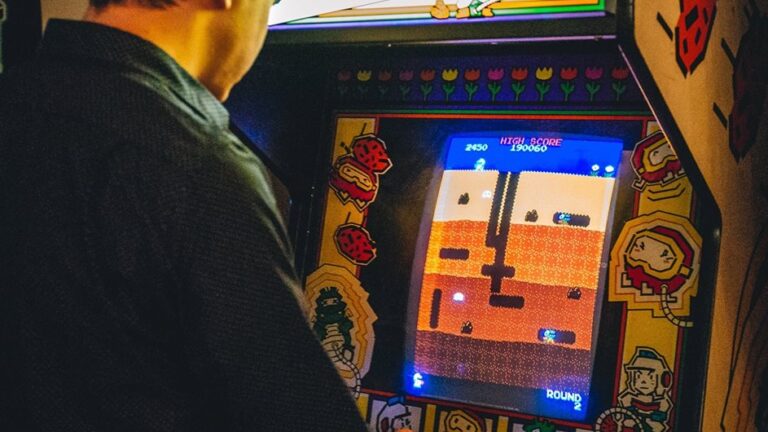 Two new businesses are set to become part of a mixed-use community under construction in Malden — and one of them already has a dedicated following in Salem.
The flagship location of Bit Bar — a bar, arcade, and restaurant — opened in a former Salem jail in 2016, and offers more than 30 arcade games and pinball machines as well as craft beer, cocktails, and comfort food. Gamers flock to the popular play spot to tackle classics like Donkey Kong, Ms. Pac-Man, and Super Mario Bros., taking a break to sip appropriately-named cocktails like Princess Peach and Ghost Eater. Three years later, the arcade has announced that it will open a second outpost at J Malden Center, an apartment, retail, and office development owned by Jefferson Apartment Group.
Bit Bar Malden is scheduled to debut in late 2019 with more than 50 arcade games and pinball machines, 16 rotating craft beers on tap, cocktails, and shareable dishes like the Loaded Tetris Tots and house-made pierogi. The new location will also offer an event space for larger groups.
"When compared to our Salem location, Bit Bar Malden will be twice the size with twice the retro arcade games, twice the taps, and twice the fun," said Gideon Coltof, Bit Bar's co-owner, in a press release. "Plus, you can't beat the location. We're situated across the street from the Malden Center T stop…making it easier for our loyal Boston supporters to experience our energetic vibe, while opening our doors to a new fleet of fans who don't know they love us yet!"
In addition to Bit Bar, the center will also welcome Malden Center Fine Wines, a beverage and specialty food store with two other locations in Somerville and Needham. The two businesses are the latest to join the J Malden Center lineup, whose 24,000-square-feet of retail space will also include Soul City Yoga and cafe/clubhouse Landsmith.
Stay tuned for Bit Bar Malden's opening date. In the meantime, you might want to practice those cheat codes.