Restaurants
Black Lamb capers blithely (and noisily) into the South End
This new South End brasserie has been packed since it opened in mid-July. I wanted to find out if it lives up to the hype.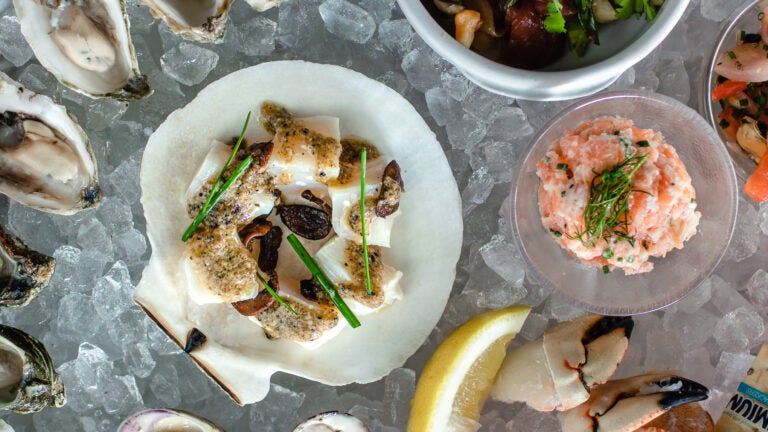 Our new restaurant reviews are part of a series of conversations we're developing to help you save time and stay informed on what's happening in the city. Be sure to check out MC Slim JB's introduction to Boston.com and sign up to receive the latest on the city's food scene.
Heather and Colin Lynch already have three South End smashes under their belts: Italian restaurant Bar Mezzana, craft-quality Tiki bar Shore Leave, and pocket-sized sushi bar No Relation. So it's no surprise that their fourth venture in the neighborhood, the self-styled "American brasserie" Black Lamb, would be met with feverish anticipation from the locals. Taking over the former space of Stephi's on Tremont, the Lynches, their partners Jefferson Macklin and Ben Kaplan, and notably beverage director Ryan Lotz appear to be aiming for the same sweet spot that Stephi's long hit before it faded: a comfy, modestly scaled neighborhood spot with a swinging patio and a classic American menu, though Black Lamb's is more adventurous.
Executive chef Chris Drown has divided the menu into snacks and plates, though only experience will tell you what are a tapas-sized few bites (like lip-smackingly salty brown anchovies with zucchini butter on toast, small for $6), a modest appetizer (the terrific jumbo baked Island Creek oyster, two halves of a monster bivalve garnished with bacon and spinach under a pastry crust, $16), a generous appetizer (the Jonah crab Louis, deconstructed as a charmingly plated salad with avocado and nectarine, $14), or a full-sized entrée (the duck breast frites with a luscious orange-accented Béarnaise sauce, in which crisp-skinned duck breast substitutes for beef in the classic steak frites, $28). There's also a traditional New England seafood raw bar with a few marinated treatments (escabeche, ceviche, and a fantastic scallop dressed with truffle vinaigrette reminiscent of chef Lynch's famed Bar Mezzana crudos, $10). Pastry chef Christina Larson's half-dozen dessert options ($6-$10) include a fine New York-style cheesecake with a sweetish strawberry-rhubarb sauce.
Lotz's specialty cocktails are mostly sensational, including a gimlet ($11) that so neatly balances the piney notes of London dry gin with grapefruit and housemade salted lime cordial that it might convert gin-haters, and a clever update to the tired dirty vodka martini ($12) that includes a slick of EVOO, black-pepper infusion, and dark olive brine that makes it look and taste genuinely dirty. The beer list is a promising work in progress, with drafts from solid East Coast beer nerd breweries (Evil Twin, Night Shift, Jack's Abby) and a potent Belgian Saison Dupont ($10 for 10-ounce draft, $16, for a pint). The wine list is surprisingly affordable by South End standards, with many bottles under $65 and 14 options by the glass ($8-$16).
Black Lamb shocked us by going from announcement to opening in a mere few months. But it's less surprising when one sees how little the layout and vibe has changed from the Stephi's era. The new coat of minty paint, caramel banquette upholstery, dark wood tables, white country chairs, lighting fixtures, and art are attractive but don't add up to dramatically different ambiance. The space is also fashionably (some will say painfully) loud, to the point where conversation in the dining room at peak hours requires shouting. I understand why this is voguish — younger patrons equate quietness with death, and operators love the extra table turns that result when the noise level discourages lingering — but it's in noticeable contrast to the group's other spots.
There's also a litany of small errors from both the kitchen, service, and beverage program that I'll briefly enumerate, with a reminder that this is my early take on a newly opened restaurant; given Lynch and company's track record, I expect they will fix things in time, such as: careless shucking of oysters; a duck breast half cooked to temperature, half overcooked, and served with cold frites; a lack of coursing coordination that piled up too many dishes at once on a small table; a pétillant-naturel rosé (NV Sebastien Brunet "100%," $50) that demonstrates how well-intentioned natural winemakers can sometimes plainly miss the mark, in this case with an overly simple, overly carbonated sparkler.
I also encountered a lot of lovely food and drinks to balance out early flubs, including delectable complimentary Parker House rolls topped with bits of baked cheddar; a gorgeous salad of sweet early-summer tomatoes ($13) with sprightly chunks of cloumage and three kinds of fresh basil; a swoony disk of lamb tartare in mustard sauce served with the novel accompaniment of potato sticks ($15); a plate of perfect grilled lamb chops with apricot/mint chutney and lemony couscous ($30); and the 2018 Château de Roquefort "Corail," a Côtes de Provence rosé that felt like a steal at $40. Promised daily specials weren't yet available, but I'm looking forward to trying dishes like grilled sardines, Saturday-night prime rib, and Sunday-night roast chicken.
Further, the Lynches have cultivated a culture of warm hospitality that shines through its shakedown-cruise struggles. Despite early kitchen and service miscues, the joint has been packed with giddy crowds from the moment it opened. I left with the impression that Black Lamb, with its slightly lower price point, higher noise levels, and more familiar menu is aiming for a younger South Ender than typically frequents the more sedate and sophisticated Bar Mezzana.
As for me? I'll gladly go back when I can get a gimlet and that promised prime rib at the bar. I'll probably wear earplugs, though.
Black Lamb; 571 Tremont St., Boston; Mondays–Wednesdays from 11 a.m.–midnight, Thursdays and Fridays from 11 a.m.–1 a.m., Saturdays from 10 a.m.–1 a.m., Sundays from 10 a.m.–midnight; blacklambsouthend.com
Correction: A previous version of this story misidentified Ryan Lotz as a Black Lamb partner. Boston.com regrets the error.