Restaurants
Rice porridge gets a serious upgrade with a new pop-up dedicated to the dish
Congee & Me melds cultures with its modernized congee combinations.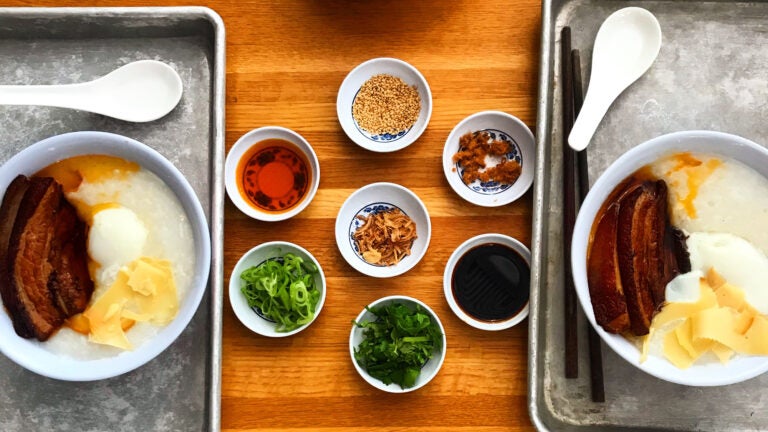 Travel to any number of countries in Asia and you may come across a dish that resembles a bowl of thick, soup-like rice. It goes by different names — juk, lugaw, chok — depending on which country you are in, but in China, rice porridge is called congee, and it has served as a comfort food staple for centuries. It's also the driving force behind one of Boston's newest pop-ups: Congee & Me, which recently started offering breakfast congee at Chinese-American restaurant Mei Mei.
Founded by Brookline native Arielle Chernin, Congee & Me is both for diners who grew up eating the porridge and who have never tried a spoonful of it in their life. Chernin's bowls of congee are a nuanced mash-up between Chinese and American flavor profiles, like the "everything bagel congee," which uses smoked tofu, furikaki, a lazy egg, and scallion oil. Or the "bacon, egg, and cheese congee," which comes with pork belly, a lazy egg, smoked gouda, and tomato oil. There's also the option to create your own bowl, starting with a base and adding proteins, vegetables, and extras like fried peanuts and fried anchovies.
"My mom is Chinese and my dad is Caucasian," Chernin explained. "My brother, sister, and I really grew up meshing cultures within our household. My mom would cook this traditional Chinese food and we would put our own twists to it."
That meant pairing her mom's congee — which is made by boiling rice down with a ton of water (it usually requires a 12-to-1, water-to-rice ratio) until it resembles loose oatmeal — with anything that they could find in the fridge.
"We would open the refrigerator and literally take everything out and make a topping bar on our kitchen table, and everyone could put in whatever they wanted," Chernin said. "We would throw in things that are super non-traditional: peanut butter, brie cheese, strange pickles, and crunchy things. We would make fun of each other and then try them and say, oh, this is actually good."
Chernin, who graduated from Cornell University's School of Hotel Administration, founded Congee & Me in San Francisco after experiencing a serious case of burnout, she said. She had served as the general manager at chef Nancy Silverton's Pizzeria Mozza in Los Angeles for three years, followed by four years in San Francisco working at Delfina, another acclaimed pizza destination. Meanwhile, the congee concept had been bouncing around in the back of her mind, and in 2018 she teamed up with her aunt to host Congee & Me pop-ups.
"Then I woke up one day and was like, I'm done in San Francisco," she said. "I was ready to move back to Boston."
Chernin has produced three Congee & Me events at Mei Mei since moving back here in February, this time with the help of two Connecticut-based chef friends, Wes Barrington and Angeline Chiang. The pop-ups are held in the morning when Mei Mei is closed, though Chernin isn't ruling out trying lunch or dinner versions in the future. Her main goal — aside from her life-long dream of opening a restaurant — is to share the experience of eating congee and to educate the non-Asian world about what congee is, what it used to be, and what it could be.
"There's a type of rice porridge for every Asian culture, and everyone has a story to tell," she said. "Everyone grew up eating it in a different way or for a different occasion. Ultimately I'd love to have a menu that has a Thai congee and an Indian congee, and take [inspiration] from those dishes to tell other people's stories, too."
The next Congee & Me series will be held at Mei Mei over Labor Day weekend from August 31 to September 2. Dishes are individually priced, but tickets can be reserved here. To keep up with Congee & Me's future events, follow the pop-up's Instagram and Facebook pages.
Congee & Me at Mei Mei; 506 Park Drive, Boston; August 31 and September 1 from 8:30 a.m.–10:30 a.m., September 2 from 8:30 a.m.–11:30 a.m.; facebook.com/congeeandmeboston