Restaurants
Kim's Tofu supplies Allston with even more Korean food. That's a good thing.
Come on in, the stew is hot.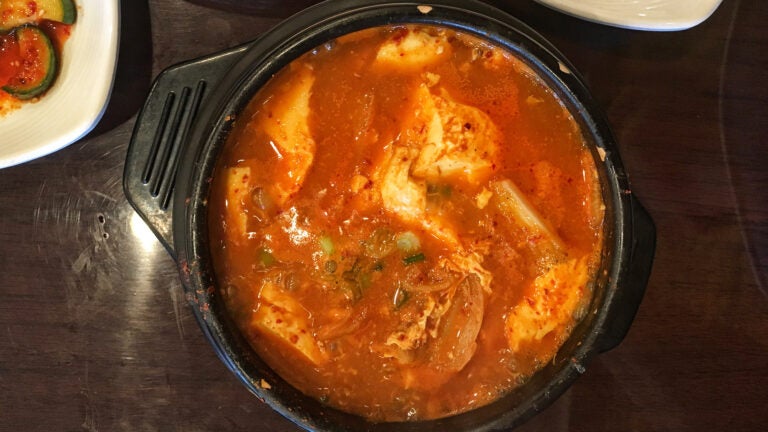 Our new restaurant reviews are part of a series of conversations we're developing to help you save time and stay informed on what's happening in the city. Be sure to check out Erin Kuschner's introduction and sign up to receive the latest on the city's food scene.
The first thing you should know about Kim's Tofu in Allston, which chef/owner Henry Kim opened in July just a stone's throw away from many of the other Korean restaurants on Brighton Avenue, is that you will receive little presents throughout your meal: edible gifts that you did not order, but instead appear on your table suddenly and with frequency, making you think, "Wait, really? Are you sure? For me?" 
Shortly after settling into the bright, sparsely decorated space decked out with pastel green walls, we receive a small bowl of cold, organic tofu, the eponymous ingredient that Kim's makes fresh in-house each morning. It comes with a saucer of soy sauce, sesame seeds, and scallions, and we are instructed to scoop up a small amount before dipping it into the tofu, transforming the slightly sweet bean curds into a salty, umami-laden starter. More banchan saucers arrive holding pickled cucumbers, fried croaker fish, and slippery prawns, threatening to fill us up before our stew is even served.
At Kim's, the focal point is soondubu jjigae ($14.95), a bubbling soup that glows red with gochujang (chili paste) and floats custard-soft tofu on top, more compressed and silken than its cold predecessor. Diners can customize their stew by adding seafood, kimchi, sausage, and vegetables, and by choosing a spice level that skips on a cautious gradient from "white" to "mild" to "medium" and then, suddenly, to "hot" (the medium has a solid kick; I did not venture into the hot level). Paired with white rice, which can be upgraded to oyster rice or nutritious rice — a medley of sweet potato, pine nuts, pumpkin, and black beans that turn the rice purple, $4.95) — the jjigae is the definition of comfort food: rich, soothing, a warm hug to quell your hunger. We spoon it up while watching catchy K-pop music videos on one of the restaurant's five TVs.
The second gift arrives after our metal bowls of rice are almost scraped clean, so that only the crusted kernels remain stuck to the bottom. Our server suddenly appears with a pot of barley tea and pours it into the bowl. "It aids with digestion," she says, motioning to our overflowing table. "I like to spoon it up between bites." So we do. It is earthy and bordering on bitter and just the kind of gift we needed.
The seafood pancake ($14.95) — slightly dry and with underwhelming amounts of shrimp — is the most disappointing part of our meal. But it's followed by a pile of perfectly marinated, outrageously tender kalbi ribs ($23.95) that makes up for it, as do the cheery explanations and instructions our server imparts on us throughout the meal. Everything arrives promptly. There is always food on our table. The K-pop keeps playing.
The third and final gift comes with the check: a cold mug of sujeonggwa, or cinnamon punch. Poured over crushed ice, the sweet drink is made with ginger, gotgam (dried persimmon), sugar, and cinnamon, with hints of Christmas and a spray of pine nuts floating on top. If making our way through a bubbling pot of soondubu jjigae has made us lethargic, then sujeonggwa is the spice-filled refresher needed to bring us back. Good — people are waiting, and they need our table.
Kim's Tofu; 160 Brighton Ave., Boston; Daily from 11:30 a.m.–10 p.m.; facebook.com/kimstofu