Restaurants
Navy Yard Bistro says goodbye after 15 years
The Charlestown restaurant and wine bar will host a couple of farewell parties.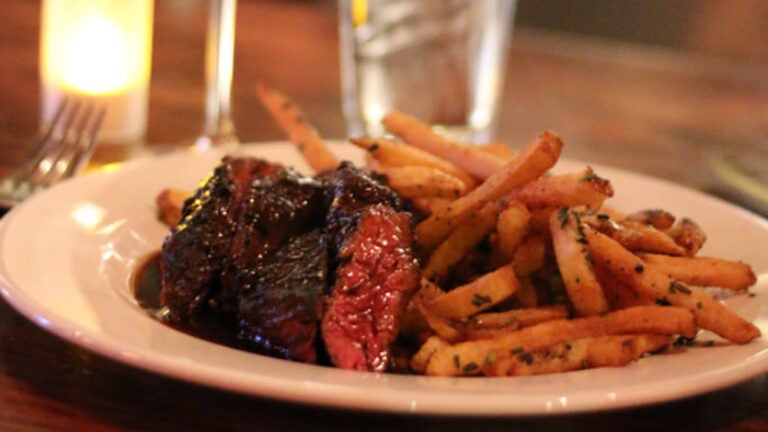 For John Moore, owner of Charlestown restaurant and wine bar Navy Yard Bistro, the most flattering aspect of being a restaurant owner is when a guest makes the choice to come in when it matters the most.
"I succeeded at what I wanted [Navy Yard Bistro] to become," said Moore. "People have been here throughout the years. Maybe their wife died after 50 years and all of a sudden their entire family is coming in that night for dinner. That's where they want to be. That's happened so many times."
On August 25, the restaurant will close its doors after 15 years of serving the Charlestown community. The shutter isn't a total shock, though: Moore, who has lived in the neighborhood for over two decades, told the Charlestown Patch in November that the landlord didn't want to renew the lease.
"The landlord wanted someone to do a 100-percent remodel," Moore told Boston.com — a remodel Moore said Navy Yard Bistro didn't need.
In May, the Charlestown Patriot-Bridge reported that Michael Cooney, Kari Cooney, and John Payne, who own the popular Charlestown pizza destination Brewer's Fork,  would be taking over the space and opening an entirely new concept.
Moore confirmed the takeover, and told Boston.com that he "thought they would be a good fit because they're so close by…and I wanted another restaurant in the neighborhood."
To celebrate its final week, Moore said that Navy Yard Bistro will throw parties on Saturday, August 24, and Sunday, August 25. On Saturday, diners can make reservations for one of two time slots (5 p.m.–8 p.m. for $50 and 8:30 p.m.–close for $80), which includes plenty of appetizers, beer, and wine. On Sunday, a family-style dinner at 6 p.m. will be offered for $100 per person, and will include some of Moore's favorite dishes from the restaurant, like grilled salmon and steak frites, plus wine and beer. Reservations can be made for both days by emailing [email protected] or calling the restaurant at 617-242-0036.
"It's definitely a tough ending, especially during the busy season," Moore said.
But he's also not dwelling on the negative. Moore, who is looking for a space to open another restaurant — an iteration of Navy Yard Bistro, if not exactly the same concept — is thankful for the love the neighborhood showed him.
"During the Marathon bombings, we were so crowded because people wanted a safe haven," he remembered. "We've had dinner with the Stanley Cup [in the restaurant]. A lot of people had their first dates there, and now they're married."
Navy Yard Bistro will finish out its final week with its regular menu plus specials on Tuesday through Thursday, and will be closed for a wedding on Friday before opening back up for the weekend parties.
Navy Yard Bistro; 1 6th St., Charlestown; Sundays–Tuesdays from 5 p.m.–9 p.m., Wednesdays from 5 p.m.–9:30 p.m., Thursdays–Saturdays from 5 p.m.–10 p.m.; facebook.com