Restaurants
Shy Bird is now serving drinks and rotisserie chicken in Kendall Square
The cafe hopes to be an all-day destination.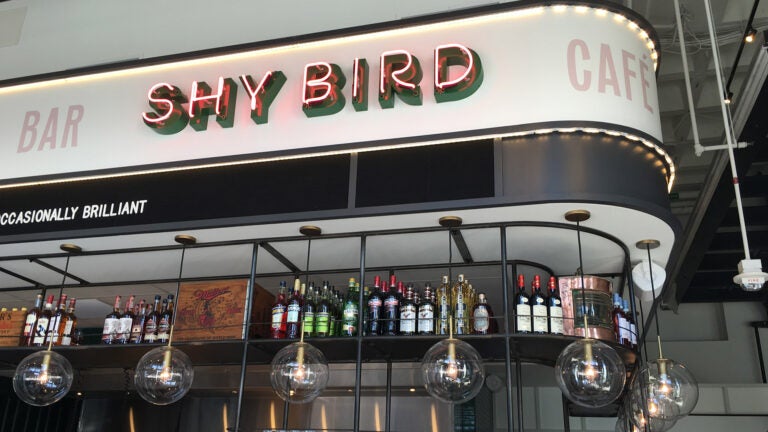 The bird has finally landed.
On Tuesday, Shy Bird opened on the corner of Broadway and Third Street in Kendall Square, an airy, light-filled space that serves as a rotisserie, cafe, and bar. Inside, guests order at a counter before settling into banquettes or tables; the 11-seat bar, with a neon pink "Shy Bird" sign glowing above, is full-service. A lengthy patio lined with flower boxes looks out onto a bustling Broadway.
Shy Bird, which sits inside the Cambridge Innovation Center (CIC), is meant to be an all-day affair. On the breakfast menu, diners can order egg sandwiches and bowls, pastries, overnight oats, and other early morning bites until 11 a.m. Lunch, which is served from 11 a.m. to 4 p.m., centers around sandwiches (rotisserie turkey and Swiss cheese, slow-roasted pork, and rotisserie lamb gyro) on Iggy's bread, as well as plates of clam toast, brisket crepes, and rosemary-black pepper fries. A dinner menu expands with larger entrées like roasted salmon and grilled beef short rib frites.
But the main star is the chicken, which churns in a rotisserie oven behind the counter. A separate section on the lunch and dinner menu is called "The Bird" and lists a half and whole chicken with a choice of sauce (salsa verde, juniper-pepper BBQ, honey mustard, and pecorino ranch), as well as larger plates.
Coffee from Counter Culture can be found on the drink menu alongside tea and sweeter picks like strawberry lemonade and Nomada honey soda. If you're sitting at the bar, take a peek at the beer, wine, and cocktail menu, which lists wine bottles from across the globe, plus local (Lamplighter Brewing's Birds of a Feather) and national (Boulevard Brewing's Smooth Fuzz) beer options. Cocktails include the Shy Lady, made with gin, hibiscus, lime, and tonic, and the Dave's Hawaiian Vacation, a bourbon-based drink featuring coconut cynar and dry vermouth.
Shy Bird comes from Cambridge resident and Boston hospitality veteran Andrew Holden, who co-owns Branch Line in Watertown and is a managing partner at Kenmore Square icon Eastern Standard. He said that the Shy Bird team, which includes Branch Line alums Shaun Brideau (wine and coffee), Eli Feldman (project manager), and Matt Garland (chef), as well as Kirkland Tap & Trotter alum James Child (cocktails), has been working on this project for around two years.
"Some of the more rotisserie-oriented items came from Branch Line," Holden explained. "We started to think about taking elements from Branch Line — rotisserie chicken, a really thoughtful, curated coffee program — and bringing it to a denser part of the city. This is meant to be approachable and accessible, and we hope Kendall enjoys us for a long time."
Washington D.C-based architecture firm HapstakDemetriou designed the sleek space, which features low-hanging light fixtures and a dark green and black color motif.
As for the quirky name, Holden said it's derived from the red junglefowl, a precursor to the domesticated chicken and an animal known for its extreme shyness.
"I love the idea of shyness while still being expressive," said Holden.
While Shy Bird sits on a corner that sees plenty of foot traffic during the work week, Holden said that the team is excited to see the place come alive on the weekend with families from the neighborhood. A kid's menu, he said, will be coming in the future.
Shy Bird; 1 Broadway St., Cambridge; Mondays—Fridays from 7 a.m.–11 p.m., Saturdays and Sundays from 8 a.m.–11 p.m.; shybird.com