Restaurants
Maria's Pastry Shop, a North End institution, will close at the end of September
"My body is telling me to shut down," said owner Maria Merola.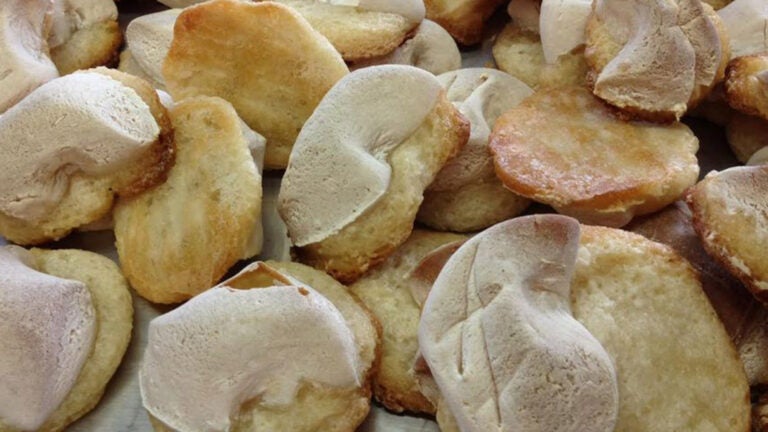 The owner of one of Boston's best cannoli stores has decided she's ready to close up shop.
Maria Merola, owner of the North End's family-run Maria's Pastry Shop, told Boston.com that she will close her store at the end of September and retire from a decades-long career of making award-winning cannolis.
"I'm 66," she said, laughing. "All my friends are retired and posting pictures on the water. They're going on vacation, and I'm working seven days a week. I'm doing good business, but my body is telling me to shut down."
Merola started working at Maria's Pastry Shop on Cross Street in 1970, when it was owned by Modern Pastry. She bought the business in 1982 and has been running it ever since, weathering major changes in the neighborhood, including the Big Dig.
"I think the big thing that I accomplished was that I survived the Big Dig," she said. "When the Big Dig was going on, I stayed open every day all the years they took before they finished it."
Though Merola said she had been thinking about retirement for a while, recent construction — fixing water drains, replacing the brick sidewalk — in front of her shop was enough to know that it was time. She let her staff know about the closure two months ago, and has started telling customers, all of whom, she said, are incredibly happy for her.
"They're saying, 'You deserve it!,'" she said, sharing that her first order of business after closing Maria's is to head to a family farm in the south of Naples, where she grew up.
Merola said that there won't be any closing party or celebration, and that while she bought the business on September 15, 1982, she'll be open for a few more weeks after her 37-year-anniversary of owning the shop.
"My customers would rather bring me balloons [than throw a party]," she said. "Then we'll just clean up [the shop] and get out of here."
Maria's Pastry Shop; 46 Cross St, Boston; Mondays–Saturdays from 7 a.m.–7 p.m., Sundays from 7 a.m.–5 p.m.; closing September 2019; mariaspastry.com