Restaurants
Harpoon's new beer celebrates the chaos that is Allston Christmas
Stock up for moving day.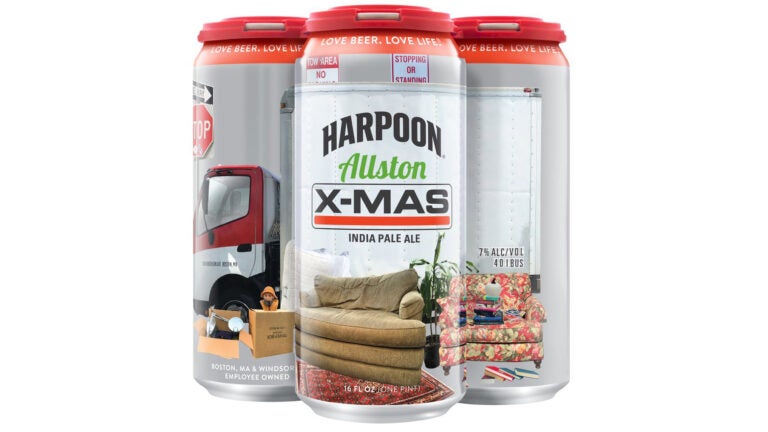 Harpoon Brewery is dreaming of an Allston Christmas.
To anyone who has moved, considered moving, or helped someone move over Labor Day weekend in Boston, the concept of Allston Christmas is a familiar one. Thousands of undergraduate and graduate students living off campus flood the city to settle in to new apartments on September 1 before the school year begins, resulting in a sidewalk free-for-all of couches, lamps, fans, desks, and miscellaneous items that can only be classified as stuff.
The staff at Harpoon knows this ritual all too well — and they've decided to brew a beer in its honor.
On August 28, Harpoon will offer Allston X-Mas, a limited-release New England IPA made with Citra, Lotus, Centennial, and Eureka hops, as well as a hodgepodge of ingredients pulled from past projects: rice flakes, English pale malt, and rye malt. Notes of citrus, mixed berry, and black currant round out the beer, which will initially be available at Harpoon's Seaport brewery before being shipped out to bars and restaurants throughout Greater Boston. Only one small batch of Allston X-Mas was made, so supplies are limited.
"With so many folks from the brewery that have experienced Allston Christmas firsthand, we'd always joked about doing some sort of a beer release for the holiday," wrote Tom Graham, innovation brewer for Harpoon Brewery, in an email to Boston.com. "We were playing around with some Brut IPA recipes last winter and saw an opportunity to combine the two concepts — and also clean up the brewhouse a bit while we were at it."
The brewer has personally witnessed the benefits of combining random finds.
"When I first started at the brewery, I was living in a tight seven bedroom apartment over by Ringer Park, so I got the full [Allston Christmas] experience as I moved in and out," Graham shared. "Our living room couch was pieced together using various sectionals that we pulled in from the streets, making one massive Frankenstein couch that wrapped around the room. I tried not to leave too much on my way out but I like to think someone's currently enjoying my old standing lamp."
For anyone going through the big move that weekend, there are countless tips for surviving the event: Apply for permits. Reconsider picking up that used mattress. Don't drive a moving truck on Storrow Drive (seriously!). And, according to Graham, make sure the fridge in your new apartment is stocked.
"The moment you walk in, get the beer to the fridge," he wrote. "Nothing worse than lugging furniture and ending the day with warm beer."
Harpoon Brewery; 306 Northern Ave., Boston; Sundays–Thursdays from 11 a.m.–8 p.m., Fridays and Saturdays from 11 a.m.–11 p.m.; harpoonbrewery.com