Restaurants
Stillwater will open with brown bag lunches and blue cheese biscuits
Chef Sarah Wade debuts her first restaurant on August 28, and it's all about comfort food.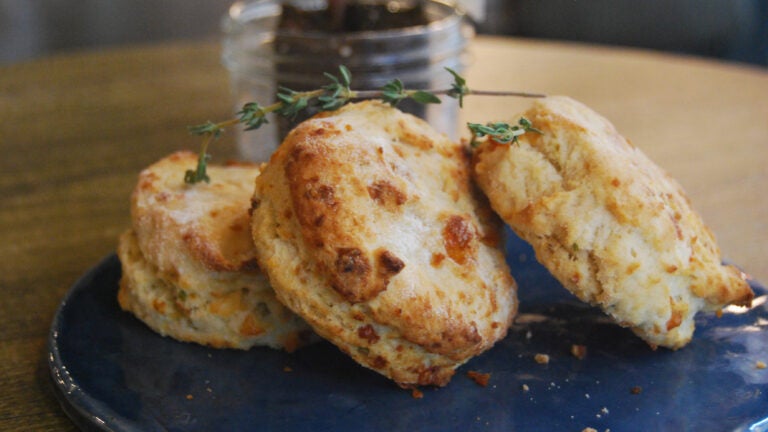 At the corner of Kingston and Essex Streets, chef Sarah Wade walked around Stillwater, her very first restaurant.
"One way is suits and business, and [another] way is rooted in neighborhood and generations of families who've lived here," Wade said, referring, respectively, to the Financial District and Chinatown which fall on either side of the former Townsman space.
Stillwater, which will open on August 28 with lunch and dinner, aims to offer the kind of soul-satisfying food that could appeal to both neighborhoods. On the menu, Wade has channeled both her Oklahoma roots (Stillwater is named after her hometown) and her previous years of experience as executive chef at Lulu's Allston to offer comfort classics like blue cheese and thyme biscuits with whipped chicken dripping butter, chicken fried rib eye, smoked pork mac and cheese, homemade Cheez-Its with dill cucumber dip, and everything-bagel popcorn. Crème brûlée gets the kid treatment with a bottom layer of peanut butter and jelly and a piece of peanut brittle that serves as a garnish.
The former Chopped champion (Wade won in 2018) is also cognizant of the nine-to-fivers who can't take an hour to sit down for lunch, and so she'll be offering a brown bag to-go lunch with two options: a sandwich with chips, salad, and water, and a salad with chips and water. The sandwiches and salads will change on a weekly basis, and diners will be able to view the options on Stillwater's website (the ability to order ahead will be available in the near future). Wade will be taking the bagged lunch theme even further with encouraging sticky notes — "Have a great day!" and "It's only uphill from here!" — attached to each bag.
Beer, wine, and cocktails will also be served, with local breweries like Jack's Abby, Mystic, Night Shift, and Trillium flowing from the 12 taps, including one tap reserved for a rotating mystery brew, known only to guests as 'cold tea.' It'll be $4, and it could be anything, Wade said. Cocktails include creative twists like the light and refreshing CVK — Chinatown via Kingston — featuring house-made chrysanthemum tea syrup, scotch, and lemon.
Boston-based designer Maggie Wraight headed up the space's transformation, though some previous elements from Townsman — like a row of orange diner stools at the chef's counter — remain. The 16-seat bar area is accompanied by high-tops and a communal table, while a 60-seat dining room features a booth, banquettes, and scattered tables that look out onto Essex Street through floor-to-ceiling windows. A private dining room with TVs is new to the space, and patio seating will become available at a later date.
"No real design features [from Oklahoma] came in because I didn't want it to look like a honky tonk bar," Wade said. "I didn't want horseshoes. I'm still torn on the cow skull — that might show up."
Once Stillwater opens, the restaurant will start serving lunch and dinner seven days a week. Brunch will become available in about a month or so, Wade said.
Stillwater; 120 Kingston St., Boston; Sundays–Thursdays from 11 a.m.–midnight, Fridays and Saturdays from 11 a.m.–1 a.m.; opening August 28; stillwaterboston.com