Restaurants
Tree House Brewing is now roasting its own coffee
The brewery just launched Tree House Coffee Co.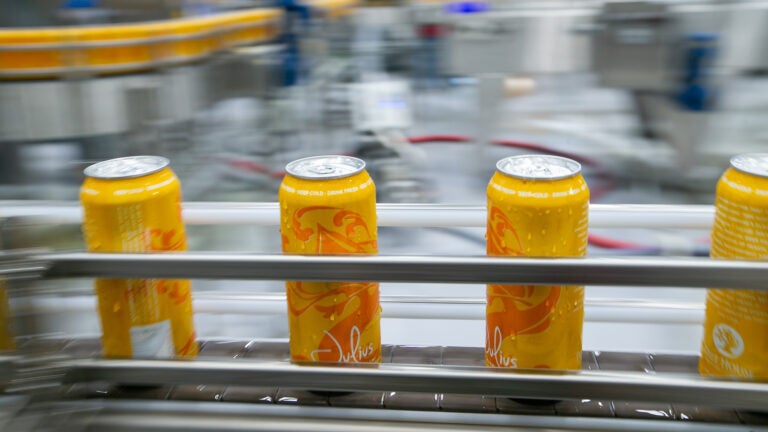 Coffee enthusiasts, take note: You can now grab a bag of coffee beans at one of Massachusetts' most beloved breweries.
On Friday, Charlton-based Tree House Brewing announced that it had begun roasting its own coffee, a first for the company that has developed a fervent fan base since it was founded in 2011.
In an introduction to Tree House Coffee Co., the brewery said that the move was "inevitable."
The founding days of Tree House were fueled by the ubiquitous bean. In the days since, we have been making coffee beer regularly, sometimes working together with local roasters and sometimes taking a chance on a roaster we have never met.

An overarching and plainly stated theme of the Tree House long game is to be in direct control of every variable possible in our product and presentation, thus making it exactly as we intend it to be, and uniquely ours in a way that is irreplicable.

That is why we purchased a farm to grow our own fruit. That is why we have spent the last eight years building hands-on relationships with raw material suppliers, farmers, and hop growers. And that is why we are now roasting our own coffee.
Co-founder and head brewer Nate Lanier told Boston.com that roasting their own coffee has been a long time in the making.
"It's a little bit selfish in the sense that we are all perpetually fueled by coffee, and everyone [at Tree House] was like, when are we going to be making our own cold brew?" said Lanier.
Coffee blends used in the brewery's coffee beers — including Single Shot, Double Shot, and Abstraction Coffee — will now be made in-house, and the brewery is working on a house blend to sell as cold brew, nitro cold brew, and hot coffee at the retail shop, along with bags of freshly roasted coffee beans (online sales are coming soon). Later, Tree House plans to release single-origin roasts and seasonal blends.
"We're really trying to get the house blend right," Lanier said. "Conceptually, it needs to be a coffee that anyone can enjoy. The hope for me is that we can impress people in the [coffee] industry but also make something enjoyable to people who might not consider single origin coffee."
It's the latest expansion in Tree House's growing footprint, which includes Tree House Orchard & Farm Fermentory. In February, the brewery announced that it had purchased a 100-acre farm, where it would cultivate produce — apples, peaches, plums, cherries, blueberries, blackberries, black currants, and more — to sell at farm stands and to experiment with in its fermentation program.
Tree House isn't the only local brewery to recently jump in on the coffee game. Night Shift Brewing launched Night Shift Coffee in March, alongside the debut of its new Lovejoy Wharf location.
Tree House Brewing; 129 Sturbridge Road, Charlton; Mondays from 4 p.m.–8 p.m., Tuesdays from 2 p.m.–8 p.m., Wednesdays–Fridays from noon–8 p.m., Saturdays from 11 a.m.–9 p.m., Sundays from noon–6 p.m.; treehousebrew.com