Restaurants
Night Shift Brewing is making big moves — in Philadelphia
The Everett-based brewery has had quite a year.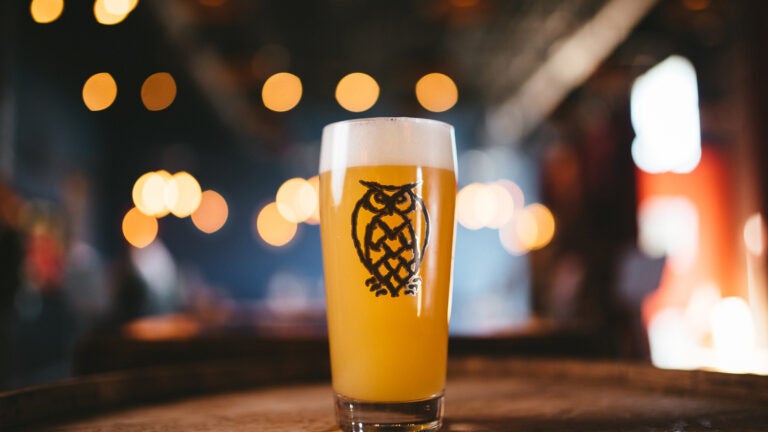 "2019 has been a wild ride."
For Night Shift Brewing, that sentiment, which they shared in an Instagram post on Wednesday morning, couldn't be any more true. The Everett-based brewery was addressing its rapid expansion throughout 2019 — including the news that it will open a brewery in Philadelphia.
"Thanks to all our thirsty fans, we opened Lovejoy, launched coffee, and today announce our new Philadelphia brewery," the post continued. "With an Everett expansion also in the works, that's three new brewhouses in 12 months! Hard to believe this all started with a 15 gallon homebrew kettle. Love y'all."
Michael Oxton, one of Night Shift's co-founders, told Boston.com that Philadelphia has been a long time in the making.
"In one sense, it's been on the radar since before we opened the business," Oxton said. "Way back in the day, when we were first launching our business, it was Philly or Boston. Obviously we landed on Boston, so Philly got sidelined."
According to the Boston Globe, which first reported the news, the Philadelphia Board of Zoning Adjustment recently approved a permit for Night Shift to open a taproom in an industrial neighborhood, where it aims to construct a $10 million-plus, 130,000-square-foot brewery and distributorship. The permit is for food, beverages, groceries, and a sit-down restaurant. The Globe reports that this move could make Night Shift the third-largest Massachusetts brewer, with Boston Beer and Harpoon's parent company, Mass Bay Brewing, leading the pack.
Oxton said that in 2016, he and his Night Shift co-founders — Rob Burns and Mike O'Mara, who both grew up in the Philadelphia area — realized they were going to hit capacity in Everett at some point, and the real hunt for a new production facility began. They looked all over the northeast, including nearly a dozen places in Philadelphia, before they finally landed on the proposed building. Oxton described the neighborhood as a healthy mix of businesses (Target is a five minute walk away) and residential housing — much like the makeup of their Everett digs.
Burns, O'Mara, and Oxton began brewing beer in their Somerville apartment in 2007, mixing batches late at night after work. They officially founded the company in 2012, and operated out of a small Everett warehouse before moving to a larger production facility (and Night Shift's current headquarters) down the street. From there, the business kept growing: Night Shift Distribution. The Owl's Nest outdoor beer gardens. An innovation brewery at Lovejoy Wharf. A roasting company called Night Shift Coffee. And, most recently, Night Shift Eats, a roving food truck.
But this is the first time the brewery has expanded with a location outside of Massachusetts. Oxton said that, while Night Shift is still finalizing contracts with the design and architecture team, there are some preliminary design and production plans in place. On day one, the brewhouse will be able to produce around 30,000 barrels with a capability of hitting 200,000 barrels. The property is in its own secluded space surrounded by trees, which Oxton said will lend itself to an immersive outdoor experience with a three-season patio. And the taproom will reflect both the brand and character of Night Shift while incorporating elements of Philadelphia culture and history.
That isn't the only expansion Night Shift has in the works. The Everett location, which can currently handle 20,000 barrels of capacity, will be upgrading to 30,000 barrels by September. The brewery has also been dipping its toes in the hard seltzer category, producing a few small batches that are only available in Night Shift's taprooms with the idea of releasing a greater volume by the end of the year.
Despite the incredible growth that Night Shift has seen in just the past few months, Oxton said that the company fervently maintains its independence.
"Since our beginning, we haven't taken on outside investors," he said, explaining that the three founders own 80 percent of the business with the rest owned by friends and family. "We have no interest in taking on any investors. To me that matters, because usually quick growth comes at the cost of independence, and we're committed to being completely independent."
The Philadelphia location is targeting a late-2020 opening date. Until then, there are breweries, beer gardens, a roastery, and a food truck to keep the founders busy.