Restaurants
Tiffani Faison's Orfano is not what your nonna had in mind
The whimsical Italian American restaurant offers a martini cart, pork parmesan, and Asian-inspired calamari.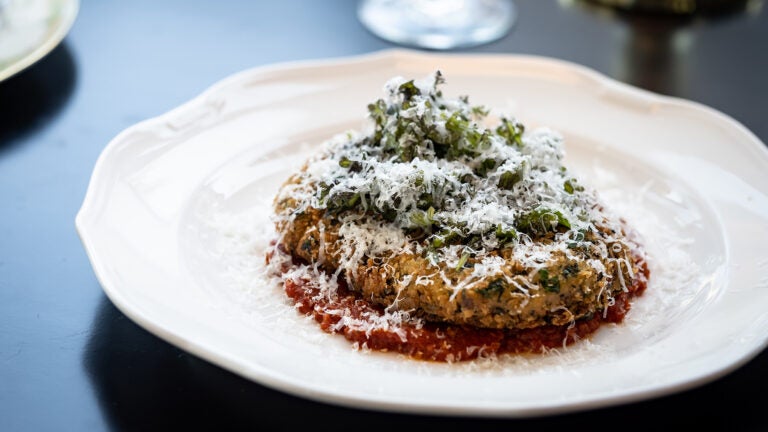 At the entrance to Orfano, chef Tiffani Faison's new Italian American restaurant that opened in the Fenway on Monday, a greeting card of sorts is scrawled in gold lettering across the front doors: 'Leave the gun,' reads one door. 'Take the cannoli,' reads the other.
This is the first sign that Orfano isn't just another trattoria ready to serve its guests eggplant parm and spaghetti (neither of which are on the menu). The second sign is in the design details that veer far from red and white checkered tablecloths: the framed family photos from Orfano's staff above the front doors and behind the bar; the purple plush booths in the cafe area and main dining room; the giant portraits of Lady Gaga mid-slurp, half-naked Italian women chatting and smoking on a bed, and Anna Pellegrino, matriarch of New York City icon Rao's, that watch over the restaurant like edgy guardian angels.
"Something really special is happening here," Faison told Boston.com. "We can feel it, and it's transferring to our guests."
The chef, who opened Orfano with her business partner and wife Kelly Walsh under their Big Heart Hospitality group, has already found success in her other Fenway projects — barbecue spot Sweet Cheeks Q, Southeast Asian and tiki destination Tiger Mama, and cocktail lounge and snack bar Fool's Errand, all within a stone's throw of each other on Boylston Street. Her roots in Italian cuisine go back to Rocca Kitchen & Bar, which she revamped in 2010 before it closed in 2011.
"Honestly, when I was working at Rocca, I started thinking about an Italian restaurant that wasn't Rocca and what it would look like," Faison said. "And then I hit pause on that for a while."
A sour experience a few years later had Faison dreaming up her ideal Italian restaurant again. She and Walsh were in New York City celebrating their anniversary at a well-known red sauce joint, and the night did not go well.
"We were nearly invisible," she remembered. "Everything was like we were putting them out. It was awful. There were suits around us and expense accounts. The fact that we were clearly two women — we were just invisible. It ruined the evening."
Orfano (Italian for 'orphan') aims to include rather than exclude. The team, which also includes beverage director Brian Callahan, creative culinary director Michele Carter, pastry chef Dee Steffen Chinn, wine director Charlie Gaeta, and general manager Nicole Valva, was tasked with incorporating whimsy and fun into the space. They succeeded: There are three-foot tall pepper grinders and martini carts brought to tables, an amoretto cannoli dessert that is presented in a box wrapped with twine, and bottled Aperol Spritzes served with straws.
The food, too, takes a whimsical approach. In addition to Nonna's garlic bread, rigatoni bolognese, a veal chop, and cacio e pepe, there is also a tuna martini made with sushi-grade tuna and lemon puree, and finished with a dash of lemon oil, olives, and a spritz of vermouth. There is salt and pepper calamari fried with onion petals and fennel and served with a dim sum "dippy sauce." And there is the pork parmesan, a concept that came to Faison in the shower.
"We started with eggplant parm, then it was chicken parm," Faison said. "Then we pulled it all off the menu. I was in the shower one morning like two weeks ago, and I was like, I like pork. So what kind of pork? Sometimes it's pounded too thin; how do I get the mozzarella in it? We started talking about pig parmesan."
The dish features a heritage breed pork chop pounded slightly, but more in the style of Japanese tonkatsu, a deep-fried, breaded pork cutlet. It's stuffed with mozzarella and served on a bed of marina sauce — Italian, with a twist.
Callahan's cocktails are yet another twist. The Lemon Ice conjures up images of eating an Italian ice on the boardwalk, but this time it's a mix of vodka, lemon cordial, amontillado, and almond orgeat served over shaved ice in a coupe glass. A number of cobblers and juleps grace the menu, including Callahan's favorite, the Five Amaro Julep — like a mint julep, Callahan explained, but using Branca Menta, a digestif amaro, instead of mint. He also created a lineup of martinis, despite the fact that he admits to only having one martini in his life before starting this process.
"We made our own, we went around town, we went to New York City for the spots that were known for [martinis]," he said.
Now a convert, he offers versions like the Vesper, made with The Botanist gin, Reyka vodka, and cocchi americano, which is pre-batched and stored in the freezer so that guests can have an ice-cold glass poured shortly after ordering.
Gaeta has crafted a wine list that focuses on Italy and California, with what he called a balance of old-school, tried-and-true wines and exciting newcomers. On it, guests will find a lengthy list of Champagnes, as well as affordable by-the-glass selections that range from $11 to $22. Just don't forget about the dessert wines.
"I think Italian dessert wine gets lost in the mix," Gaeta said. "Moscato can often be relegated to second class citizenship because of the amount of bad Moscato people have had."
Orfano offers Moscato d'Asti for $12, along with a few other wines and amaro digestifs that go well with pastry chef Steffen Chinn's desserts, like a ricotta cheesecake pie, extra boozy tiramisu, and the aforementioned amaretto cannoli.
While Orfano is currently offering dinner, it will incorporate lunch in the near future with sandwiches and specials that include a prix-fixe combo of pasta, salad, and wine. Though Faison hopes people won't just wolf down a plate of pasta and leave.
"I'd like to bring back the two martini lunch," she said.
Orfano; 1391 Boylston St., Boston; Sundays–Thursdays from 5 p.m.–10 p.m., Fridays and Saturdays from 5 p.m.–11 p.m.; orfanoboston.com