Restaurants
August's biggest restaurant openings and closings
A quirky ice cream parlor and an all-day rotisserie landed on the scene, while one of Allston's longtime watering holes said goodbye.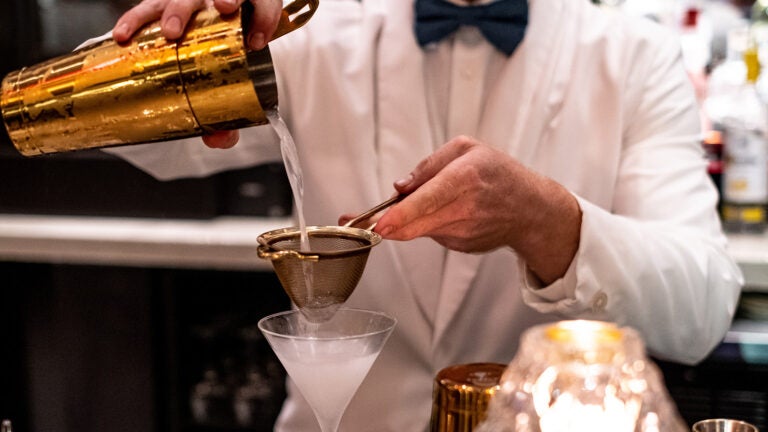 Can't keep up with all of the restaurant and bar openings and closings happening around Boston? We highlight the need-to-know newcomers and surprising shutters that made headlines this past month.
Openings
Create Gallery & Cocktail Lounge
Bow Market recently gained a new addition to its collection of restaurants, bars, and businesses with the arrival of Create Gallery & Cocktail Lounge, a tiny space showcasing artwork and serving creative craft cocktails on the market's second floor. Owner Louis DiBiccari, founder of the art series Create, has curated a list of eight cocktails from nine local bartenders, so that guests can experience drinks from some of Boston's most talented bartenders all in one place. (1 Bow Market Way, Somerville)
OddFellows Ice Cream Co.
New York's quirky ice cream shop arrived at The Street Chestnut Hill with dozens of original ice cream flavors ranging from burnt marshmallow to saffron passion fruit. In the next few months, the shop will introduce its signature boozy floats, but for now, guests can order a limited-edition basil chip flavor, the result of a local collaboration with Fox & the Knife chef Karen Akunowicz. (33 Boylston St., Chestnut Hill)
Orfano
Tiffani Faison's long-awaited Italian-American restaurant, Orfano, opened at the end of August just a few steps away from her other Fenway landmarks: Tiger Mama, Fool's Errand, and Sweet Cheeks Q. Step inside and you'll find plush purple banquettes, gold chandeliers, and giant portraits of headstrong women looking out over the dining room, where guests dig into plates of pasta, pork parmesan, and salt and pepper calamari. To drink, a martini cart will roll right up to your table and serve ice-cold glasses of the cocktail. (1391 Boylston St., Boston)
Shy Bird
Shy Bird is now slinging rotisserie chicken and pouring glasses of wine in a bright, airy space at the corner of Broadway and Third Street in Cambridge. The all-day cafe from Boston hospitality veteran Andrew Holden serves breakfast bowls, slow-roasted pork sandwiches, lamb gyros, and whole and half chickens, alongside coffee from Counter Culture, craft cocktails, and a carefully curated selection of wine and beer. (1 Broadway, Cambridge)
Stillwater
Blue cheese biscuits, peanut butter and jelly crème brûlée, and chicken fried rib eye landed on the edge of Chinatown in August when chef Sarah Wade opened Stillwater, her very first restaurant "serving warm and fuzzies." Comfort-driven dishes are paired with cocktails, beer, and wine, and those looking for a quick mid-day meal can pick up a brown bag lunch (sandwiches, salads, chips), which come with their own pick-me-up sticky notes. (120 Kingston St., Boston)
Taqueria el Barrio
Packard's Corner was on the receiving end of a new taco spot with the arrival of Taqueria el Barrio, a small eatery boasting the flavors of Sonora. Tacos, quesadillas, tortas, and Mexican plates can all be customized with various proteins (the al pastor is a standout), and beverages include housemade aguas frescas like horchata, tamarindo, limonada, and jamaica. Squeeze in an order of churros for a sweet finish. (1022 Commonwealth Ave., Boston)
Closings
Babbo
Though it had originally announced a closing date of September 15, Seaport hot spot Babbo closed on August 9. The Italian restaurant was previously owned by Mario Batali; in 2017, the celebrity chef was accused by multiple women of sexual misconduct. In 2019, Batali divested from his interests in Babbo and 15 other restaurants that he co-owned with B&B Hospitality, which is now run by Tanya Bastianich Manuali, Joe Bastianich, Lidia Bastianich, and Nancy Silverton.
Common Ground
Farewell, Common Ground. The Allston watering hole said its final goodbyes on August 25 after a rough year: owner Bob O'Guin died in April, and part of the building's facade broke loose and injured two people in November. A second Common Ground location in Arlington Center will remain open.
Navy Yard Bistro
The Charlestown restaurant and wine bar closed up shop after 15 years, showing appreciation for its regulars with multiple parties held over its final days. Owner John Moore told Boston.com that he "succeeded at what I wanted [Navy Yard Bistro] to become," and mentioned that he was hoping to open another restaurant in the near future. Owners of the nearby pizzeria Brewer's Fork will be taking over the Navy Yard Bistro space to open a new concept.
Tapestry
Tapestry, a neighborhood bar and restaurant specializing in Neapolitan-style pizza, closed its doors on August 23 after a little more than three years in business. The restaurant offered two experiences: the casual Expo Kitchen on one side, and the more upscale The Club Room on the other.