Restaurants
Take classes led by some of the world's biggest culinary names this fall
Harvard's annual science and cooking series is back.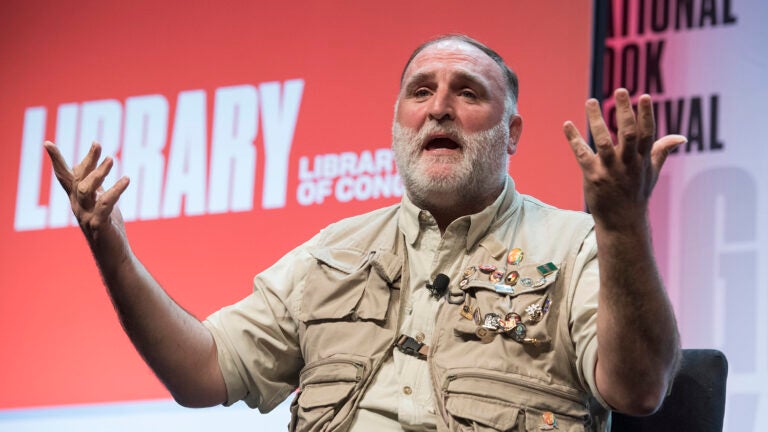 When he's not opening world-class restaurant around the U.S., chef and 2018 Humanitarian of the Year José Andrés is usually making headlines for feeding the victims of natural disasters through his not-for-profit organization World Central Kitchen. This fall, he'll be putting on his professor hat — and you have the chance to be his student.
Harvard University's Science and Cooking Public Lecture Series is back for its 10th year, offering free lectures to the general public from some of the cooking world's biggest luminaries. Beginning on September 9 and held on most Mondays until December 9, the Harvard Science Center will feature celebrated food experts and chefs (including Andrés), who will share their knowledge about fermentation, Native American cooking, heat transfer, and more.
Local all-star Joanne Chang (Flour Bakery and Café, Myers + Chang) will return to the series with "The Science of Sugar," while master chocolatiers Enric Rovira and Ramon Morató will delve into the world of "Desserts and Chocolate." Lecture topics will touch on cuisines from around the globe, like Freddy Bitsoie's "Hominy and Posole: The Science of Native American Cooking," Marsia Taha and Natalie Del Carpio's "Exploring Heat Transfer in Bolivian Haute Cuisine," and Selassie Atadika's "The Science of New African Cuisine." And specific techniques will be dissected, from "Exploring Viscosity with Olive Oil and Garum" with Carles Tejedor and Pere Planagumà to "Exploring Flavor Space: Innovation through Tradition in Noma's Fermentation Lab" with David Zilber and Jason White.
The series will kick off with a "10 Year Anniversary Lecture" from Dave Arnold, author of "Liquid Intelligence," host of "Cooking Issues," and founder of the Museum of Food and Drink; and will finish with a talk from Andrés, who will join food science and cooking author Harold McGee.
Each lecture will begin at 7 p.m. with doors opening at 6:30 p.m., but seats are first-come, first-serve and the lecture hall generally fills up quickly. The series was borne out of the Harvard course "Science and Cooking: From Haute Cuisine to the Science of Soft Matter," and the first 15 minutes of each lecture is dedicated to a scientific topic from that week's class by a faculty member from the Harvard course.
Check out the full schedule below, and learn more about the series here.
2019 Chef Lecture Dates
Monday, Sept. 9
"10 Year Anniversary Lecture"
Dave Arnold, Booker and Dax, author of "Liquid Intelligence," host of "Cooking Issues," founder of the Museum of Food and Drink
Harold McGee, author of "On Food and Cooking" and "The Curious Cook"
Monday, Sept. 16
"The Science of Sugar"
Joanne Chang '91, Flour Bakery and Café, Myers + Chang, author of "Flour," "Flour Too," "Myers + Chang at Home," and "Baking With Less Sugar"
Monday, Sept. 23
"Exploring Flavor Space: Innovation through Tradition in Noma's Fermentation Lab"
David Zilber, director of fermentation at Noma in Copenhagen, co-author with René Redzepi of "The Noma Guide to Fermentation"
Jason White
Monday, Sept. 30
"Your World, Your Imagination"
Janice Wong, Asia's Best Pastry Chef 2013 and 2014, founder 2am: Dessert Bar, Singapore
Monday, Oct. 14
"Hominy and Posole: The Science of Native American Cooking"
Freddy Bitsoie, FJBits Concepts, 2013 winner of the Native Chef Competition at the Smithsonian's National Museum of the American Indian
Monday, Oct. 21
"Exploring Heat Transfer in Bolivian Haute Cuisine"
Marsia Taha, Gustu, La Paz, Bolivia
Natalie Del Carpio, Gustu, La Paz, Bolivia
Monday, Oct. 28
"Exploring Viscosity with Olive Oil and Garum"
Carles Tejedor, Oilmotion and Sofia Be So Restaurant, Manresa, Spain
Pere Planagumà, ROM and Mas de Torrent restaurants, Spain
Monday, Nov. 4
"The Science of New African Cuisine"
Selassie Atadika, Midunu, Accra, Ghana
Monday, Nov. 11
"Desserts and Chocolate"
Enric Rovira, master chocolatier, Barcelona, Spain
Ramon Morató, master chocolatier, author of "Chocolate" and "Four in One"
Monday, Dec. 2
"Dialogue between Science and Cooking at El Celler de Can Roca. Evolution"
Joan Roca, El Celler de Can Roca, Girona, Spain, best restaurant in the world 2013 and 2015
Heloise Vilaseca, director of R&D, El Celler de Can Roca, Girona, Spain
Ahmoy Panagiotis, El Celler de Can Roca, Girona, Spain
Monday, Dec. 9
"TBA"
José Andrés, Think Food Group, minibar, Jaleo
Harold McGee, author of "On Food and Cooking" and "The Curious Cook"
2019 Science and Cooking Public Lecture Series; Science Center Lecture Hall C at the Harvard Science Center, 1 Oxford St., Cambridge; various Mondays at 7 p.m., September 9 to December 9; seas.harvard.edu/cooking