Restaurants
Taqueria el Barrio is serving perfect salsa — and that's just the beginning
Boston is hungry for more, better tacos. I think this taqueria (mostly) delivers.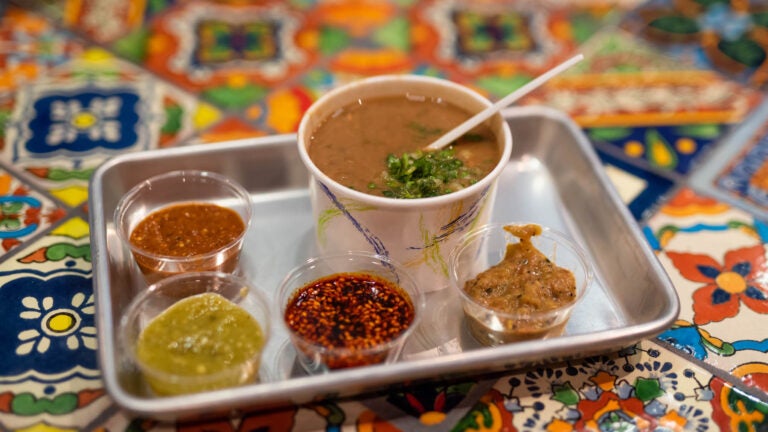 Our new restaurant reviews are part of a series of conversations we're developing to help you save time and stay informed on what's happening in the city. Be sure to sign up to receive the latest on the city's food scene.
Taqueria el Barrio may have arrived at exactly the right time.
Not only did the Mexican restaurant in Brookline open a mere month before the return of the school year — a fact which nearby Boston University students are going to feel especially grateful for when taco cravings hit at 10 p.m. — but the chatter around finding fantastic tacos in Boston is still at a fever pitch. I know this because I recently asked Boston.com readers for their favorites, and the responses flooded in. 
Boston industry vet Servio Garcia (Bisq, Bergamot) teamed up with chefs Alex Saenz (Bisq) and Luis Figueroa, the latter of whom serves as Taqueria el Barrio's executive chef, to create a restaurant that embodies the flavors of Sonora, a northwestern region of Mexico where Garcia has roots. The space is small and narrow, but made lively with colorful talavera tiles, upbeat music, and artwork that includes a sugar skull, or calavera, hanging on the wall. It's also decidedly casual, with a mix-and-match approach that can be applied to everything from the tacos to the salsas.
Is it weird that we were still talking about the chips and salsa ($4.50) hours after our meal? Baked corn tortillas — slightly larger than the tortillas used for our tacos — arrived stacked on a metal tray next to a small tub of salsa asada. More noticeable than the asada's mild heat (this is an everyman's condiment) was the smoky, charred taste of roasted tomatoes and just the right amount of garlic. I could eat this by the tubful, I thought. But I could also add a few others to the mix by going back to the counter, where four salsas — roja, verde, macha, and asada — are on display in varying hues and spice levels. They're all excellent, but the asada is on another level.
Taqueria el Barrio's menu is a straightforward list of the classics: tacos ($3.25); quesadillas ($5.75); tortas served on thick bolillo bread ($8.50); and plates crammed with beans, salsa, guacamole, and various protein options ($9.50). From there, it's all in the diner's hands. I ordered an al pastor on a corn tortilla; one giant, messy bite made me think that I'd hit Boston's taco lottery. The pork melted away, the slices of fresh pineapple oozed juice, and the soft corn tortillas — which you can also order as hard shells, and which come from Springfield-based Mi Tierra Tortillas — absorbed the drippings from both the fruit and meat without dissolving into a soggy mess. I asked for a taco de pescado on a flour tortilla, which El Barrio makes in house, and was impressed all over again: the golden fried fish, the bright tangle of shredded cabbage, the light-as-air chipotle mayo. These two tacos are among some of the best I've had in this city. 
But a couple other tacos didn't hit the mark. The pollo was dry and stringy, and the asada, which was made better with a fantastic salsa roja, was tough to chew. Guacamole die-hards should know that the good stuff comes on almost every taco, and with an even more generous helping on the Mexican plate, which I ordered with vegetarian chorizo, a satisfying, albeit aggressively-salted, substitute for the meat version. On weekends, birria — a stew made from slow-cooked goat —  is offered as another taco filler, alongside a soup using the birria juices plus onions and cilantro.
 Taqueria el Barrio will be serving beer in the future, but for now there are a selection of Mexican sodas as well as aguas frescas offered in giant carafes by the counter, including horchata, jamaica, limonada, and tamarindo, the last of which is decadently thick with sugar and tamarind pulp. And there are churros ($4.50), which come with a choice of sauce: dulce de leche, condensed milk, and Nutella. 
"Which one is your favorite?" I ask one of the employees, and before I finish my sentence she confidently recommends the dulce de leche. She's not wrong. The tray of churros holds three fat, cinnamon-dusted tubes given a generous drizzle of the caramel-esque sauce. Who needs fried dough at the fair when you have these?
"What was important was if somebody had ever been to a taqueria in Sonora, it will feel like they're at home," Garcia previously told Boston.com.
Not everyone has been to a taqueria in Sonora, of course. But if piping hot churros and pineapple perfection and salsa that is seared into memory are someone's version of home, then I'm happy to stay a while.
Taqueria el Barrio; 1022 Commonwealth Ave., Brookline; Mondays–Saturdays from 11 a.m.–11 p.m., Sundays from 11 a.m.–10 p.m.; taqueriaelbarrio.com