Restaurants
A Dorchester taqueria will bring fantastic tacos to the South End for one weekend
Move over, Lion's Tail. Yellow Door Taqueria is taking over.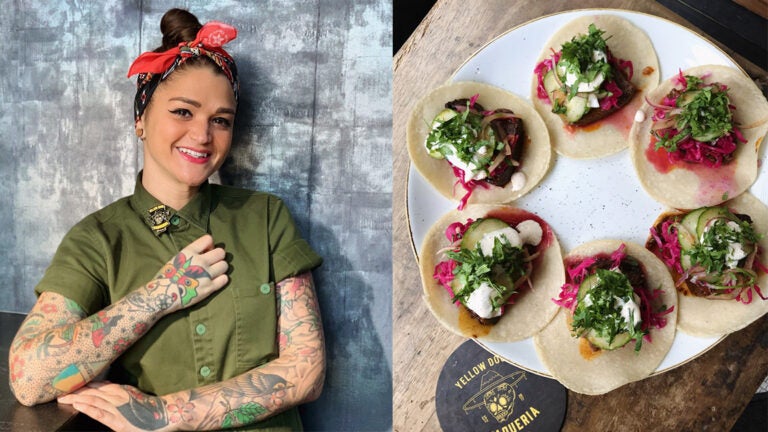 Dorchester's best taco spot is making moves — but only for two nights.
Yellow Door Taqueria, a favorite taco haunt among Boston.com readers and a 2019 Best of Boston winner, will take over sister restaurant Lion's Tail on Friday, September 6 and Saturday, September 7, with a floor-to-ceiling-to-menu revamp.
Chef Carolina Curtin, who joined Yellow Door in August as executive chef, will serve a range of tacos that include chicken tinga, scallop frito, mushroom carnitas, and mezcal shrimp, alongside elote served with chipotle aioli and cotija, a couple of salads, and chips and salsa. The extensive cocktail menu at Lion's Tail will be swapped out for Yellow Door's tequila-heavy concoctions, like the In Bloom with el jimador silver tequila, cocalero (an herbal spirit), strawberry, basil, and lime, as well as margaritas, sangria, beer, and wine.
The takeover will include more than just the menu. Taniya Nayak, the interior designer for Yellow Door, will transform the dark, cozy South End space into a brightly-colored party, complete with the taqueria's signature neon pink sign. If the weather holds up, diners will be able to take advantage of Yellow Door's small patio, and on both nights, Berklee students Alper Tuzcu, Micaella Cattani, and Juan Tello will play music starting at 9 p.m.
Seats are first-come, first served; check out the takeover's full menu below:
Yellow Door Taqueria at Lion's Tail; 354 Harrison Ave., Boston; September 6 and 7 from 5 p.m.–2 a.m.; yellowdoortaqueria.com/takeover