Restaurants
This charming spot offers Roman al taglio and Neapolitan-style pies in Union Square
Bronwyn and Tim Wiechmann bring Italian artisanry to T&B Pizza.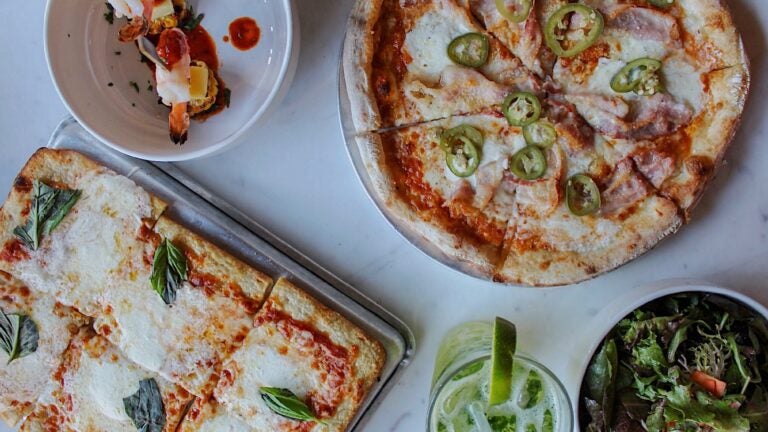 Our new restaurant reviews are part of a series of conversations we're developing to help you save time and stay informed on what's happening in the city. Be sure to sign up to receive the latest on the city's food scene.
Somerville has long been a magnet for cool indie chefs, a logical place to alight when you can't abide by Boston's absurdly high operating costs. Lately I keep finding myself in Somerville's Union Square, wandering from newer destinations like romantic Peruvian hotspot Celeste and fabulous hipster food/drink/retail mini-mall Bow Market, to older standbys like arty-cocktail hideaway Backbar. The opening of T&B Pizza adds to the excellent reasons to wade through the square's current Green Line extension construction morass. T&B is from chef Tim Wiechmann and GM Bronwyn Wiechmann, a married couple that have been slinging original, soulful, subtly high-technique food all over Cambridge and Somerville for a dozen years. Located a Frisbee toss from their Mitteleuropean brews-and-wursts joint Bronwyn, T&B features an enormous, gleaming copper-clad wood-fired oven right up front, the source of much of the menu's deliciousness.
Pizza's in the name, and it's the main attraction, as that glamorous beast of an oven produces first-rate Neapolitan-style pies, with round, puffy-edged, thin crusts that days-long dough fermentation lends deep flavor, flames bestowing a judicious bit of char at the edges and bottom, with a gently acidic edge from well-balanced, bright tomato sauce. We swooned over a mushroom pie ($17) with hen-of-the-woods and oyster mushrooms, showered with fresh oregano and garlic, dotted with ricotta and drizzled with lemon after coming out of the oven. (The choice to lay on some ingredients after cooking is smart, keeping flavors vivid and the pies crisp). Bacon and jalapeño ($16) is another winner, mozzarella and Romano softening the smokiness of superb bacon and the capsaicin bite of lightly pickled jalapeño slices.
More novel is the Roman al taglio ("cut") style, beloved in Rome but only just making inroads into the States. Dough that has been cold-fermented for 36 hours and hand-folded yields a crust of medium thickness and uncommon bubble structure — think focaccia, but softer, lighter and far less oily – with the finished product cut into squares with big shears. It's a nifty addition to Boston's fast-growing array of intriguing pizza styles (like Detroit pizza at Avenue Restaurant in Ball Square). The resulting floppy but sturdier foundation better suits ingredient pile-ups like crumbled, sweet-spiced kielbasa ($19) with copious garlic and big slices of green bell pepper, and Mexican street corn ($20) with chewy chunks of slow-roasted pork shoulder and the familiar elote medley of corn, dried chili, crema, lime and cilantro.
The menu also features plenty of generous small plates, many carrying lovely whiffs of wood-fired oven smoke and slices of plain al taglio crust, like gently fire-roasted, late-summer tomatoes with olives ($8), and a stunning blackened eggplant baba ghanoush ($9) flecked with eggplant skin and showered with sesame seeds. There's a fine little salad of baby lettuces and arugula ($9) with crunchy shaved vegetables and a blackberry-honey vinaigrette, and outstanding pork and beef meatballs ($13) in a tomato ragout with mozzarella, basil and Romano, the spicing pleasantly more reminiscent of Turkey or Greece than Italy. We were less enamored with fire-roasted beets ($9), finding the addition of mascarpone to be oddly dessert-like, and shrimp pintxos ($11) on skewers with wheels of corn on the cob and chunks of pineapple dressed with BBQ sauce: disappointingly bland. The short list of desserts include a comforting, not-too-sweet scoop of banana pudding ($8) built on custard and crushed Nilla wafers.
Like sibling restaurant Bronwyn, T&B boasts a serious drinks program, with specialty cocktails ($12) like a smoky, Tiki-inflected margarita variant with tequila, mezcal and orgeat syrup, as well as a kooky but bracingly effective reinvention of the mojito, with gentle Old Tom gin subbing for rum, honey for cane sugar, and arugula for mint. Draft root beer with a shot of Mexican Fernet-Vallet ($11) tastes like Moxie for grownups. The short list of wines by the glass (all $11) neatly straddle quirky, affordable options, like the inky, round red that is 2016 El Chaparral de Vega Sindoa, a garnacha from Navarra, while the handful of beers ($7-$10) favors brew-nerdy small New England producers.
The space is small enough to feel like a proper neighborhood joint: 15 seats at the upfront bar, another 18 at nearby tables, plus a cozy dining room for another couple dozen patrons tucked in the back. The rustic wooden tables, open kitchen, glowing (inside and out) oven, and the exposed brick walls, high ceiling and ductwork contribute to a casual, industrial-chic vibe that suits the comfortably-dressed customers and the service's friendly, laid-back style. At this early stage, our only complaint was some inconsistency in the pies: on slower nights, we occasionally got pizzas that lacked perfect crispness and char, perhaps from an underfueled oven. So be sure to go when it's busy, though it's hard to imagine this charming, family-friendly, pocket-sized spot, with its inviting combination of exquisite ingredients and homey, sunny-Mediterranean foundations, having many slack evenings going forward.
T&B Pizza; 251 Washington St., Somerville; Mondays-Wednesdays from 5 p.m. to 11 p.m., Thursdays from 5 p.m. to 12 a.m., Saturdays from 12 p.m. to 10:30 p.m., Sundays from 3 p.m. to 9 p.m.; tbpizza.com