Restaurants
When Hurricane Dorian hit the Bahamas, local chef Ken Oringer flew in to help. Here's what he saw.
"This was probably the most important thing I have ever done in my life."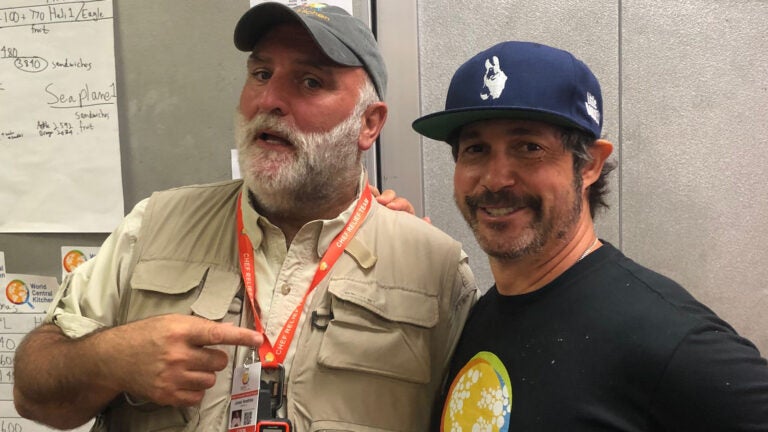 On Sept. 1, Hurricane Dorian struck the islands of the Bahamas, wreaking havoc on the Abaco and Grand Bahama islands and resulting in the worst natural disaster the country had ever experienced. More than a week later, the current death toll is at least 50 people and climbing, and thousands are still missing.
After the Category 5 hurricane struck, chef and humanitarian José Andrés mobilized his non-profit organization World Central Kitchen (WCK), which provides food for those who have been affected by both natural and man-made disasters. Boston chefs and restaurateurs Ken Oringer (JK Food Group) and Ming Tsai (Blue Dragon) joined the cause, hopping on a plane to prepare and serve meals for stranded citizens.
Over email, Oringer shared with Boston.com what he saw during the four days he spent working with WCK, why he felt the need to help on the ground, and what you can do to help support relief efforts in the Bahamas.
This interview has been lightly edited and condensed for length and clarity.
How did you get involved with World Central Kitchen's efforts in the Bahamas? When did you first arrive? 
"I arrived here on Saturday morning, Sept. 7, and left late Tuesday night, Sept. 10. It was very hard to leave. José Andrés has been a friend of mine for a while now. He has a huge heart and is always the first to lend a hand. It was a no-brainer to reach out to him to see how I could help."
Can you give us an idea of what your days looked like there? 
"All chefs arrive at the kitchen by 7 a.m. and start cooking at 7:01 a.m.; as you can tell, it is go time the second you walk in the door. First deliveries are packed and ready to go for 9 a.m. We cooked all day long, assembly-line style — cooking, plating, packing, repeat. The systems WCK had in place were so great and so organized. Each pan of food was enough [for] 40 people, and there were 240 portions per insulated container. We'd load helicopters and planes, send off, and distribute to all local islands. We would cook, fly, deliver, and repeat that process all day long. [Atlantis Bahamas, a resort on Nassau Paradise Island] gave their entire banquet kitchen over to WCK and they set up satellite kitchens anywhere they could." 
On average, how many people are you serving each day? What have some of the reactions been like? 
"We served about 25,000 people per day. Chefs were treated like heroes. Everyone we talked to and fed was beyond grateful that they were being embraced and taken care of. They were overwhelmed with gratitude. I got to make deliveries to orphanages. Seeing children sleeping on cement was heart shattering, but they all still have smiles on their faces and greeted us with such joy. These are such resilient people. They banded together as strangers. Kids here have lost their parents, and parents here have lost their kids. It was gut wrenching, but so moving to see everyone who survived caring for and helping one another any way they could."
Why is this an important mission for you — especially to be helping on the ground, as opposed to raising funds or contributing in some other way from Boston? 
"It was instinct. I felt I had to be there. I wanted to make a connection; I wanted to be there firsthand. That is what is so great about WCK — they rise above all politics, because people need help. I mean, this organization is beyond impressive; they have arranged for solar powered water filtration systems to be brought over into the ocean that purifies [ocean water] into drinking water. And José cares so deeply about people; he has the biggest heart, and when people are in need, he is there. I have amazing teams in Boston, all who were so supportive [of] me going, and my family knew how important this was to me. I didn't think twice — I booked the ticket [and] left the next morning. This was probably the most important thing I have ever done in my life; I am already having withdrawals from [the] WCK crew — you become so tight with those you're working with. I hated leaving. The work is hard, it's exhausting, it's emotionally tough, but it's nothing compared to what the people of the Bahamas are up against." 
What can people who are in Boston be doing to help support WCK's efforts?
"Donate, donate, donate. They have raised over $2 million since this hurricane. They need more, so much more. One helicopter ride is well over $2,000 per trip, and multiple helicopters fly out multiple times a day. WCK doesn't keep a cent. It all goes to relief. Donate."
WCK is accepting donations through its website. Want to help out in other ways? Citrus & Salt in the Back Bay is serving a Bahamas Relief Pineapple Daiquiri for $12 until Sept. 13, with all proceeds donated to relief efforts. And the Caribbean Rum & Food Festival, which takes place on Sept. 14, is an annual event that has traditionally raised proceeds to help children with disabilities in the Caribbean and the diaspora — though the festival's founder, Andrew Sharpe, told Boston.com that "The focus of our mission has changed since the storm," and that they have been assembling backpacks with supplies to send to the island.