Restaurants
Come for the pho, stay for the snails at Dorchester's Ban Tôi Restaurant
Southern Vietnamese food shines at this Savin Hill newcomer.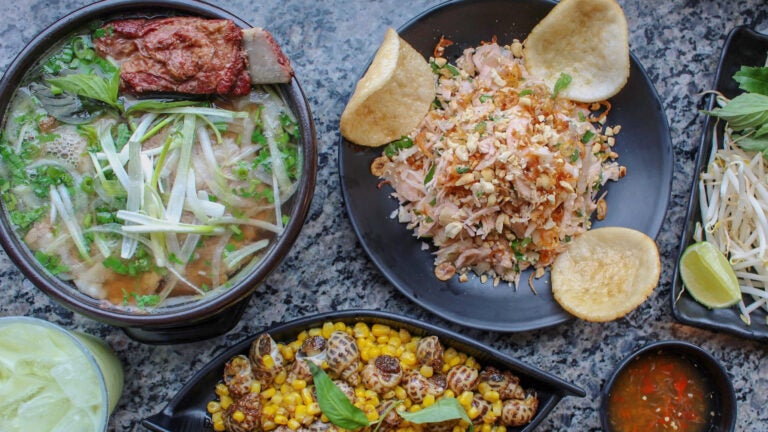 Our new restaurant reviews are part of a series of conversations we're developing to help you save time and stay informed on what's happening in the city. Be sure to sign up to receive the latest on the city's food scene.
Across the room from me at Ban Tôi Restaurant, a woman is methodically eating snails. I, too, am eating snails. We're eating the snails separately but together, unfurling the curlicued mollusks from their spotted shells, popping them in our mouths and then spooning up the corn kernels that fill the rest of the plate. She removes the stir-fried snails ($13.95) effortlessly, while my shells keep slipping out of my fumbling fingers, but I could do this all day. They are covered in garlic and butter and are one of the best things I've eaten all summer. 
Ban Tôi opened in Dorchester's Savin Hill neighborhood in early June, a short block away from Banh Mi Ba Le, another Vietnamese eatery where you can pick up chicken wings, pork rolls, and its namesake banh mi. Inside the restaurant, Ban Tôi's chef-owner Chieu Nguyen has decorated the walls with mismatched artifacts: a dream catcher, plants, black-and-white cityscape photos, a faux deer head. Nguyen, who used to run a nail salon, isn't serving banh mi here, but it isn't the type of place where you grab a sandwich to-go. It is the type of place where you might come with a group; at the center of each table is an electric, built-in burner meant for the menu's sizable selection of hot pot (small $39.95, large $75.95). The six options are centered around different proteins: beef, goat, fish balls, seafood, and a couple variations of chicken, and I make a note to come back another time with a group of friends. 
On this visit, though, I am dining solo, so I start with the goi mit, or jackfruit salad ($9.50), a heaping pile of shredded fruit that, for the uninitiated, can look a lot like undercooked chicken (don't worry, that's where the resemblance ends). Here's how it goes: You pile a bunch of the salad — jackfruit, pork skin, pork belly, peanuts, and chili peppers that will leave a flare of unexpected heat on your tongue for the rest of the meal — onto an airy rice cake, then dip it all in a saucer of sweet and sour fish sauce. The rice cake crackles and pops; the resulting bite is a lovely medley of sugar and spice, acidity and fat, and varying levels of crunch.
Ban Tôi has assembled a noodle soup selection that ranges from mien ga (chicken glass noodle soup, $9.50) and mi Quang (noodle soup from the Quang region in central Vietnam, $9.50, only available on weekends) to pho bo dac biet ($12.50), a beef noodle soup that employs multiple parts of the animal: short rib, brisket, and thin strips of beef aorta, a chewy contribution that sits in stark contrast to the fall-apart brisket. It's a fantastic bowl of pho — nothing wildly out of the ordinary, but savory and comforting just the same, with a broth that doesn't veer towards too salty or oily and a reasonable amount of noodles that won't threaten to fill you up halfway through the dish. 
The kitchen is focused on southern Vietnamese cooking, primarily from Saigon, so diners won't find bun cha, a popular Hanoi dish, on the menu. What they will find is plenty of seafood: stir-fried crawfish ($9.95), steamed clams ($10.95), grilled squid with satay ($14.95), and those singular snails. There is also a small dessert menu focusing on sweet drinks, and I order the indulgent mung bean milk ($3.50), a thick, seagreen beverage that cuts the lingering heat from the jackfruit salad. 
On the other side of the dining room, a long table is filled with a family having some kind of celebratory dinner, balloons tied to the back of a few chairs. An older man sits by himself in front of a hot bowl of pho by the kitchen, chatting amicably with the cooks. The snail woman and I are still making our way through our shells. There is something here for pretty much everyone — especially if it involves butter and garlic.
Ban Tôi Restaurant; 1035 Dorchester Ave., Boston; Daily from 10 a.m.–10 p.m.; facebook.com/BanToiRestaurant