Restaurants
Here's your first look at Ghost Pepper, Dorchester's new taco and tequila hangout
"We want this to be a festive, celebratory place."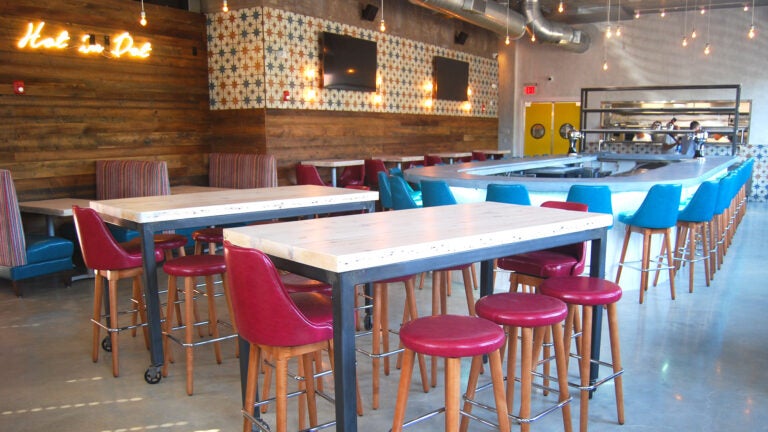 Inside Ghost Pepper, a taco and tequila bar set to open across from the Savin Hill T stop on Oct. 1, a neon sign glows with the words "Hot in Dot" in playful script. It's not just a reference to the heat-infused dishes that will soon populate the menu, but also the commercial boom that Savin Hill is going through.
"The neighborhood has changed a lot," said Ghost Pepper co-owner Kenneth Osherow. "Savin Hill is a place that people want to be."
Osherow and his business partner Driscoll DoCanto not only own Savin Bar + Kitchen next door — and the building above it — but also the land that Ghost Pepper now sits on.
"This was an empty lot for over a decade," said Osherow, who also owns McKenna's Cafe across the street. "It was really an eyesore. It was a big hole. Our intention was to open a restaurant, then our intention was not to open a restaurant. After building this building, I think we were a little burnt out."
Once the dust settled, though, the idea for a taqueria and tequila bar floated around. Aside from Yellow Door Taqueria — a successful Dorchester taqueria in its own right, though located further south in the Lower Mills neighborhood — Dorchester's taco options are few and far between. To help solidify Ghost Pepper's spot in Boston's taco landscape, Osherow and DoCanto tapped head chef Dante Funes, who previously served as the executive chef at Masa, a restaurant and tequila bar in the South End. Joining a restaurant from its inception appealed to the chef.
"I can just put my name on something from the very beginning, without trying to fix anything, and just get it right from the get-go," said Funes, whose menu features a mix of tacos, shareable tapas, larger plates, and sides that he said nod to not only Latin American influences, but also to the flavors of the Caribbean, Africa, and Spain.
On it you'll find corn tortillas filled with carnitas, chorizo, pulpo (octopus), and carne asada; and small plates like Salvadorian pupusas, braised short rib empanadas, and street corn with chipotle coffee aioli. A small selection of salad will be offered — including a watermelon and roasted fig salad that will play with Funes' affinity for contrasting temperatures — as well as customizable nachos. Larger plates will include skirt steak with cilantro chimichurri, citrus-braised octopus, and white rice with black beans and coconut milk, a dish that the chef attributes his native Honduras. Funes revealed that he wanted to be a pastry chef when he initially started working in the industry, and so he's also looking forward to introducing a robust selection of desserts: not just churros, but also tres leches, pastel moreno (a molasses and ginger sponge cake), flan, and sorbet.
"I'm a firm believer of also incorporating vegan [options] into the menu," added Funes, noting that many of the side dishes, including a vegetable ceviche, are vegan.
The focal point of Ghost Pepper is a giant, U-shaped bar, from which guests can order cocktails, beer, and a small selection of wine. While the 10 tap lines will mostly serve beer, one will be dedicated to a cocktail on draft. There will, of course, be plenty of tequila.
Behind the bar, the team plans to project artwork and black-and-white movies from Mexico onto a blank wall, which diners can watch from a range of seating options in the space: the bar, the colorful back lounge, the banquettes, the high-top tables. Ghost Pepper will seat around 85 diners, with a capacity for around 120 including standing room.
"We want this to be a festive, celebratory place," said general manager Winston Loach, who is also the general manager at Savin Bar + Kitchen.
Ghost Pepper Taco + Tequila Bar is scheduled to open on Oct. 1, and will initially serve dinner with plans to offer brunch in the near future.
Ghost Pepper Taco + Tequila Bar; 120 Savin Hill Ave.; Sundays–Thursdays from 3 p.m.–10 p.m., Fridays and Saturdays from 3 p.m.–11 p.m.; ghostpepperboston.com