Restaurants
A tiki hut and floating bar sets sail in Salem
Tiki Time is offering a little slice of paradise.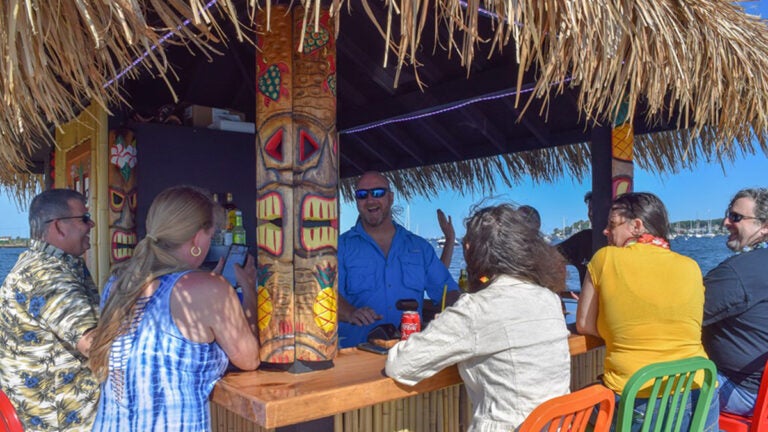 Picture this: You're relaxing under a thatched bamboo hut, sipping a tropical drink while steel drums play in the background and a macaw perches above you.
The macaw is mechanical, and the bamboo hut is on a boat in the middle of the Salem Harbor, but Karen LaBelle-Paszkowski and Scott "Paz" Paszkowski are hoping it's paradise all the same.
On Saturday, the married couple is launching Tiki Hut Boats, which offers 90-minute cruises on "Tiki Time," their compact boat that holds a tiki bar, some stools, and a small bathroom. The idea for the boat was inspired by the Florida-based Cruisin' Tiki franchise, and there isn't anything like it in the Boston area.
This is a side gig for both LaBelle-Paszkowski, a medical assistant, and Paszkowski, who runs a fishing charter business. They purchased the boat in May and spent six weeks putting it together, complete with two mechanical macaws that they programmed to reply with a few phrases. (When Scott says, "get me a tequila," the macaws squawk, "make mine a double.") Now that it's ready for use, the couple is going all in: Reservations are available for $30 per person, seven days a week, with cruises running all day on Saturdays and Sundays and on evenings during the week (Wednesday cruises will start at 2 p.m.).
On the boat, which can accommodate up to six guests, passengers may purchase cocktails, beer, wine, sodas, hot coffee, water, and snacks. There will be a selection of frozen drinks, along with Bloody Marys and mimosas on the weekend, plus four or five specialty drinks that change on a weekly basis. LaBelle-Paszkowski said that they have acquired a Ship Master License, a liquor license which requires that the vessel must be moving while alcohol is being sold.
As the boat makes its way around the harbor — going four to five miles an hour to avoid drink spillage — LaBelle-Paszkowski said that she and Paszkowski, who has his U.S. Coast Guard 50T Master Captain's license, will play Caribbean music, country, and whatever else their passengers want to hear.
"Anything that makes you feel like you have your feet in the sand," LaBelle-Paszkowski said.
The feedback so far has been one of excitement, said LaBelle-Paszkowski, with even Salem mayor Kim Driscoll expressing her approval on Twitter.
It's 5 o'clock somewhere…congrats to the newest tour operators in Salem who are bringing a bit of the Caribbean to Salem Harbor! Check out this link for more info on Tiki Time in Salem. ? https://t.co/OyTw9nJqKR pic.twitter.com/mIivhkSpow

— Kim Driscoll (@MayorDriscoll) September 19, 2019
Interested in a mini Caribbean cruise? Head to the Tiki Hut Boats website to make a reservation while the weather is still nice. Bookings will be accepted through Oct. 31, at which time LaBelle-Paszkowski and Paszkowski will be closing their tropical venture for the season.
Tiki Hut Boats; 10 Blaney St., Salem; Saturdays from 10 a.m.–8 p.m., Sundays from 11 a.m.–7 p.m., Mondays, Tuesdays, Thursdays, Fridays from 6 p.m.–8 p.m., Wednesdays from 2 p.m.–8 p.m., tikihutboats.com
Correction: A previous version of this story incorrectly stated that Tiki Hut Boats is part of the Cruisin' Tiki franchise. It was inspired by that franchise but has no affiliation.