Beer
These New England fall food festivals are serving cider, clam chowder, and plenty of oysters
It's the most wonderful time of the year.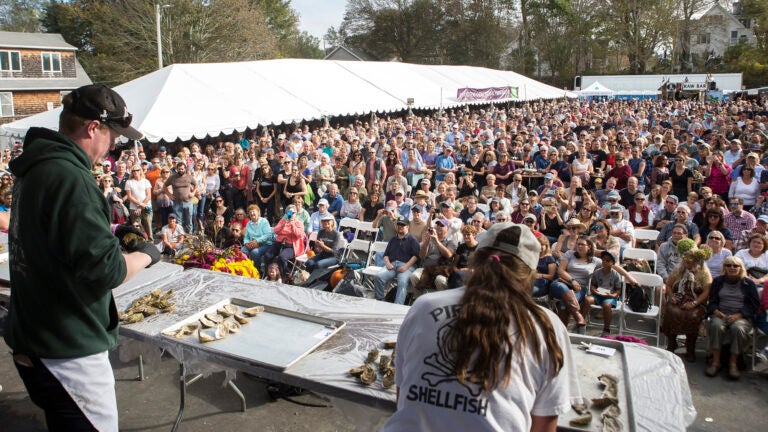 There's a reason that fall in New England is the stuff of picturesque postcards and vacation envy. With it comes the foliage, the apple picking, the cider doughnuts, and all the fall food festivals that embrace the very best of the season. That means hearty chowder, fresh oysters, and ripe cranberries, plus a few events dedicated to barbecue, cheese, and vegetarian fare.
Loosen your belt and make some room for these decadent food festivals taking place in Boston — and throughout New England — over the next few months.
This list will be updated as more fall food festivals are announced in 2019.
Eataly Fall Wine and Cheese Fest
If you're going to spend an evening eating copious amounts of wine and cheese, it might as well be at Eataly. The Italian emporium in the Back Bay will host its annual wine and cheese fest and offer guests the chance to peruse the store while sampling dozens of cheeses (and salumi!) while sipping on wine sourced by knowledgable local and Italian producers. (Thursday, Sept. 26; Boston)
Let's Talk About Food Festival
Think of Let's Talk About Food, the annual festival at the Harvard Science Center Plaza, as a crash course in today's hottest culinary topics. The day will include talks and demonstrations from industry professionals about hot-button issues like "trash" fish, food as medicine, food waste, and the global impact of plant-based meat. In between chats, sample food from vendors scattered around the plaza. (Saturday, Sept. 28; Cambridge)
Boston Food Truck Festival
Thirty food trucks will line the Rose Kennedy Greenway at this day-long festival, providing the perfect opportunity to hop from truck to truck while trying sweet and savory dishes from a variety of cuisines. Purchase bites from Frozen Hoagies, Hometown Poké, Momogoose, Oath Pizza, Roxy's Grilled Cheese, and others, then stop by the pop-up beer garden for a drink. The fest also features a local artisan market, live music, and activities for kids. (Saturday, Oct. 5; Boston)
New England Chocolate Festival
This two-part chocolate festival includes both a chocolate pavilion and an education program, giving ticket holders the chance to taste and learn more about the cocoa bean. The main event — a chocolate pavilion on Oct. 12 — is an all-day marketplace featuring over 40 chocolatiers, cacao producers, chocolate makers, and more selling chocolate and offering samples of sweet treats; attendees can also stop by a café for free Blue Bottle coffee, TCHO chocolate, and Polar Seltzer drinks. On Oct. 5, a beverage education program walks guests through chocolate drink seminars — think Coffee and Chocolate 101 and Boozy + CBD Chocolaterie — while another education program on Oct. 13 features classes like Savoring the Origins: The Stories Within Our Bars and a boozy truffles workshop. (Saturday, Oct. 5, Boston; Saturday, Oct. 12, Boston–Sunday, Oct. 13; Cambridge)
Chowdafest
Is there a more quintessential New England food festival? At Chowdafest in Westport's Sherwood Island State Park, guests will have the chance to sample over 30 different types of chowders, bisques, and soups from restaurants hoping to take home the top prize in one of four categories: New England clam chowder, creative chowder, soup/bisque, and vegetarian. Pair your bowl of the good stuff with desserts, cheeses, and a selection of beverages. (Sunday, Oct. 6; Westport, Conn.)
Smoke This Rib Fest
Tie on a bib and get out the wet wipes for this messy rib fest hosted by the East Cambridge Business Association. A growing list of Cambridge restaurants — including Bambara, Lord Hobo, Loyal Nine, State Park, and Trina's Starlite Lounge — will battle it out for the chance to claim "best ribs in town." Tickets include 10 rib samples, which you can enjoy while listening to live music from local bands. (Sunday, Oct. 6; Cambridge)
WGBH Wine & Food Festival
Head over to the WGBH studios for the annual Wine & Food Festival, a three-day fête highlighting fantastic local chefs and plenty of wine. Attendees can purchase tickets to events like the Chef's Gala, which features live jazz along with bites with wine and craft beer pairings; Artisan Taste, an afternoon filled with tastings and live cooking demos; and Food Fight, which pits more than a dozen chefs against each other in 10 categories. (Thursday, Oct. 10–Sunday, Oct. 13; Boston)
Cranberry Festival
Bring the kids to this celebration of the almighty cranberry, which is held every year at Milestone Cranberry Bog on Nantucket. In addition to trying cranberry treats, attendees can learn about the fruit's history, catch harvesting demos, enjoy live music, and take a bog tour. And remember: Leaving with a load of cranberries is required. (Saturday, Oct. 12; Nantucket)
Harvest on the Harbor
This annual festival kicks off with a multi-course dinner on Thursday night, highlighting local chefs and farmers who are dedicated to bringing out the best of Maine's seasonal produce. On Friday, The Maine Lobster Chef of the Year luncheon pits 10 Maine chefs against each other for a 10-course, lobster-centric meal; later in the day, the Straight Up cocktail party will feature more than 30 locally made craft spirits. Stop by for a Bloody Mary pig roast brunch or an oysterfest on Saturday, then finish of the festival on Sunday with a waffle and prosecco brunch and a market. (Thursday, Oct. 17–Sunday, Oct. 20; Portland, Maine)
Boston Veg Food Fest
This meat-free event is also admission-free, and while you won't be scarfing down giant plates of food, you will have access to plenty of small samples from vegan and vegetarian food providers. Learn about new products in the vegetarian market, chat with speakers and chefs, and shop items at discounted prices. (Saturday, Oct. 19–Sunday, Oct. 20; Boston)
Wellfleet Oyster Festival
Oyster aficionados, take note: The Wellfleet Oyster Festival is back for another two-day celebration of these beloved bivalves. During the festival, guests can enjoy games, music, and plenty of shucking, along with a shuck-n-run road race, educational panels, music, and shellfish farm tours. (Saturday, Oct. 19–Sunday, Oct. 20; Wellfleet)
Bowen's Wharf Seafood Festival
Fish tacos, lobster rolls, clam cakes, oysters — this Rhode Island festival is a necessity for seafood fans. Eat your way through oceanic bites, plus fresh smoothies, kettle corn, and donuts while listening to local bands and sipping on cocktails and ice-cold beer. (Saturday, Oct. 19–Sunday, Oct. 20; Newport, R.I.)
ATK Boston Eats
One of Boston's best food festivals returns for a third year at the Seaport's Innovation and Design Building, featuring seated dinners, food and drink samples, and cooking demos from the stars of "America's Test Kitchen." This year, the festival is celebrating 20 seasons of the celebrated TV show, as well as the kitchen's latest cookbook, "How to Cocktail." (Thursday, Oct. 24–Saturday, Oct. 26; Boston)
Harvest Party
The Boston Public Market brings back its annual Harvest Party, a celebration of all things autumn. More than 10 New England breweries and cideries, including Jack's Abby, Harpoon, UFO, and Smuttynose Brewing, will be on hand to pair drinks with the market's vendors. Snag a Market Party ticket, which includes access to the event plus food and beverage samples and an open bar from 7 p.m.–8 p.m., or upgrade with a Market Party ++ ticket: open bar all evening, a swag bag, and a special Harvest Party meal prepared by your choice of a market vendor. (Thursday, Oct. 24; Boston)
Eat Drink Boston!
Slide into November with a weekend spent sipping wines from around the world at Eat Drink Boston! presented by Food & Wine magazine. Local, regional, and national chefs will showcase their creative fare at events like The Great Taste, The Beantown Ball (a black-tie gala), educational seminars, and The Tailgate, a sports-themed tasting event with grilled bites and athlete cameos. (Friday, Nov. 1–Sunday, Nov. 3; Boston)
Lovin' Spoonfuls 9th Annual Ultimate Tailgate
Some of Boston's best restaurants will gather at this annual feast to raise money for Lovin' Spoonfuls, New England's largest food rescue agency. More than 25 restaurants — including Bar Mezzana, Eventide, Little Donkey, Myers + Chang, and Uni — will serve delectable bites at the Cruiseport Terminal in Boston's Seaport District; stick around to raise a glass to Baldor Specialty Foods, which will be honored with the Thomas M. Menino Award for Leadership. (Sunday, Nov. 3, Boston)
Boston Beer & BBQ Fest
Back for its fifth year, the Boston Beer & BBQ Fest at Cyclorama in the South End is a chance to drink beer and cider from 25 New England breweries alongside bites of fantastic brisket, pulled pork, and ribs. Barbecue all-stars at the festival include The Smoke Shop BBQ, Smoke and Squeal BBQ, The Porch Southern Fare, Gotta Q, and more. Choose from three sessions held over two days. (Friday, Nov. 15–Saturday, Nov. 16; Boston)