Restaurants
Nibble Kitchen opens at Bow Market with a rotating menu of global cuisine
Try Ethiopian, Brazilian, and Bangladeshi dishes at this Union Square newcomer.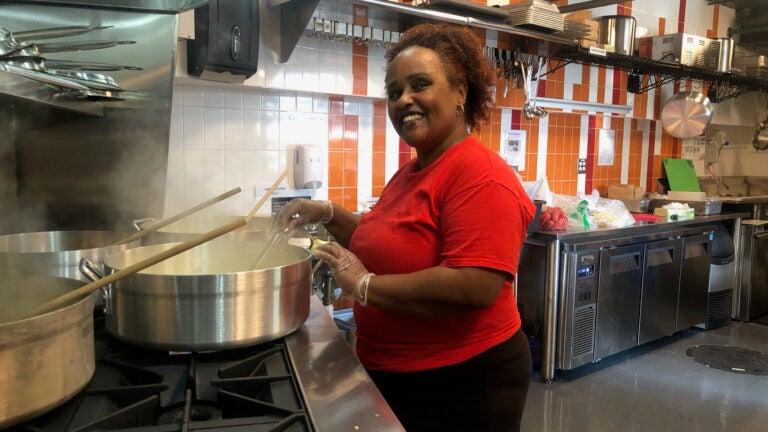 Somerville hub Bow Market continues to expand its roster of small-but-mighty food, drink, and retail businesses with the addition of Nibble Kitchen, an internationally-inspired eatery that is set to soft open at the market on Thursday.
Promising "global eats for local peeps," Nibble Kitchen is a collective of chefs and business owners who are part of the Somerville Arts Council's Nibble Entrepreneurship Program, which enables immigrant entrepreneurs to explore culinary careers through training and mentorship from industry professionals. The kitchen's opening lineup, spearheaded by six Nibble Kitchen chefs, is a clear reflection of the program's diversity, showcasing food from Ethiopia, Venezuela, Bolivia, and more.
Nibble Kitchen's current soft open status means that they are still working out operating times and logistics, but for now, the restaurant will be open Thursdays through Sundays. On Thursday nights from 5 p.m.–10 p.m., chef Sandra Suarez will serve a Bolivian menu focused on quinoa, including quinoa fritters, quinoa mint horchata, and quinoa tuna sandwiches. Friday lunches from 11 a.m.–4 p.m. will feature Bangladesh native chef Afruza Akther making a variety of kati rolls and Bengali vermicelli custard dessert, while Friday nights from 5 p.m.–10 p.m. will see Brazilian chef Robson Lemos serving black-eyed pea fritters with shrimp stew. On Saturday, lunch (11 a.m.–4 p.m.) from chefs Carolina Garcia and Carolina Salinas will include arepas, a classic Venezuelan street food; Saturday and Sunday dinners (5 p.m.–10 p.m.) will have chef Meqdes Mesfin making Ethiopian stews with injera flatbread.
"I hope that Somervillians — and people from all over the Boston area — will come to Nibble Kitchen to taste flavors and dishes that you can't find elsewhere, dishes like Brazilian acarajé and Bangladeshi kati rolls," wrote Rachel Strutt, cultural director for the Somerville Arts Council, in an email to Boston.com. "Eating at Nibble Kitchen in Union Square will be like taking a vicarious spin around the globe. In this way we hope our restaurant promotes multiculturalism. I don't think that should be hard: food brings people together and encourages curiosity about other cultures. Basically we can't wait to open our doors, meet our customers, and keep building the Nibble community!"
Strutt said that Nibble Kitchen is aiming for an early November grand opening, when they'll celebrate with a ribbon cutting and Nibble food flights featuring bites from each of the six chefs. Want to win a free flight? Starting Thursday, guests can visit during soft opening and ask for a Nibble Kitchen Passport. Make your way through each of the featured cuisines, get your passport stamped from all five concepts, and you'll receive a free food flight at the grand opening.
Nibble Kitchen at Bow Market; 1 Bow Market Way, Somerville; Thursdays–Sundays at various times; nibblesomerville.com