Restaurants
This Fenway food hall brings high-end dining to the masses
Time Out Market serves gastronomic delights from award-winning chefs.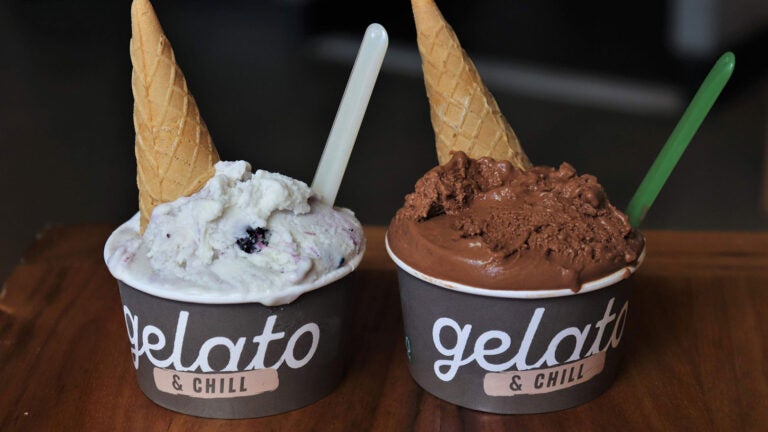 Our new restaurant reviews are part of a series of conversations we're developing to help you save time and stay informed on what's happening in the city. Be sure to sign up to receive the latest on the city's food scene.
Magazine-making is an exercise in the art of curation. Eat this, go there, watch that — or miss out. In today's challenging media landscape, the Time Out magazine brand has smartly applied the skill to a new medium: upscale food halls featuring an assemblage of gastronomic delights from local chefs and restaurateurs. The off-the-page-and-into-your-belly concept has been working for years in Lisbon, where the first Time Out Market opened in 2014, and so far it looks like it's set to become a hit in Boston, too.
When I first walked into Time Out Market Boston a little after 8 p.m. on a recent weekday, the building – which sits at the corner of Park Drive and Brookline Avenue, in Fenway – was abuzz. Literal buzzes from the digital pagers announcing that food was ready mixed with the beat of pop-rock music and the din of conversation, all amplified by the acoustics in the sweeping, industrial-feeling space.
I began by ordering a Maine-made Urban Farm Fermentory blueberry kombucha ($9) – served, to my surprise, in a stemmed wine glass — and orienting myself to the 25,000-square-foot dining complex. There's a lot to take in.
Open since June, the quick service-style food hall includes 15 restaurant counters overseen by local restaurateurs, two full bars serving beer, wine and cocktails, a demonstration kitchen, and 650 seats, mainly at long wooden communal tables. In total, you can choose from roughly 150 different dishes, from cauliflower steak to chicken parmesan to duck corn dogs. The roster of locally-operated concepts by noted restaurateurs is the main part of what makes this function differently from a traditional food court. James Beard award-winning chefs Michael Schlow, Tony Maws and Tim Cushman have debuted new eateries here, and there are outposts of Boston-area favorites including seafood counter Saltie Girl, tasting menu-focused Tasting Counter, and Cambridge's small plates-focused BISq.
The market's pièce de résistance – or at least its status-symbol order – may well be the lobster roll from the Saltie Girl counter, available cold with mayo or hot with butter. It's a tiny, beautiful thing, with plump chunks of sweet lobster overflowing out of a golden-griddled brioche bun. The sandwich is a little small given the cost (market price was $26 when I visited), but a satisfying splurge – especially if you or your visiting-from-out-of-town friends are looking to satisfy a craving quickly. Mashing up high and low dining conventions, it was served on a ceramic dish with silverware and a bag of Cape Cod chips on the side, all on top of a plastic tray.
Ms. Clucks Deluxe Chicken and Dumplings, one of two concepts in the market by Tim and Nancy Cushman, who also own the restaurants O Ya and Hojoko, seemed to be drawing the most customers the night I visited. I understood why after trying the karaage chicken and waffle fries ($12), a generous helping of nearly greaseless, fried popcorn-chicken like bites and fries, topped with a sweet-savory combination of miso maple syrup, umami salt and scallions. The only thing that would have made the dish better is if it had been served a little hotter; the dark meat nuggets were luke-warm by the time they hit the table.
Craigie Burger, inspired by the beloved bar burger Tony Maws has long served at Cambridge's Craigie on Main, also lived up to its reputation. At $16, the burgers are a little less luxurious than the $26 version served at the restaurant, but with thick locally-sourced patties, sturdy Iggy's buns, and housemade condiments, it's of higher quality than almost anything else you'll find in a quick-service format. The steakburger ($16), with sharp reserve cheddar, was served by default at a perfect medium rare, and like the original Craigie burger, included layers of umami from the juicy beef, yeasty bread sauce, and Worcestershire-bathed charred onions it was topped with.
Gelato & Chill, an outpost of the Hingham-based artisanal gelato and sorbet company, is another must-try. The flavors I ordered, ricotta with blueberries and cioccolato, were impressively rich, especially the chocolate, which resembled a chocolate truffle or fudge in its depth of bittersweet cocoa flavor.
Some additional things to know if you go: If you park in the property's Landmark Center garage, you can do so at a discount if you get your parking ticket validated at the market. Also, vendors only accept credit cards. However, you can pay with cash at the bars and also use it to buy a Time Out Market card, which vendors accept as payment.
Overall, the market's atmosphere is streamlined, comfortable, and urbane. Eating chef-driven dishes in this new setting won't ever be as satisfying to me as, say, enjoying them perched near the raw bar at Saltie Girl's intimate original location in Back Bay, or in Hojoko's colorful dining room, as people of all ages sing karaoke in the background. But out of their original context, at Time Out Market, these little luxuries are typically served at a more accessible price point, something that can be beneficial for both consumers and chefs, who are increasingly looking to the quick-service model to keep their businesses viable. The concept reminds me of Target's Collection line — in which the chain collaborates with high-end designers like Zac Pozen and Jason Wu to make lower-cost versions of their signature styles. Through that, Target has made high-end design more accessible to the masses, and if Time Out Market can do that for high-end food, there's got to be some good in it.
Time Out Market Boston, 401 Park Dr., Boston, Mondays through Thursdays from 7:30 a.m. to 10 p.m.; Fridays from 7:30 a.m. to 11 p.m.; Saturdays from 9 a.m. to 11 p.m.; Sundays from 9 a.m. to 10 p.m.; timeoutmarket.com.