Restaurants
Air Canada will bring a pop-up poutinerie to Downtown Crossing
The airline is embracing the Canadian staple with globally-inspired poutine dishes.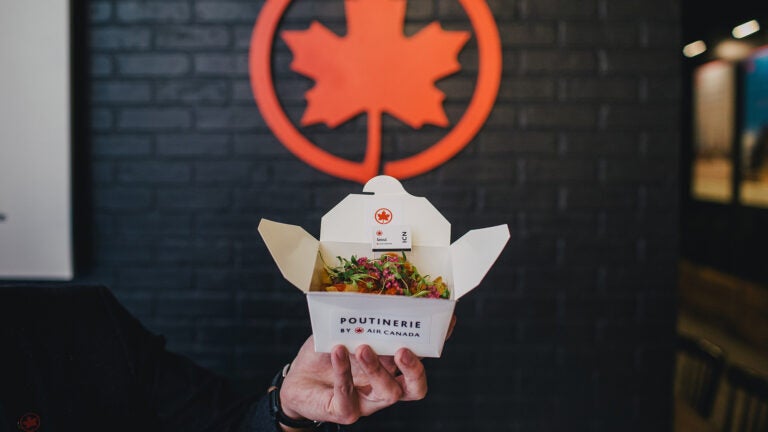 Poutine isn't a dish we often see celebrated (or executed well, to be honest) in Boston. There is poutine-centric Saus, sure, and one-off poutine dishes at restaurants around the city (The Gallows, Deep Ellum, Bostonia Public House). But poutine purveyors we are not.
Air Canada hopes to spread the gospel of poutine with Poutinerie by Air Canada, an 11-day pop-up in Downtown Crossing that will launch on Oct. 3. Why, you ask, is an airline dishing out cheese curds over fries? It's all in an effort to inspire Bostonians to use the airline on their next trip, whether that's to Toronto or Tel Aviv.
To highlight select cities serviced by Air Canada, the pop-up will feature 10 globally-inspired poutine dishes in addition to the classic French fries/cheese curds/gravy combo. There's the Paris, a gluten-free version made with french fries, duck confit, crème de brie, and black pepper. The Casablanca features sweet potato fries and taktouka, a Moroccan salad, while the Seoul tops fries with kimchi and popcorn shrimp. Does popcorn shrimp belong on poutine? Not really, but that's beside the point.
Each poutine dish will cost $5; drinks, including Canadian beer and wine, will cost $4. The pop-up will donate its proceeds to About Fresh, a local nonprofit that helps communities gain access to healthy food through About Fresh's mobile grocery store, Fresh Truck.
In addition to its twists on poutine, Air Canada plans to set up a virtual reality on-board experience, with the chance for attendees to win two Air Canada tickets from Logan Airport to any one of the airline's 200-plus destinations around the world. A trip to Shanghai could be yours (though you probably won't be eating poutine there).
To get an idea of what's offered when the pop-up debuts on Thursday, take a look at the full menu (including gluten-free dishes labeled "GF") below:
Montreal "The Classic" (GF) | French fries, cheese curds, beef gravy
Toronto (GF) | Moosehead beer-braised pork, French fries, poultry gravy, sharp cheddar cheese
São Paulo (GF) | Thick-cut fries, grilled hanger steak, chimichurri
Paris (GF) | French fries, duck confit, crème de brie, black pepper
London | "Chips" (thick-cut fries), chicken curry, raita
Seoul | Thick-cut fries, kimchi, twigim popcorn shrimp, spicy aioli, green onion garnish
Shanghai | Hong Shan Yu (sweet potato fries), Chinese-spiced beef kebab, hoisin barbecue sauce
Casablanca | Sweet potato fries, taktouka
Tel Aviv (GF) | Thick-cut fries, falafel, beet hummus, masabacha tahini yogurt, sour pickle
Tokyo | Thick-cut fries, ground pork, ponzu and sesame sauce (thickened), pickled daikon or shredded carrot, ginger
Poutinerie by Air Canada; 267 Washington St., Boston; Thursday, Oct. 3–Sunday, Oct. 13 from noon–10 p.m., aircanada.com