Restaurants
Meet Rochambeau, the Back Bay's brand new French brasserie
The multi-level restaurant is now open.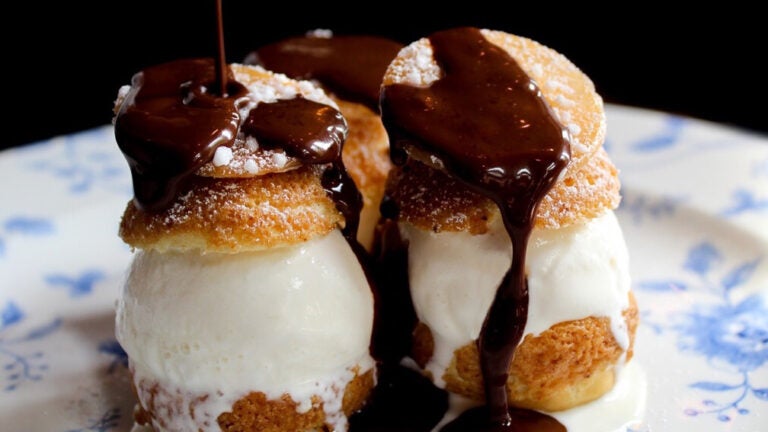 "Fun first, French second."
According to chef Nick Calias, that's the mantra that drives Rochambeau, the Back Bay's newest French restaurant, which opened Oct. 3. The highly anticipated café, restaurant, and bar comes to the neighborhood courtesy of the Lyons Group, whose other concepts include Latin Kitchen and rum bar Casa Caña, American bistro Back Bay Social Club, Newbury Street staple Sonsie, and the now-shuttered Towne Stove & Spirits (where Rochambeau has set up shop).
The two-story venue is home to a spacious all-day café, as well as a seasonal outdoor patio and a French brasserie serving brunch, lunch, and dinner. Within the 60-seat café, which has its own separate entrance, diners can pick up breakfast bites like a Rochambeau burrito (made with a crépe, naturally), tartines, and quiche, along with sandwiches (jambon and fromage, banh mi, wood-grilled cauliflower shawarma), salads, and desserts for lunch and afternoon snacking. Coffee will come from La Colombe, to be enjoyed inside the bright, airy room outfitted with a tinned ceiling and pops of blues and copper.
The main entrance leads to a brasserie and center bar, with an additional dining room, private dining area, raw bar, and charcuterie station upstairs.
Calias, who serves as the Lyons Group's culinary director, teamed up with chef de cuisine Matthew Gaudet to design a menu that puts playful spins on classic French dishes.
"French food is pretty near and dear to my heart," Calias told Boston.com. "We're trying to build a non-pretentious style of dining where guests aren't intimidated by the words [on the menu] and the food that's on the plate. We really want to make it approachable, where someone can come every single day and have a fantastic meal."
He cites Rochambeau's coq au vin as a prime example, a dish that swaps out bone-in chicken for boneless and uses porcini knoephla, or dumplings, to make it more casual. There will be a traditional steak frites but also a grilled lobster frites, salade niçoise with poached tuna, and French onion soup with figs. At the 360-degree bar, coq au vin will take the form of spring rolls, and a dish called Lydia's lobster popovers will pay tribute to the acclaimed chef Lydia Shire, who was the opening chef at Towne when it debuted in 2010. Craft cocktails, wine, and beer will also be available.
Rochambeau, which gets its name from both a French general in the American Revolution and from the term that French children use for "rock, paper, scissors," aims to be a place where diners won't just eat and then head out for the night, but where they linger after their meal as the lights dim and the music changes (the space will also have room for a DJ booth). Calias said he spent 13 years working at Brasserie Jo within the Back Bay's Colonnade Hotel, and he's delighted to continue working in the neighborhood.
"The Back Bay is great," he said. "For me it's kind of like the hub of life. You've got the symphony down there, you've got the Prudential, you've got Fenway. I love this area."
Rochambeau; 900 Boylston St., Boston; Cafe: Daily 7 a.m.–7 p.m., Restaurant: Mondays–Wednesdays from 11:30 a.m.–10 p.m., Thursdays–Fridays from 11:30 a.m.–11 p.m., Saturdays from 10 a.m.–11 p.m., Sundays from 10 a.m.–10 p.m., Bar: Mondays–Fridays from 11:30 a.m.–2 a.m., Saturdays and Sundays from 10 a.m.–2 a.m.; rochambeauboston.com