Restaurants
The Oyster Club, a seafood-centric newcomer in the Back Bay, is still finding its sea legs
The oysters here are fantastic, but a restaurant — let alone a seafood restaurant — can't ride on oysters alone.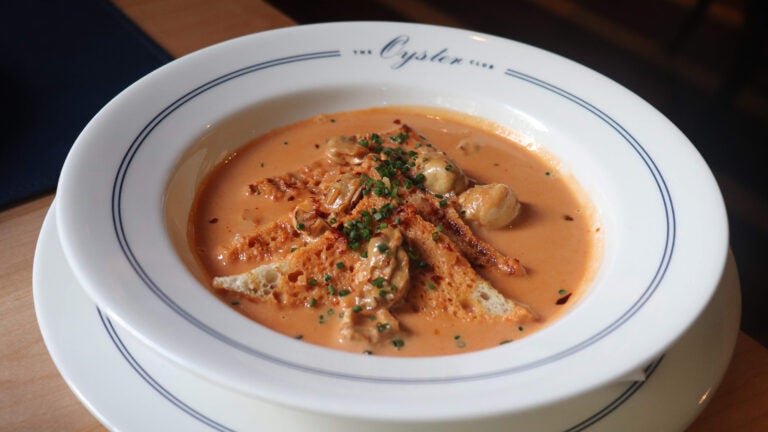 Our new restaurant reviews are part of a series of conversations we're developing to help you save time and stay informed on what's happening in the city. Be sure to sign up to receive the latest on the city's food scene.
It was, almost immediately, chaotic. 
As we sat down inside The Oyster Club's dining room, a sleek, yacht club-esque space awash in dark blues, burnt orange, and gleaming wood, the host nervously asked us if we'd rather sit somewhere else. Our servers, the number of which rapidly multiplied throughout the evening, kept asking to take plates away, even with forks paused in mid-air. Dishes that weren't ours were brought to our table with confused looks; a dish that was ours was forgotten about, until the host suddenly appeared with it right before we were ready to call it a night. At one point, I wished we had just sat at the bar in an effort to ease any confusion — but on a subsequent visit, when I did, I faced an equally anarchic scene.
Having opened in late July, The Oyster Club at the Heritage is still finding its sea legs. Located in the former Via Matta space (Michael Schlow's rustic Italian restaurant, which Schlow then replaced with Doretta Taverna) across from the Back Bay's Park Plaza Hotel, The Oyster Club is a return to chef Chris Parsons's happy place: seafood. Parsons debuted his first seafood concept, Catch, in Winchester in 2003, before opening Parsons Table, also in Winchester, and Steel & Rye in Milton. The Park Square venue is now anchored by a 360-degree bar with a lengthy oyster bar on one end and rows of booths on another; a patio, when it's warm out, provides a pleasant place to sit and people-watch.

Here is something The Oyster Club does well: oysters. In addition to a daily selection of raw oysters — part of an extensive raw bar menu that includes tinned fish imported from Spain and Portugal — there is a warm, buttery Oyster Rockefeller ($14), four bivalves baked in their shells with spinach, potato, and parmesan so that they resemble miniature casseroles. Thomas Downing's Oyster Pan Roast ($15) — named after and inspired by a black oysterman from Virginia who sold oysters on the street in New York City and eventually opened his own oyster house — is equally fantastic, and my favorite dish on the menu. Think of it as a bisque made with chili sauce, Worcestershire sauce, and white wine, with slices of oyster- and herb-covered toast floating around in the broth. The bread soaks up the heat from the Worcestershire; you could pair it with a chilled glass of wine, of which The Oyster Club has plenty.
But those were the only success stories I experienced. A chilled tuna tartare with crispy shrimp chips could have benefitted from more of the tartness and funk that its kimchi vinaigrette should have provided, but which seemed to only serve as a watery afterthought. My high hopes for the Cape Cod scallops ($34) were dashed when they arrived plunked on top of a salt bomb in the form of gummy polenta and doused in a discordant balsamic glaze. In addition to daily lobster dishes — lobster tacos ($24) on Tuesdays, for example, or lobster pan roast ($29) on Fridays — and other entrées that put seafood front and center (shrimp scampi, $24; fish and chips, $26), the menu offers "simply grilled" plates, an opportunity for diners to mix grilled fish with a side and a sauce. I ordered the swordfish ($29) with a side of cream corn, a dreamy pudding sweet enough that it could have served as a dessert. But the swordfish was rubbery and barely seasoned, and the romesco sauce did little to bring it to life.
For diners who might try their luck with land over sea, there are a few options, including steak frites ($31), spaccatelli bolognese ($21), and fried chicken ($27). The Lily P ($15) is a fried chicken sandwich that nods to Parsons's upcoming concept, a fried chicken- and oyster-focused restaurant called Lily P's in Cambridge. It had potential: The bun was a buttery golden color, the chicken coating appeared generous and crunchy, and who doesn't love a pimento cheese spread? But the bun was also dry, the fried chicken needed some acidity (and more than just a few pickles) to cut all the fat, and the thin layer of pimento cheese was barely detectable. A generous side of fries peppered with Cajun seasoning held its own, but you're not coming to The Oyster Club for just fries.
And that's the thing: Yes, the oyster pan roast is great and the fries are solid and you'll have a nice time sitting out on the patio with a glass of wine and some tinned fish. But there is too much floundering at this grand, glitzy yacht club to come here for a casual night out, let alone a high-stakes first date. One of Boston's chest-thumping mantras — and rightfully so — is that we have a cache of incredible seafood restaurants. Until it nails more than its oysters, I can't say that The Oyster Club is among them.
The Oyster Club at The Heritage; 79 Park Plaza, Boston; Mondays–Saturdays from 11:30 a.m.–11 p.m., Sundays from 11:30 a.m.–10 p.m.; theoysterclubboston.com