Restaurants
You'll find glamour, cheek, and inventive Italian-American at Orfano
A lush newcomer combines sly style with clever, soul-satisfying fare.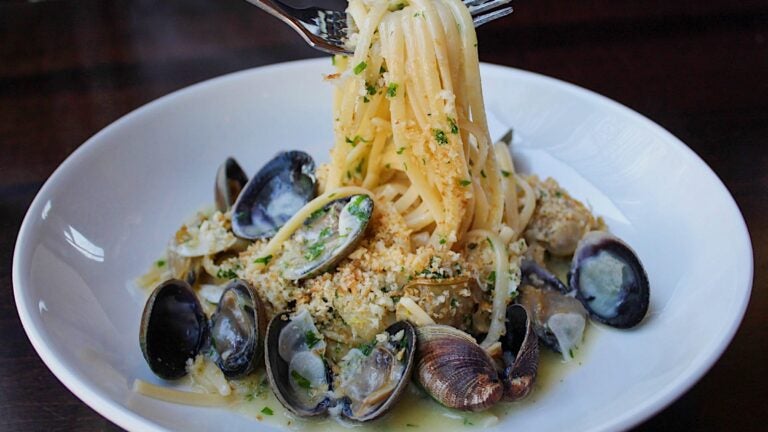 Our new restaurant reviews are part of a series of conversations we're developing to help you save time and stay informed on what's happening in the city. Be sure to sign up to receive the latest on the city's food scene.
Boston has plenty of celebratory Italian-American restaurants designed for something more special than a pleasant, casual dinner of meatballs, spaghetti, and a nice Chianti. They feature cosseting service, big wine lists, and amenities like reservations, cocktails, and dessert: no line on the sidewalk or check dropped with the entrees. But the atmosphere at these standbys can feel not so fresh: the trite Vegas-y décor, "The Godfather" looping on every TV. The Sopranos ended in 2007: Can we dial down the badda-bing swagger just a tad?
It takes a strong woman (or better yet, two) to push the old boys aside. That's what chef Tiffani Faison, along with her spouse and co-owner Kelly Walsh, are doing at Orfano, a splashy new 96-seat restaurant in the Fenway, just a stone's throw from Big Heart Hospitality siblings Tiger Mama, Sweet Cheeks Q, and Fool's Errand. You'll find many old markers of the swank Italian-American genre, starting with slightly over-the-top décor: soaring ceilings, gold chandeliers, plush booths in royal purple, evocative portraits of larger-than-life Italian icons. Except here they're not Sinatra and DeNiro, but Sophia Loren and Lady Gaga, serenely presiding over a place with a sense of playful, winking fun and a menu of niftily updated, seriously delicious food from culinary director Michele Carter (ex-Barbara Lynch Collective).
Most dishes are familiar, yet each gets its own galvanic jolt: a unique presentation, a clever twist, or an A-plus ingredient. Great skinny breadsticks come gratis to start. A soft ball of warm hand-pulled mozzarella in great EVOO is dramatically quartered tableside with golden shears. What might be Boston's best and most butter-laden garlic bread ($5) is served in a homely paper bag. Parmesan mousse ($7) looks drab but has a velvety richness that haunted our dreams. Tomato salad ($14) with peaches and pesto features the fading summer's last perfect sweetness and bite. (Those are just pre-starters: don't fill up on bread!)
Moving onto apps, the tuna "martini" ($17) trades the cocktail's glass for its flavors: a pretty single file of thick squares of tuna carpaccio topped with sliced Gordal olives over a vermouth-accented, slightly sweet lemon gelée. Clams Orfano ($16) broils a mess of chopped clams in their shells with pancetta, peperonata, garlic, and a lot of fresh oregano under a layer of toasty breadcrumbs. A vivid house chopped salad "tre-colore" ($15) is an Italian-deli antipasto platter in miniature.
Pastas, all made in-house, are served in sensible mid-course portions and consistently rock, like a linguine vongole ($29) with chopped clams, whole clams and cockles, and crispy garlicky breadcrumbs. Fusilli a la vodka ($23) boasts a supremely creamy, coral-tinged sauce of tomato and chili flakes under a shower of finely grated parmesan. A canonical northern Italian rigatoni bolognese ($25) is doused in a fabulously rich, long-cooked ragù of minced veal, pork, and beef, an echo of some nonna's loving Sunday labor.
From a selection of steaks and chops, we sampled a 14-ounce veal chop ($43) with magnificent juiciness and flavor under a garlic brown butter sauce and a crown of oregano sprigs. The witty secondi include pig parmigiana ($29) reimagined as a mozzarella-stuffed, tonkatsu-style pork loin cutlet (deep-fried in light tempura batter) swimming in a bright, light marinara sauce and oodles of parmesan, and duck Marbella ($51) for two, a fabulous sweet-and-briny-and-savory casserole that roasts half a duck with olives, capers, sherry, brown sugar and prunes, served with sides of parslied potatoes and a small salad. We ordered side dishes that wowed at $9 each, like a beauteous (if slightly oversalted) eggplant caponata, a plate of steamed and grilled yu-choi, and Tuscan-inspired crispy potatoes.
With more judicious ordering, we'll essay more of pastry chef Dee Steffen Chinn's work, though we managed to get in her delectable vanilla mascarpone gelato ($5) piquantly dressed with olive oil and flakey Maldon salt, and picturesque three-color cookies gifted with the check. Beverage director Brian Callahan's cocktails run to skillfully executed Golden Age classics and are decanted into exquisite stemware; splurge for the tableside martini service ($24-$28) for drinks served with style and awe-inspiring garnishes (like a superb house-made cocktail onion) and an edifying origin story. Wine director Charlie Gaeta (ex-Branch Line) is one of my favorite somms in town: urbane and perceptive, overseeing an Italian-heavy, 60-deep list that suits trophy-hunters and bargain-hunters alike. He steered us to two high-value Sicilian reds: the inky, stony 2016 Girolamo Russo "A Rina" Etna Rosso ($59), and the 2017 Arianna Occhipinti "Il Frappato" ($82), a wondrously berry-fresh, light-bodied 100 percent-frappato made with natural methods by a sensational young female winemaker.
The service is uniformly polished, attentive, and warm, and the room is flatteringly lit and convivially — but not painfully — loud. The cumulative effect is kicky, glamorous, and eminently comfortable: versatile enough for occasion dining, business entertaining, or a dress-to-impress date night. Be forewarned: That warm-hearted extravagance and those sumptuous details can add up to a big check, but we left in beaming contentment. Still, it's easy to be utterly charmed by Orfano, most especially by the spectacle of Faison and Walsh as they mischievously deflate the red-sauce patriarchy, one winsomely old-but-new plate at a time.
Orfano; 1391 Boylston St., Boston; Sundays–Thursdays from 5 p.m.–10 p.m., Fridays and Saturdays from 5 p.m.–11 p.m.; orfanoboston.com