Restaurants
Pazza on Porter will open in East Boston with bolognese and an Aperol Spritz cart
The Italian-American restaurant is now taking reservations.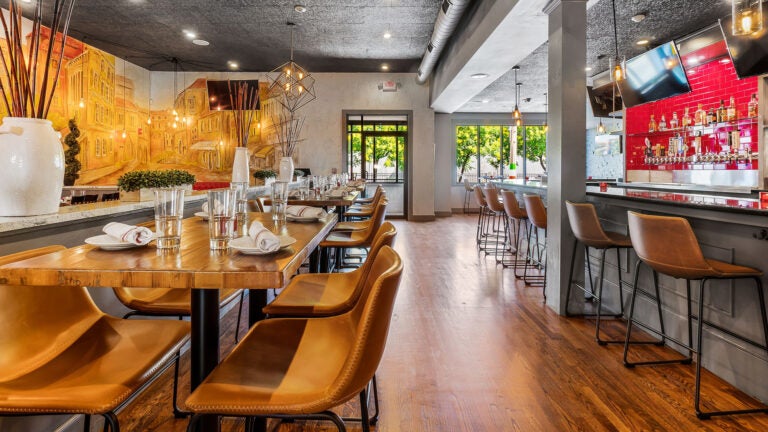 A local restaurateur and co-founder of the Boston Pizza Festival is channeling his love of red sauce into a new restaurant in East Boston.
Raffaele Scalzi teamed up with Caffe Dello Sport's Mivan Spencer to create Pazza on Porter, an Italian-American restaurant and bar set to officially open on Friday, with limited reservations available starting on Wednesday. The pasta-centric concept will debut in the former Craft Table & Bar space, though Pazza's private dining room nods to an even earlier tenant: its signature-covered wall (spot the scribbles from Ted Williams, Diana Ross, and Steven Tyler) is a leftover from Sablone's Veal N' Vintage, which closed in 2002.
"With the ever-changing landscape of East Boston, Pazza on Porter will pay homage to the old East Boston while bringing something new and exciting to this space," Scalzi said in a press release. "Pazza on Porter is East Boston's newest restaurant with the oldest ties."
Executive chef Stephen Ennamorati's menu features a lengthy list of shareable appetizers including homemade ricotta, octopus carpaccio, stuffed peppers, and fried olives, plus pastas that range from classics like carbonara and bolognese to a Fisherman's Feast: linguini tossed with calamari, shrimp, haddock, and scallops in a white wine garlic sauce. Guests will recognize comfort-driven entrées — think eggplant, chicken, or veal parmesan; sausage and rabe; and pork chop with vinegar peppers, as well as the Pazza burger with prosciutto and baked salmon served with a pistachio crust. Brunch and lunch will be available on the weekend, with dishes like French toast made with Italian bread and topped with espresso marscapone, and a fully stacked Italian sub piled high with prosciutto, provolone, mortadella, and a balsamic glaze.
At the bar, diners can nosh on a snack menu (and, as the evening inches towards closing time, a late-night menu) featuring zucchini fries and skewers while sipping on beer, wine, and cocktails. Drinks on tap include 13 local beers, Aperol Spritz, cold brew, and a selection of wines, or imbibers can opt for craft cocktails like the Raffaele's Old Fashioned or the Buona Notte, made with blackberry white nectarine bourbon, mint, lemon juice, and white nectarine stone syrup.
Though Scalzi and Spencer have retained some elements of the space's history, Suzette Gerolium of Suzette Design also implemented modern design elements: murals by local artist Mark Grundig, plus televisions scattered throughout the restaurant (and on the 30-seat patio) to make it a solid game-day spot. More focused on the cocktails? The patio will also have its own Aperol Spritz cart to make for easy day drinking.
While Pazza's grand opening (with availability for walk-ins) isn't until Friday, limited reservations are available on Wednesday and Thursday.
Pazza on Porter, 107 Porter St., Boston; Mondays–Fridays from 5 p.m.–1 a.m., Saturdays and Sundays from 11 a.m.–3 p.m. and 5 p.m.–1 a.m.; pazzaonporter.com