Restaurants
OddFellows Ice Cream Co. will finally debut its boozy menu on Friday
Happy hour at an ice cream shop? Sure, why not.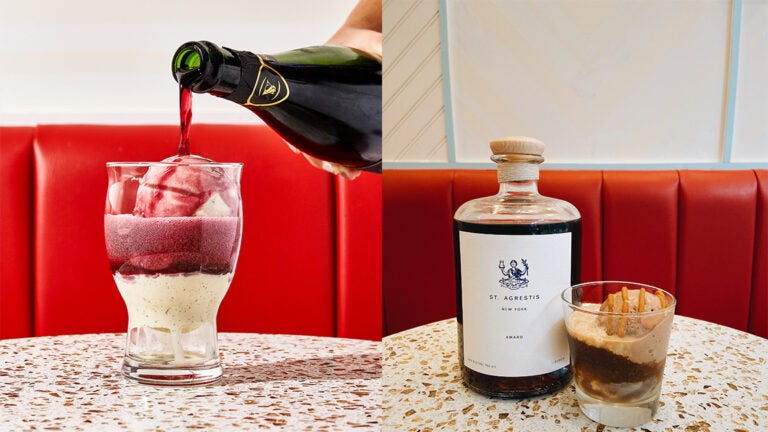 A newly opened ice cream shop is about to deliver on its promise of boozy milkshakes, slushies, and floats.
OddFellows Ice Cream Co., a New York City-based company known for its grown-up ice cream beverages, first opened at The Street Chestnut Hill in August. The ice cream was there, but the booze wasn't. On Friday, the shop will finally start selling its alcohol-laced creations.
On the opening drink menu, espresso martinis and Irish coffees are listed alongside various affogati (booze poured over ice cream) concoctions, like the pommeau made with vanilla bean ice cream, Short Path pommeau, and a waffle cone crumble. Piquette and lambrusco floats can be customized with your choice of sorbet or ice cream, while those looking for a more decadent float can opt for the s'mores option, featuring Velvet Moon stout from Mighty Squirrel Brewing Co. blended with dark chocolate chunk and burnt marshmallow ice cream.
In addition to the boozy desserts, OddFellows, which was founded in 2013 by Holiday Kumar, Mohan Kumar, and Sam Mason, will also offer natural red, white, and sparkling wines, along with local beers from the likes of Abandoned Building, Lord Hobo, Mighty Squirrel, and Night Shift.
"We take the same approach with our ice cream as we do with our beverage menu: They need to be made with integrity, sometimes surprising, and always delicious," said Mohan in a press release. "We love the craft brewing culture of New England and are excited to showcase some local favorites, along with natural wines by the glass. Our grown-up desserts pair small-batch liqueurs from New York and New England with a few of our signature scoops, for the perfect nightcap."
Since opening, OddFellows has offered customers its quirky lineup of ice cream flavors (think miso cherry, matcha rocky road, and olive oil strawberry jam) as well as limited-edition chef collaborations, starting with a basil chip flavor from Fox & the Knife chef Karen Akunowicz. The latest collaboration comes from Tim and Nancy Cushman (O Ya, Hojoko, Gogo Ya, Ms. Clucks Deluxe Chicken & Dumplings, and the upcoming Bianca), who created a Boston brown bread flavor.
Check out OddFellow's full boozy menu below:
OddFellows Ice Cream Co. at The Street Chestnut Hill; 33 Boylston St., Chestnut Hill; Sundays–Thursdays from noon–10 p.m., Fridays–Saturdays from noon–11 p.m.; oddfellowsnyc.com