Restaurants
At The Emory, bar food is given the fine-dining treatment
The neighborhood's newest haunt excels at the high-low concept.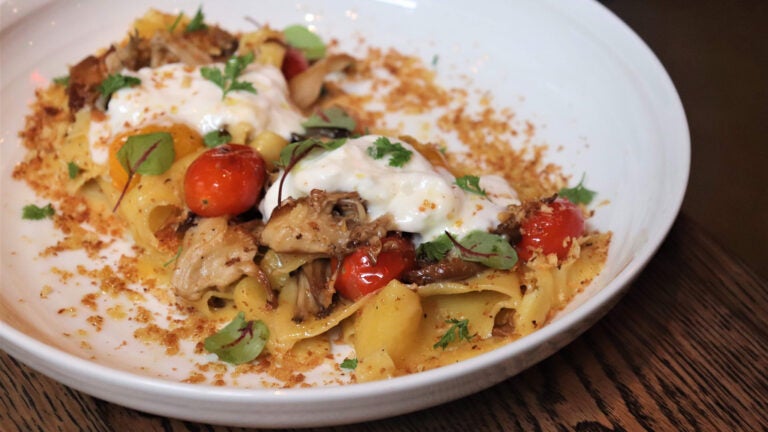 Our new restaurant reviews are part of a series of conversations we're developing to help you save time and stay informed on what's happening in the city. Be sure to sign up to receive the latest on the city's food scene.
Boston industry vet Emory "Andy" Kilgore's first restaurant, The Emory, opened in July, and before you cast judgment about naming a restaurant after yourself, know this: It's not just named after him. The restaurant pays tribute to generations of men in the Kilgore family all named Emory, though the rule of thumb has been for those men to default to nicknames or middle names. And The Emory certainly has a better ring to it than The Andy.
Nestled within the former Bellevue Hotel lobby (the building is now the Bellevue Apartments), The Emory has retained some of the old hotel's charm, like a weathered mirror flanked by Corinthian columns that hangs behind the 10-seat bar. High ceilings and dim lighting during the dinner hour can create an austere mood, but if you sit at the chef's counter or one of the communal tabletops that anchor the dining room, you'll get a sense of what Kilgore, who worked at No. 9 Park, Stoddard's, and Broad Street Riot, is going for: a neighborhood hangout that is casual, honest, and devoid of pretension.
The Emory's dinner menu is divided into straightforward categories with a pared down selection of dishes in each: charcuterie, raw bar, small plates, large plates, sides. There's a distinct high-low feel to it, one that thankfully skips over the well-worn caviar-on-potato-chip trend that seems to have infiltrated so many other restaurants (We get it! You like the finer things in life, but are super chill about it.) Heirloom carrots with pine nut labneh ($12) share space with Buffalo sweetbreads ($19), while the lunch menu pays homage to a classic cobb salad ($16). Chef Derek Robert, who was on the opening team at Townsman, makes it easy to order here, simply because everything — at least everything I tried — is outstanding. An ethereal avocado panna cotta ($14) is a master class in textural excellence: the ultra-creamy custard is topped with crunchy, slightly bitter slivers of snap peas and the halves of juicy husk tomatoes. Kilgore's grandfather, another Emory, went by the nickname Spuds, and so of course there are dreamy baked potato beignets ($11) on the menu: one bite through the fried shell leads to buttery, whipped potato topped with bacon bits and parmesan.  
There is no shortage of burgers in Beacon Hill — 21st Amendment, Emmet's, and Mooo…. all offer excellent nearby options — but The Emory Burger ($19) is a strong contender for one of Boston's best. It caused wide-eyed looks between myself and a friend, the "are you tasting what I'm tasting?" looks you give when something special is happening. Robert tops his version with garlic cheddar fondue, pickles, and onion jam; ask for it medium rare and it will arrive as the very definition of that. 
Meat and seafood maintain a heavy presence at The Emory, from seared black bass ($34) and pan roasted strip loin ($42) to grilled pork sausage ($18) and striped bass crudo ($15). But it would be criminal to miss out on the herbed tagliatelle ($23), an umami-rich tangle of roasted mushrooms, tomatoes, and stracciatella cheese, all topped with flakes of chicken skin. It's sweet and salty, creamy and acidic, and I hope that Robert keeps it on the menu for a long time. 
Kilgore previously told Boston.com that his aim was to open "a chef-ed up bar," and while The Emory has clearly conquered the kitchen, it's also a fantastic place to grab a cocktail, thanks to bar director Melissa Benson's spot-on drinks list. The Clarified Jungle Bird ($12) is a tropical spin on a milk punch, using rum, pineapple, campari, and lime to evoke a creamy, complex libation. Another rum drink, the Guilty Pleasure, employs coffee and cocoa, but hear me out before you turn up your nose: The coffee notes are subtle, and the cocoa adds a discernible level of sweetness that balances out the pineapple and lime. There is wine, too, and beer, many from local breweries like Exhibit 'A' and Jack's Abby, plus a 'Bucket of Ponies' (four Miller High Life Ponies) if you're coming with a crew. You should definitely come with a crew.
Beacon Hill has weathered some seismic shifts recently: French haunt The Hungry I recently closed, and the Beacon Hill Pub will eventually be remodeled into a fine-dining restaurant. But The Emory has managed to feel less like an interloper and more like a natural fit, in part because it is equally satisfying here to pair both a standout burger with a High Life and an avocado panna cotta with a fantastic cocktail. The Kilgores may shy away from using Emory, but in Boston, it's a name that should be on everyone's mind right now.
The Emory; 21 Beacon St., Boston; Mondays–Saturdays from 11:30 a.m.–midnight, Sundays from 10:30 a.m.–midnight; theemoryboston.com