Restaurants
Night Shift is getting into the hard seltzer game with its new line, Hoot
The line will launch with three fruity flavors.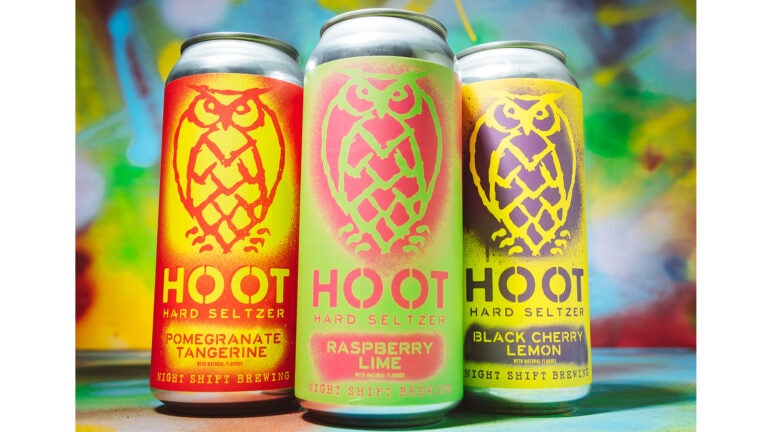 If the summer of 2019 has taught us anything, it's that hard seltzer isn't going anywhere (and that, yes, there are still laws when you're drinking Claws). 
Now, Everett-based Night Shift Brewing is throwing its hat into the carbonated category with Hoot, a new line of hard seltzers set to debut on Oct. 21.
Hoot will launch at Night Shift's Everett and Lovejoy Wharf breweries (as well as its wholesale partners) with three flavors — raspberry lime, black cherry lemon, and pomegranate tangerine — though it isn't the first time the brewery's fans have been exposed to the product. Limited-edition experimental batches were released at both taprooms earlier this year, starting with mango and evolving with lime and lemon-lime iterations. 
Despite hard seltzer's rapid rise in popularity, getting into the category wasn't a spur-of-the-moment decision for Night Shift. Owners Rob Burns, Mike O'Mara, and Michael Oxton began experimenting with the beverage in early 2018. 
"I would say this has almost the same origins as our homebrewing roots, which was that we were trying beer on the shelves and we were like, we think we could make something different and maybe better," Oxton told Boston.com. 
But for a year, they couldn't land on something that they were proud of.
"I think one thing people don't realize about hard seltzer is that it's super, super hard to make," said Oxton. "It's kind of like light beer, where it seems like it's really easy, but because there are so few flavors to hide behind, you can't hide flaws at all. And so you really have to nail the flavor and the process, or you're going to end up with a product where people can tell there's something wrong with it."
Batch after batch went down the drain, recalls Oxton, until in early 2019, the brewery started producing hard seltzer that they could get behind. One of the biggest breakthroughs came when Night Shift started using wine yeast in the fermentation process instead of a more traditional distillers yeast. Despite being a slower, more expensive tactic, Oxton said that using wine yeast resulted in a seltzer that was crisp instead of cloying — and, coming in at 4% ABV and 90 calories, was slightly less alcoholic and caloric than some of the other big seltzers at the market, which generally fall around 5% ABV and 100 calories. Hoot seltzers are also gluten-free, a bonus that Oxton said helps solve the problem of previously not being able to accommodate gluten-free customers.
Sold in four-packs of 16-ounce cans to start, the hard seltzers are packaged in a spray painted, two-tone design that reflects each seltzer's fruit combinations, like deep purple and yellow for black cherry lemon. (Oxton said that they intentionally tried to stay away from packaging that skewed masculine or feminine.) In 2020, the brewery will likely start selling Hoot in other formats: 12-ounce cans, six-packs, 12-packs, etc. And while Oct. 21 is the official launch date, you may currently be able to find the seltzers being sold in cans as part of a previous In Development Series, which releases experimental brews that the company thinks might have potential.
Hoot is just the latest addition to Night Shift's growing portfolio. In 2019 alone, the company opened an innovation brewery at Lovejoy Wharf, launched Night Shift Coffee, and announced the addition of a Night Shift brewery in Philadelphia, which is set to debut in late 2020.