Restaurants
Joanne Chang wants you to get her latest cookbook, "Pastry Love," very, very messy
The Flour chef and owner talks recipes, eating with our eyes, and the best Halloween candy.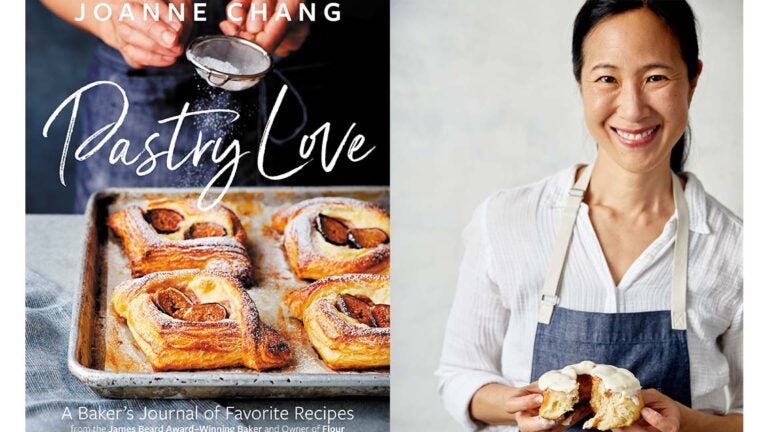 With four cookbooks, one James Beard Award, and eight locations of Flour Bakery & Cafe under her belt, pastry chef and restaurateur Joanne Chang is already a dominant force in Boston's culinary scene. So what's next?
On Nov. 5, Chang will debut her fifth cookbook, "Pastry Love." The baker's tome is packed with tips, techniques, and 125 recipes, each one accompanied by a stunning photo and a backstory detailing the origins of the pastry, whether it's an updated version of a Flour classic or a happy kitchen accident from Chang's early baking days. In chapters playfully labeled "I Knead Bread," "Time to Show Off," and "I Made This For You," sugar-laden treats grace the pages: candied almond meringues, rhubarb brown sugar pie, double chocolate walnut brownies, plum upside-down cake. Like the four cookbooks that preceded "Pastry Love," Chang hopes that readers will get it messy.
"I've never wanted to write a coffee table book that people just kind of flip through," Chang said. "I love when people come to me with their book and it's smudged and dog-eared and there are Post-it Notes and everything."
Before the cookbook's launch, we chatted with Chang about the process of writing "Pastry Love," and even managed to snag her recipe for thin, crispy chocolate chip cookies.
This interview has been lightly edited and condensed for length and clarity.
Q. This is your fifth cookbook. After going through this process a few times, did you approach writing "Pastry Love" in a different way?
A. The biggest difference was that I knew when we took pictures that I wanted more processed shots. One of the benefits of having written a number of books is that you learn each time what works and what doesn't, and nowadays, with social media, you can physically see what other people are doing. I think in the past it was hard to know if a recipe you had written was successful, because people would bake it but you didn't know what it looked like. And now I can look online and see people who are baking things from the books and see where they're doing well and see other instances where maybe they aren't doing well, and maybe that helps inform my cookbook writing — like oh, gosh, that's a technique that I thought was really easy to explain, but a picture is worth a thousand words, so let me make sure I get a picture of that this next go around.
Q. In the cookbook's introduction, you talk about where the term 'pastry love' comes from: rearranging pastries to look beautiful, so that customers will stop and notice and get some pleasure out of the arrangement. What is it about pastry love that you find so important?
A. I think we eat with our eyes. I think, for me, [it's about] wanting to make sure everything looks really appetizing, given that we spent so much time baking it to make it as perfect as possible. I feel that the display of how we present it is just as important. So this term 'pastry love' has been in existence since we opened; it's a verb for us, to do 'p-love.' It's really about showcasing pastries in the best possible light.
Q. What, for you, is the best part about teaching someone to bake, whether in real time or through this cookbook?
A. I think it's taking something that you know how to do and then being able to impart that and share that with somebody else. It's really about giving other people — and sharing with other people — that joy that you yourself have once you've made something. I know how great it feels to make an amazing croissant. If I can teach it to you and you gain this skill, then you get that feeling. At the end of the three-day-process, or at the end of the day, you get this beautiful croissant and that sense of pride and joy.
Q. There are 125 recipes in this cookbook. What was at the forefront of your mind when you were culling these down?
A. At this point, a lot of the recipes that we have that are classic Flour recipes are already in the first or second or third cookbook, so there was that elimination process. But there are recipes that we have updated since the first book; for example, the currant scone that's in the first book is in this new book as a currant oat spelt scone, because we started adding more whole grains to some of our products. Some of them are recipes from way back when that I hadn't played around with in a while and wanted to revisit. And a lot of recipes come from my team. That for me was really exciting, to be able to share some of the great pastries that they make with the world by putting them in the book.
Q. You write a lot about your personal life in the cookbook, and you also call yourself an introvert. Was it difficult for you to share a lot of those stories?
A. I love sharing stories through writing. That's something that I feel really comfortable [with], and that I really enjoy a lot. So that wasn't hard. I think a lot of us are like this — I don't know that many true extroverts. I think for me, I've definitely found my comfort zone tends to be solo except for when it comes to pastries, in which case I want to be with as many people as possible, talking about as many things as possible, and testing and tasting as many things as possible. And that's one of the reasons why I loved writing the book, is because it does allow me to connect to that side of me which isn't naturally very outgoing but comes out when I'm thinking about pastries. 
Q. Halloween is coming up. Do you have a favorite traditional Halloween candy?

A. Oh, man. I mean, when I was younger, just all the little candy bars. I always loved the little Milky Ways and Snickers. I was fascinated because they all had different components: Three Musketeers, Almond Joys. I would pick them apart and was always amazed at all the different layers.
Thin, Crispy Chocolate Chip Cookies
Thin, Crispy Chocolate Chip Cookies is excerpted from Pastry Love: A Baker's Journal of Favorite Recipes © 2019 by Joanne Chang. Photography © 2019 by Kristin Teig. Reproduced by permission of Houghton Mifflin Harcourt. All rights reserved.
Makes 18-20 cookies.
1 cup/ 2 sticks/ 225 grams unsalted butter, at room temperature
1 cup/ 200 grams superfine sugar
½ cup firmly packed/ 110 grams light brown sugar
1 large egg (about 50 grams), at room temperature
2 teaspoons pure vanilla extract
2 cups/ 280 grams all-purpose flour
1 ¼ teaspoons kosher salt
1 teaspoon baking soda
10 ounces/ 230 grams semisweet or bittersweet chocolate chips (1 ½ cups)
1. In a stand mixer fitted with a paddle attachment, by hand with a wooden spoon, or with a handheld electric mixer, beat the butter, superfine sugar, and brown sugar on medium speed until the mixture is light and fluffy, about 5 minutes (10 minutes if mixing by hand). Stop the mixer and use a rubber spatula to scrape the sides and bottom of the bowl and the paddle a few times; the sugars and butter love to collect here and stay unmixed. Beat in the egg, 3 tablespoons plus 1 teaspoon (50 grams) water, and the vanilla on medium until thoroughly combined, 2 to 3 minutes. Again scrape the bowl and the paddle to make sure the egg is thoroughly incorporated.
2. In a medium bowl, mix together the flour, salt, and baking soda. Add the chocolate chips to the flour mixture and toss to combine. Turn the mixer to low, or continue to use a wooden spoon if mixing by hand, and slowly blend the flour-chocolate mixture into the butter-sugar mixture. Mix until the flour and chocolate are totally incorporated.
3. For best results, scrape the dough into an airtight container and let it rest in the refrigerator for at least 3 to 4 hours or up to overnight before baking. (The unbaked dough can be stored in the refrigerator for up to 1 week.)
4. When ready to bake, preheat the oven to 350°F and position a rack in the center of the oven. Line a baking sheet with parchment paper.
5. Drop the dough in 1/4-cup balls onto the prepared baking sheet, spacing them about 2 inches apart. Press the dough down slightly with the palm of your hand. Bake for 20 to 24 minutes, rotating the baking sheet midway through the baking time, until the cookies are deep golden brown all the way through.
6. Remove the cookies from the oven and let them cool on the baking sheet on a wire rack for 5 to 10 minutes, then transfer them to the rack and let cool completely.
7. The cookies can be stored in an airtight container at room temperature for up to 3 days.
Want to chat about "Pastry Love" with Chang herself? A number of book signings will be held throughout November and December, including Nov. 6 at the Harvard Coop and Nov. 11 at Porter Square Books. Check out the full list of "Pastry Love" events here.