Restaurants
We asked for the best places to find cider doughnuts this fall. Here are your favorites.
More than 50 farms and bakeries made the list.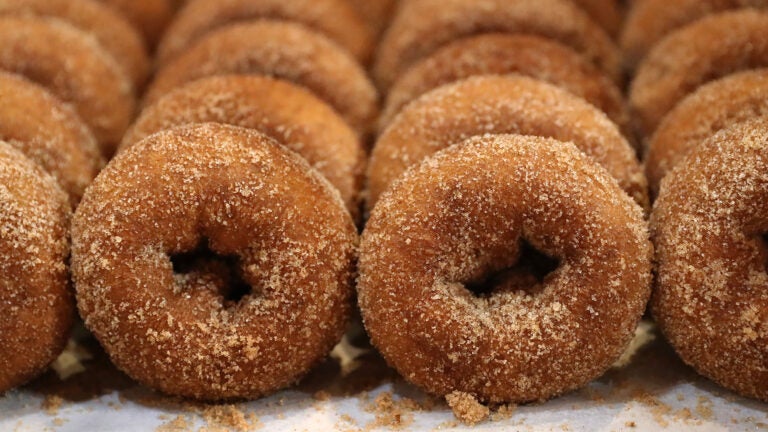 Throw a stone in New England during the fall and you're bound to hit a farm selling cider doughnuts. That's what it feels like, anyway: As the temperature drops and weekends fill with apple picking and foliage trips, the sugar-dusted treat becomes a seasonal must-have.
But not all cider doughnuts are created equal. When we asked for your favorite places to find the baked good, the recommendations came flooding in as you named farms and bakeries across Massachusetts, New Hampshire, and Vermont (oh, and McDougal Orchards in Springvale, Maine). Some places — like Cider Hill Farm, Honey Pot Hill Orchards, and Russell Orchards — were incredibly popular, while other, lesser-known farms were just named once. We think they all deserve a shout-out.
Here are the places you suggested when asked about your favorite cider doughnuts — and if you think we missed any crucial spots, feel free to share in the comments below.
Massachusetts
Atkins Farms, Amherst
Bartlett's Farm, Nantucket
Belkin Family Lookout Farm, South Natick
Berlin Orchards, Berlin
Big Apple Farm, Wrentham
Blackbird Doughnuts, Multiple locations
Bolton Spring Farm, Bolton
Boston Hill Farm, North Andover
Breezelands Orchards, Warren
Brooksby Farm, Peabody
Calareso's Farmstand & Garden Center, Reading
Carlson Orchards, Harvard
Carver Hill Orchard, Stow
Cider Hill Farm, Amesbury
Connors Farm, Danvers
Davidian's Farm Market, Northborough
Dunkin', Multiple locations
Hilltop Orchards, Richmond
Honey Pot Hill Orchards, Stow
Hornstra Farms, Norwell
Ingaldsby Farm, West Boxford
Kane's Donuts, Multiple locations
Kimball Farm, Multiple locations
Lakeview Orchard, Lanesborough
Mann Orchards, Methuen
Pakeen Farm, Canton
Parker Farm, Lunenburg
Parlee Farms, Tyngsborough
Phoenix Fruit Farm, Belchertown
Pizzi Farm, Waltham
Randall's Farm, Ludlow
Red Apple Farm, Multiple locations
Rice Fruit Farm, Wilbraham
Russell Orchards, Ipswich
Smolak Farms, North Andover
Tangerini's Spring Street Farm, Millis
Tougas Family Farm, Northborough
Union Square Donuts, Multiple locations
Volante Farms, Needham
Westward Orchards, Harvard
Wilson Farm, Lexington
Wojcik's Farm, Blackstone
New Hampshire
Applecrest Farm, Hampton Falls
Chichester Country Store, Chichester
Emery Farm, Durham
Moulton Farm, Meredith
The Common Man Roadside, Hooksett
Windy Ridge Orchard, North Haverhill
Vermont
Cold Hollow Cider Mill, Waterbury Center
Green Mountain Orchards, Putney
Wellwood Orchards, Springfield