Restaurants
Shy Bird brings versatility and rotisserie-oven genius to Kendall Square
Branch Line gets a more casual, tech-worker friendly sibling.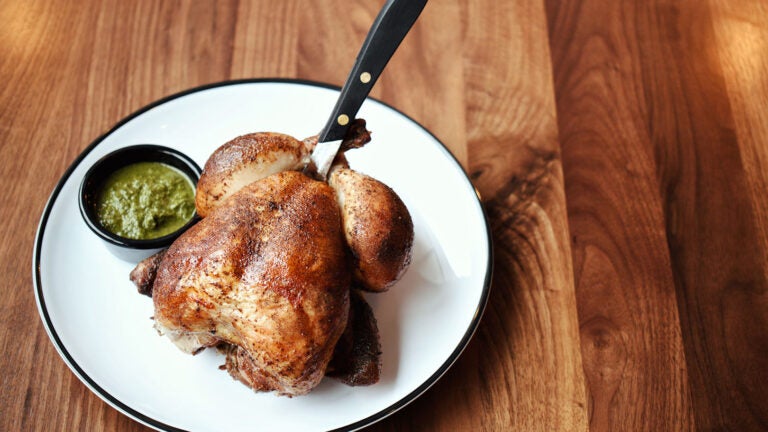 Our new restaurant reviews are part of a series of conversations we're developing to help you save time and stay informed on what's happening in the city. Be sure to sign up to receive the latest on the city's food scene.
It's easy to bring high expectations to a second restaurant from owner Andrew Holden of Branch Line, the convivially casual yet glossy Watertown spot that specializes in rotisserie chicken. Shy Bird, recently alit in Cambridge's high tech-heavy Kendall Square, similarly serves lunch to throngs of nearby workers (plus weekend brunch) and touts the same chicken, but adds breakfast. The room is typical of the neighborhood's many restaurants set on the ground floors of modern office buildings: tall ceilings, walls of street-facing glass, a dining-friendly bar, and an attractive industrial aesthetic. At Shy Bird, it's done with polished concrete floors, spare hardwoods, Edison-bulb globe lights, pink neon signage and loden green accents. And like its big brother, the front of house staff evinces a warm, professional hospitality ethos.
We focused on chef Matt Garland's table-service dinner menu — breakfast and lunch are counter-service — and was thrilled to find Branch Line's famed sugar snap pea salad ($12) with ricotta, mint and slivered almonds, a minor symphony of verdant flavors and crunchy textures. (I gave that one the Vegetable Dish of the Year award at my last food-writing gig a few years back.) An arugula salad ($10) with ricotta and blistered tomatoes is beautifully composed, though we rued the American tendency to overdress it with an otherwise-fine oregano vinaigrette. Clam toast ($12) boasts pristine countneck clams in their shells and chunks of lovely house-made chourico (chorizo), its crusty base layer of toast softened with the amontillado broth in which the clams were simmered and a slather of aioli; it's easy to pick around the overly abundant, insistently briny chopped green olives. Baked artichoke dip ($13) is a creamy, cheesy (in a good way) mess spiked with lemon and espelette chili flakes for scooping up with rosemary crackers. Honey lemon-pepper wings ($12) alternate between perfectly-seasoned flats that present the ideal ratio of juicy meat to crisp skin and drumsticks that are punishingly oversalted, though the latter issue can be softened with a dash of pecorino ranch sauce that is elegant enough to rehabilitate that condiment's lowbrow reputation.
Dinner plates include a terrific lasagnette (a bargain at $14), a free-form arrangement of wide flat noodles with sliced king mushrooms, burrata, and dollops of a spectacularly garlicky pesto, and a sturdy roasted salmon ($22) edged with crisp skin in a creamy, piquant mustard sauce, accompanied by good roasted potatoes and unfortunately haricots verts that were underdone to near rawness (an error committed by many likewise-talented kitchens). Grilled shrimp salad ($18) generously lays on some fat tail-on beauties over a gentle Bibb-lettuce foundation, copious avocado slices, and a justly modest dose of vinaigrette.
As at Branch Line, Shy Bird's a la carte rotisserie chicken is the paragon of the style hereabouts, boasting crackly, mahogany-toned skin, the rich fragrance of garlic and herbs, and exquisitely juicy flesh. I predict no customer will regret ordering a whole one ($19.75) and boxing up half to enjoy cold the next day. You get to choose one of four sauces to go with it, but I found none of them necessary. The same costly French rotisserie ovens that produce these magnificent birds are also used to cook the sweetest surprise on the menu, a plate of sliced prime-grade beef brisket ($21) in a juniper-spiked tomato sauce. The result is awe-inspiringly deep beef flavor and melting tenderness, the tough collagen transmuted into velvety gelatin, edged with delectably crisp fat. The accompanying blond, skinny frites dusted with rosemary and black pepper (available as a side, $5.50) are also top-shelf: what McDonald's fries dream of becoming when they grow up. Rotisserie cauliflower ($6) with a splash of shallot vinaigrette is another classy side worth ordering.
We enjoyed bar manager James Child's specialty cocktails like Dave's Hawaiian Vacation ($11), a sugary, coconut-accented gloss on the Boulevardier, but the wines by the glass ($9-$12) are more food-friendly and impressive, from a crisply-balanced rosé grenache by Rousillon's Roc de Anges ($10), to a shockingly complex white Philippe Vandelle L'Étoile savagnin ($12) with a hint of oxidization that recalls fino sherry, to the gorgeous Charles Helfenbein La Syrah ($10), a Rhone red with a nose of old leather and gentle pepper and smoke on the palate. The standout of the short dessert menu is a bowl of salted caramel ice cream ($5) from Malden purveyor Giovanna.
In short, Shy Bird ably serves a niche too often unfilled by restaurants that mainly addresses the cut-priced demands of business-intensive neighborhoods. It's a versatile, convenient stop for quick-service, moderately upscale coffee, snacks, and meals at breakfast and lunch. But it's polished and diverting enough to make tech toilers want to linger for a serious dinner with genuine hospitality, quality drinks, and fair prices when the workday is done. I don't know how many patrons who don't commute here on weekdays will consider it a dining destination, but I suspect that's only because they haven't sampled its incomparable rotisserie chicken, brisket, and snap pea salad. Those dishes alone, in my estimation, make Shy Bird worth the trip.
Shy Bird; 390 Third St., Cambridge; Mondays–Thursdays from 7 a.m.–10 p.m., Fridays from 7 a.m.-11 p.m., Saturdays from 8 a.m.-11 p.m., Sundays from 8 a.m.–10 p.m.; shybird.com