Restaurants
A highly-anticipated Vietnamese restaurant starts serving noodles and cocktails in Lynn
Nightshade Noodle Bar will open on Oct. 23.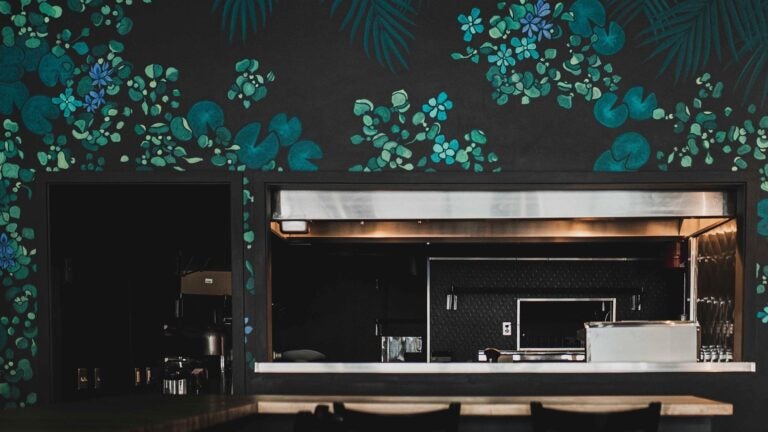 Countless pop-ups, dinner parties, and one successful investment campaign later, Nightshade Noodle Bar is finally ready for prime time.
The Vietnamese-inspired restaurant from chef Rachel Miller is set to open in downtown Lynn on Oct. 23 with brunch, lunch, dinner, and an out-of-the-box cocktail lineup. Though fans of the concept will recognize some of Miller's dishes from Nightshade's recent pop-ups — the ever-popular mi kho, made with homemade noodles, as well as the canh chua dac biet, a tamarind seafood soup — other items will make their debut at the brick-and-mortar spot. For lunch, Nightshade will offer a variety of banh mi sandwiches (shredded beef and curry shrimp, fried lemongrass chicken, and barbecue mushroom), along with a handful of noodle dishes, coffees, and teas. For dinner, a series of snacks, small plates, and noodles will be served: black pepper candied peanuts, bone marrow fried rice, chicken curry soup, and crispy egg noodles with seared scallops. Miller said that the menu will rotate constantly, focusing on seasonal and hyperlocal produce.
A selection of beer and red, white, and sparkling wine will be offered alongside culinary-driven cocktails, like the Fig of Fortune with rum, fresh lemon, fig, and ginger.
Nightshade Noodle Bar took over the former Campus Coffee Shop, a Lynn staple that closed in April after 34 years.
"We're really focusing on the word 'bar' with this place," Miller told Boston.com, describing how the 30-seat venue is mostly defined by high tops and bar seats, as well as a few window seats. Her team spent the whole summer renovating the space — putting in a new floor and new ceiling, and installing custom-built furniture. A floral mural painted by Liana Van de Water — Miller's partner and Nightshade's wine director — lends a tropical vibe to the restaurant.
Miller launched Nightshade as a roving pop-up in April 2017, and, over the years, has thrown events at Brassica Kitchen, Whaling in Oklahoma, and State Park, among other spots. Though the pop-ups, including the most recent "Hot Noods" nights at Bow Market, helped serve as practice sessions for Miller, the chef said that she's done with them for now.
"They're very difficult," she said. "We did 60 of them and just burnt out on pop-ups. It was a pretty hectic thing that got more popular than we thought it would be."
Now that it has landed a permanent location, Nightshade Noodle Bar will operate Wednesdays through Sundays. Check out the restaurant's opening lunch, dinner, and drink menus below:
Nightshade Noodle Bar; 73 Exchange St., Lynn; Wednesdays–Fridays from 11 a.m.–3 p.m. and 5 p.m.–10 p.m., Saturdays and Sundays from 10:30 a.m.–3 p.m. and 5:30 p.m.–10 p.m.; nightshadenoodlebar.com