Restaurants
A minimalist Somerville tasting counter is the city's best restaurant, according to Boston magazine
The publication released its annual list.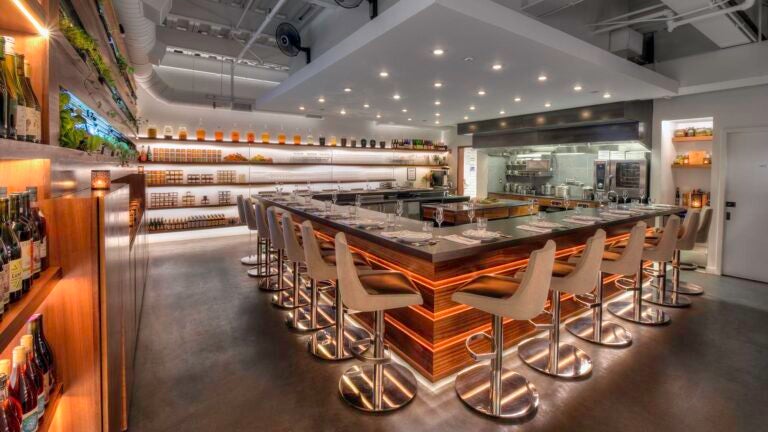 Boston magazine's annual list may be dubbed the Best Restaurants in Boston, but it's a Somerville tasting experience that took this year's No. 1 spot.
On Tuesday morning, the publication released its 2019 roundup of ranked Boston restaurants, with Peter Ungár's Tasting Counter, a ticketed tasting-menu concept in Somerville, claiming the top spot. The article, which was edited by Boston magazine's Scott Kearnan with reporting by Jacqueline Cain, Julia Clancy, and Brittany Jasnoff, equates dining at the 20-seat counter with "theater," where guests can "watch the tiny army on the other side tweeze together stunning plates such as octopus with charred strawberry and local beach-rose vinegar." Ungàr opened Tasting Counter in 2015 to almost immediate success; he recently launched a smaller iteration at Time Out Market Boston, serving dishes like gremolata dumplings and rice smoked duck breast.
Upscale hot spots are a steady presence on the list, which also includes Back Bay sushi and izakaya destination Uni (No. 3); South End Italian stunner SRV (No. 4); Seaport Mediterranean restaurant Chickadee (No. 17); and North End oyster beacon Neptune Oyster (No. 32). But a few more casual spots were recognized as well, like the cozy Jamaica Plain tapas hangout Tres Gatos (No. 26) and raucous Fenway restaurant (and karaoke proponent) Hojoko (No. 42).
While the annual list doesn't specifically focus on newcomers, a handful of restaurants that opened within the past year managed to receive a nod. Coming in at No. 50 is Ellie Tiglao's Tanám, a Filipino dining experience that opened within Somerville's Bow Market earlier this year. In March, Patricia Estorino opened a second iteration of her contemporary Cuban restaurant, Gustazo (No. 33) in Cambridge, while Fox & the Knife (No. 31) — Karen Akunowicz's Italian restaurant in Southie and already a winner of multiple culinary awards — opened in February.
The publication brought back its ranked list of best restaurants in 2018 after taking a four-year break to concentrate on the city's best new restaurants. Check out the full list here to see which restaurants the publication was enamored by this year.