Restaurants
Pollo Club, a fried chicken haven, lands in Waltham
Don't skip out on an order of hush puppies.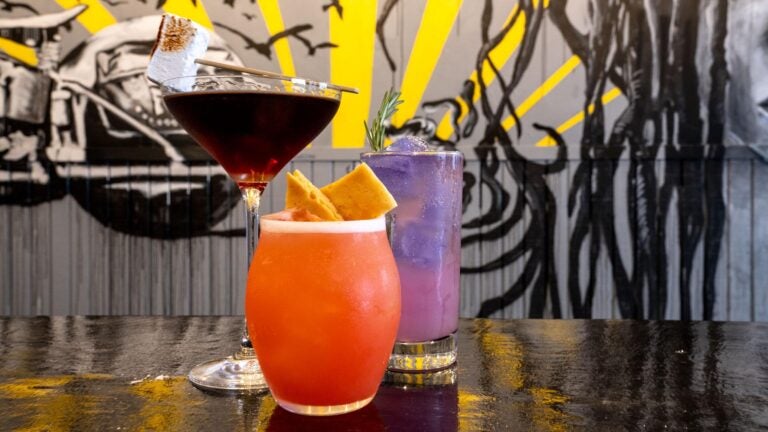 One of fall's most anticipated restaurant openings is about to start serving fried chicken and playful snacks on a bustling street in Waltham.
Pollo Club will open its doors for dinner at 5 p.m. on Thursday, with a grand opening scheduled for Tuesday. The chicken-centric restaurant comes from the team behind the highly-acclaimed Moody's Delicatessen, and takes over the former El Rincon de Moody space, a taco joint that closed earlier this year.
On the menu, diners will find a selection of fried chicken arrangements (both white and dark meat) that run from crispy tenders to a whole bird platter, all accompanied by a buttermilk biscuit and two sides. There's also a fried chicken sandwich, a tofu banh mi, and a sizable list of snacks: deviled eggs, macaroni and cheese, beets and pickled mangos, minted snap peas, and hush puppies. For those with a sweet tooth, dessert features a rotating lineup of seasonal popsicles and a decadent s'mores jar filled with chocolate pudding, Fluff, and graham cracker crumbles.
It's hard to imagine eating fried chicken without beer, and Pollo Club has plenty of it: The beer list features a slew of local and regional breweries, like Narragansett, Lamplighter, Hermit Thrush, and Liquid Riot, with a mix of cans, bottles, and suds on tap. There's also a substantial lineup of wine, cocktails, and even mocktails, like the Bite Back with strawberry peppercorn shrub and club soda.
Inside the 25-seat space, a color scheme of yellow, black, and gray is accented by a colorful hand-painted mural from artist Sam Malpass. Seating options include scattered tables, a bar, and a six-seat lounge area, but if you're looking to enjoy the restaurant's fried chicken at home, Pollo Club will start offering takeout soon after opening.
Check out the opening menu below:
Pollo Club; 456 Moody St., Waltham; Tuesdays–Saturdays from 5 p.m.–close; polloclubwaltham.com