Restaurants
Brato Brewhouse + Kitchen will start serving beer and sausages in Brighton
Here's your first look at the brewery's menu.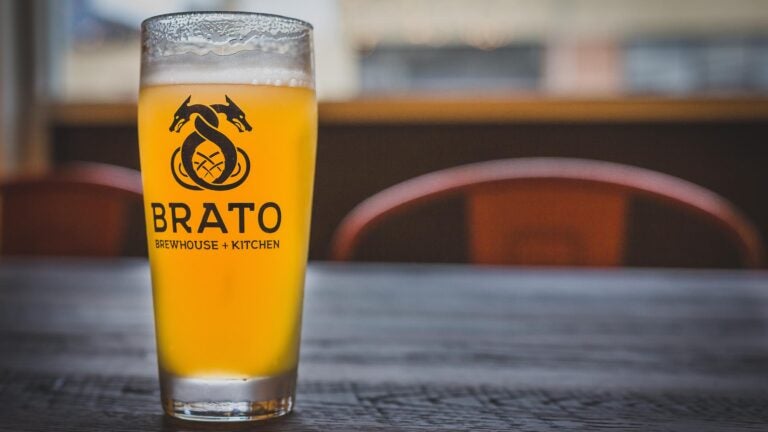 Inside Brato Brewhouse + Kitchen, four murals hang side-by-side on a wall, each one depicting a single subject: Hops. Sausage. Grilled cheese. Pickles.
The murals are a thesis statement of sorts for the Brighton restaurant and taproom, which officially opens on Tuesday. Here's what this place is all about, they say. Any questions?
Fans who have followed Brato — and its owners, chef Jonathan Gilman and brewer Alex Corona — since its inception in early 2017 already know what Brato is all about. The concept, which began as a roving pop-up, focuses on the duality of food and beer, with fermentation as an overarching theme.
"A lot of breweries and taprooms had been opening and none of them, for the most part at that time, had been doing food, except for a couple other breweries," said Gilman, who met Corona when they were both at Cambridge Brewing Company, where Gilman worked as sous chef and Corona as head brewer. "But none had opened on the idea of the duality, like food and beer are equal parts of the focus. It was always, you start with beer then add in food later. We wanted to present something [where] you could do both in the same way, at the same time."
Despite operating 400 events as a pop-up, where they served sausages and grilled cheeses at breweries like Dorchester Brewing, Bone Up Brewing, and Idle Hands Brewing, Gilman said that the menu has maintained its focus since day one. When Brato opens, diners will find a succinct menu featuring a lineup of sourdough grilled cheese sandwiches using ingredients like Vermont cheddar pimento, house mozzarella, apple butter, and bacon, all made with sourdough variations that pair with Brato's tap list. House-made sausages on brioche will take on familiar flavor profiles — the sweet Italian pork sausage with shishito peppers, iceburg lettuce, and marinated tomatoes is a nod to an Italian sub — and a pickled section will offer things like pickle brined wings and kimchi fritters. Lighter fare will include New England clam chowder, avocado toast, and a selection of salads.
While there is some seasonality to the menu, Gilman said that the majority of the food lineup will likely stay the same, with dishes added on during lunch (11 a.m.–2 p.m.) and dinner (5:30 p.m.–close). And he knows that while some people will appreciate the crossover of ingredients between the kitchen and the brewery, not everyone needs to get technical about it.
"We make all our own sourdough bread using beer grains; we make all our sausages, we ferment all our own pickles," he said. "But if you didn't care about that stuff, it wouldn't matter. You could just come in and be like, I just want a sausage and a beer. If you want to nerd out on that stuff, you could be like, oh cool, the bread I'm eating the grilled cheese on has exactly the same profile as the beer that I'm drinking."
About that beer: Corona is anxious to start using Brato's 10-barrel brewing system, which will be ready to go in the next six weeks or so (the brewery is still waiting on gas hookups). In the meantime, Brato will open with six beers that Corona brewed at local breweries. There's the Foam on the Range, a west coast-style IPA brewed at Night Shift Lovejoy Wharf; the Evelyn, a pale lager brewed at Idle Hands ("Lagers are very close to my heart," Corona said); and the Blue Bin, an American IPA brewed at Cambridge Brewing Company, among others.
"It's almost fitting as a company that we started selling food at all these places over the course of a couple years, and when it came to making beer we had to make beer there, too," said Gilman. "It shows how supportive the brewing industry is, and we couldn't have done it without the breweries around us."
"It's come full circle," added Corona.
Brato will also serve nitro cold brew on tap, as well as kombucha and other non-alcoholic beverages that use shrubs and switchel, an apple cider vinegar-based drink that is popular in Vermont.
The brewery's warehouse vibe has been furnished with booths, two long communal tables, an assortment of small tables, and standing room bar rails posted up near the 14-seat bar. Gilman said that, come spring, the patio will be transformed into a backyard hangout, complete with picnic tables and, possibly, fire pits. There may even be the potential for concerts and outdoor movie screenings.
While Brato is scheduled to open on Oct. 29, the brewery will host a grand opening the weekend of Nov. 1–3. In the meantime, check out Brato's opening menu below.
Brato Brewhouse + Kitchen; 190 N. Beacon St., Brighton; Mondays–Thursdays from 11 a.m.–11 pm., Fridays and Saturdays from 11 a.m.–midnight, Sundays from 11 a.m.–5 p.m.; bratobk.com