Restaurants
Take a peek at Sound Advice, a cocktail bar opening near TD Garden this fall
The bar comes from the team behind NYC's revered Death & Co.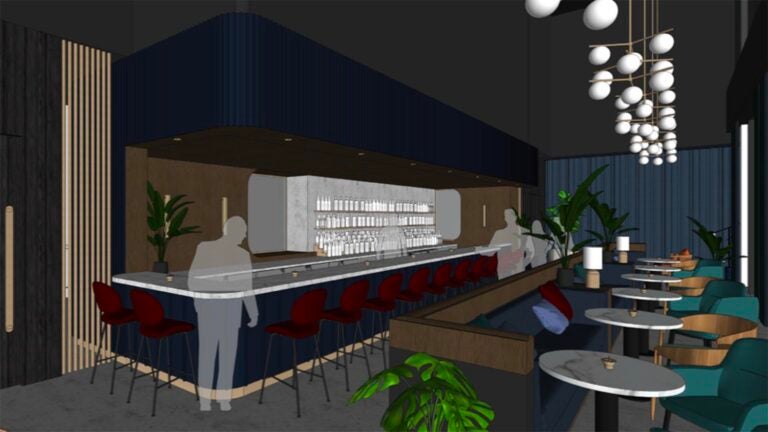 With the recent debut of Banners Kitchen & Tap and the imminent opening of Guy's Tequila Cocina and Big Night Live, the West End's bourgeoning Hub on Causeway development is rapidly starting to fill out. Next up, a cocktail bar — and it comes from a team behind the world-famous New York City bar, Death & Co.
Sound Advice is scheduled to open in late November; if all goes well, a soft open will take place the weekend before Thanksgiving. Behind the concept is consulting company Proprietors LLC, whose owners are also behind other projects including the award-winning Death & Co., Nite Cap, and Lost Hours in NYC and Sparrow in Fort Lauderdale. Joining the team for this endeavor is beverage director Mary Bartlett, who has worked on a handful of other projects with Proprietors and who owns a gin company, called Future Gin, in L.A.
The roughly 80-seat bar, located at 60 Causeway St., aims to be a place where commuters can relax with a cocktail before hopping on their train, or where groups can celebrate a special occasion. From the street, visitors will take an elevator up to the third floor, which opens into the bar's long, narrow space that features floor-to-ceiling windows looking out onto the neighborhood below. Designed by AAmp Studio, a design firm that has previously worked with Proprietors, the aesthetic of Sound Advice will feature plenty of navy blues and plush fabrics. A standing rail will run parallel to the 14-seat bar, and a row of low banquettes and tables will face the windows. And, in direct contrast to many of the surrounding sports bars and dive bars in the area, there won't be any TVs.
The cocktail program was designed by both Bartlett and Proprietors partner Devon Tarby, who is based in L.A. but from the Boston area. Featuring both custom cocktails and elevated classics, the list will include drinks like the Poet's Dream, which is a play on a martini, as well as group format cocktails.
"Devon and I are both really excited to work with ingredients we don't get back in California," Bartlett told Boston.com, naming Short Path Distillery and Bully Boy Distillers as some of the local companies featured in Sound Advice's bar program. "It's been fun to dive into New England spirits."
L.A. chef Becky Reams has designed a small menu of snacks for the bar — no need for silverware, just things you can eat with your hands, explained Bartlett. The team has also tapped Patrick Brenner, who previously worked at Fenway hot spot Tiger Mama, to serve as Sound Advice's general manager.
Proprietors has had a busy couple of years. The group opened its second Death & Co. location in Denver in 2018, and is on track to open a third outpost in Los Angeles this fall. Sound Advice is the first bar the team has opened in Boston.
"Boston cocktail drinkers are very sophisticated," Tarby shared in an email. "It's a small city and the community is very tightly-knit, and the baseline has been pretty high for as long as the cocktail scene has been in existence here. …I'm from Boston. I come back here all the time to visit, and our team collectively is so inspired by it. The hospitality in Boston is so special, and I can confidently say that, as a guest, I've been treated by the hospitality community here better than anywhere else in the States."
Barlett said that the team is playing with the hours of 4 p.m. to midnight on weekdays, with a later closing time on weekends. Stay tuned for more details on Sound Advice's opening date.
Sound Advice; 60 Causeway St., Boston; opening November 2019; soundadvicebar.com