Restaurants
Doyle's said its final goodbyes over the weekend. Here's how regulars are remembering the storied bar.
"Although we gave our last last call ... the spirit and soul of Doyle's is very much still alive and beating."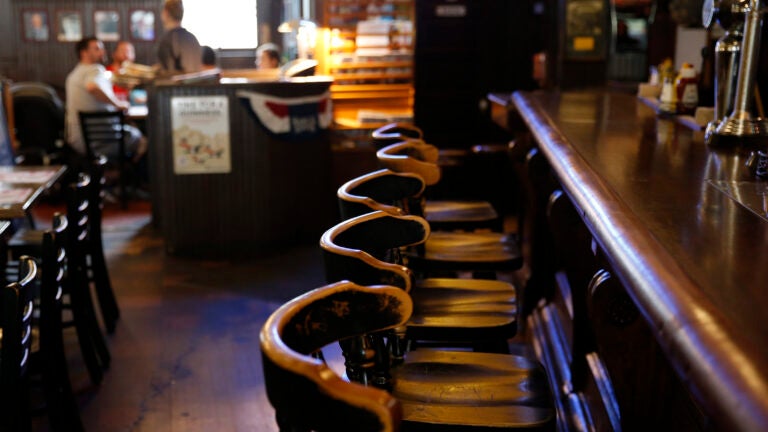 News of its impending closure was announced more than a month ago, but for fans of Doyle's Cafe, the famed Irish pub in Jamaica Plain, the end still came too soon.
CBS Boston reported Saturday that the 137-year-old restaurant and bar at 3484 Washington St. would close that evening, with a plan to auction off the memorabilia that decorated its walls.
The closure was confirmed by a post on Doyle's Facebook page, which described how, if the bar's walls could talk, they would tell stories of the institution's past:
"They would speak of the Doyle's and all the Burkes and their etch on Boston history. They would speak of all the politicians and political events. They would speak of the BPD Gaelic column and The Fenian Sons and Chris Baird Band and of course our very own Rick Berlin. They would speak of all the staff and regulars here that became family. They would speak of all the marriages and babies and families that sprouted from Doyle's roots. They would speak of the endless movies and tv shows and commercials filmed inside there. They would speak of the iconic Sam Adam's partnership. They would speak of the murals and iconic photos and newspapers articles that surround it. They would speak of St Paddy's Days and the Doyle's Road Race and golf tournaments and New Years Eve and Christmas parties. They would speak of all the events that have been held inside from weekly and monthly gatherings to weddings and funerals to baby showers and birthday parties and fundraisers and so much more. These walls have seen and heard it all…but most of all they would speak of the overwhelming love and support that surrounded all of us during these last days."
The post went on to say that "Although we gave our last last call last night, the spirit and soul of Doyle's is very much still alive and beating. Doyle's will live on through all of us and our memories. Take them with you wherever you end up."
In response to Doyle's farewell Facebook post, fans recounted their own fond memories of the bar.
"18 years ago this past spring my wife and I had our rehearsal dinner right in the heart of Doyle's," Andrew Peterson wrote. "No private room for us, we fit 30 people in the main room and it was amazing."
"I met my core group of friends 30 years ago while waiting tables there," Kathy Stevens wrote. "I saved up my down payment for my house from working nights there."
"Wow…I moved down the street from there in 1977 after graduating from college..my roommate and I had a lot of fun there!" shared Debra Gulvin Grenier. "It was great because we could walk home! Lots of memories!"
In early September, the Boston Globe reported that Doyle's planned to sell its liquor license to Davio's Northern Italian Steakhouse, a Boston-born chain that will apply the license to a new 15,000-square-foot location scheduled to open at 50 Liberty in the Seaport this fall. The sale was later approved, with the license selling for $455,000.
"I grew up here and I've had a wonderful childhood," Burke told the Globe. "It's been my identity for as long as I can remember. It's a terrible thing and I'm as sad as I can be. But the real estate in JP is as high as it's going to get and I can't afford to stay here any more."
Doyle's first opened in 1882 and became a popular watering hole for politicians and barflys alike. It made cameos in films like 21, Mystic River, and The Brink's Job, and was the first bar to serve Sam Adams beer, eventually developing a partnership with the company to shuttle patrons between the bar and brewery during Sam Adams Trolley Tours.
Burke's uncle and former Doyle's co-owner, Eddie Burke, and his wife, Joni Burke, own the property on which Doyle's sits. In September, they released a statement indicating their plans to the property.
"It is our decision as a family and as owners of the property that we can no longer maintain Doyle's as some would like or think practical," the statement read. "We have therefore chosen to market the property for sale in order to secure our much-deserved retirement."
A group called Save Doyle's Cafe has launched a petition to reopen Doyle's in the space with a new owner.